Don't think of the film version of "Downton Abbey" as a movie. Think of it rather as a victory lap.
The immensely popular British soap opera that aired on PBS in the United States has been brought to the big screen with all the elements that made it so popular in the first place.
All the beloved characters are there, bringing with them their beloved conflicts of style and personality. We're back at the same locations, gliding with the camera through the same elegant sets and lingering on the same absolutely staggering costumes.
Seriously, costume designers who aren't Anna Robbins, production designers who aren't Donal Woods and, for that matter, cinematographers who aren't Ben Smithard should just stay at home on Oscar night. It really is an honor just to be nominated.
As far as Hugh Bonneville is concerned, he and the rest of the cast and crew of "Downton Abbey" have done their part.
Structurally, the story is a mess, or rather the stories: There are 18 main characters, and each one is given at least a part of a story. As a result, the film is cluttered with a surfeit of minor narratives instead of concentrating on one major one.
There isn't even a climax, just an apparently endless series of denouements.
And yet, for fans of the show, those denouements are just so tremendously satisfying. Every possible loose end is tied up nicely, romances spring up just where they are needed most and Mr. Bates manages to stay out of jail for two full hours, which might be a record for him.
It all builds to such a cacophony of triumph and fulfillment that you can expect a lot of happy sniffling in the audience.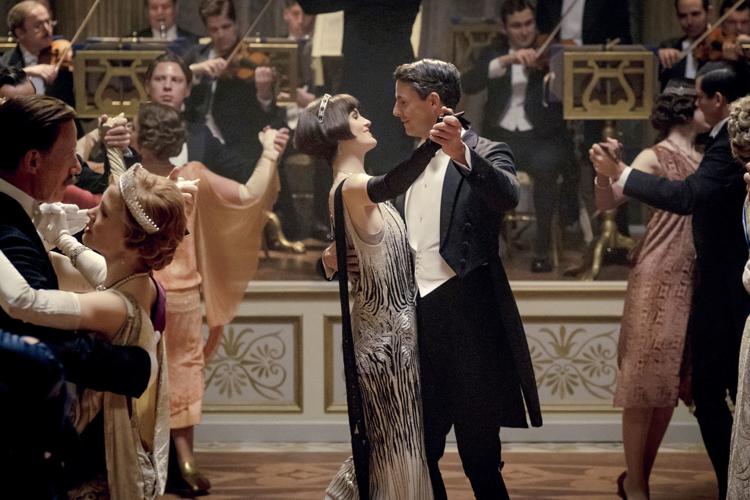 The precipitating event for the film is the impending visit to Downton Abbey by the King and Queen of England. Everyone upstairs and downstairs is thrown into a tightly controlled tizzy.
Actually, Lord and Lady Grantham (Hugh Bonneville and Elizabeth McGovern) are little affected by the visit, being already on familiar terms with royalty. But the dowager countess (Maggie Smith) worries that the queen's lady in waiting (Imelda Staunton), who is Lord Grantham's cousin, means to write him out of her will.
The other mini-plots are all along these lines — minor but not uninteresting. The most engaging of these is the friction between the manor's servants and the imperious staff of the king, who clearly need to be taken down a peg.
Along the many, many other short stories are ones involving Lady Edith (Laura Carmichael) not wanting her husband to go on a trip with the Prince of Wales, Tom Branson (Allen Leech) being questioned about anti-monarchist sympathies, Daisy's (Sophie McShera) head being turned by a handsome plumber, small items that are missing from the house, a broken hot-water heater and, oddly, the troubled marriage of the hitherto unmentioned Princess Mary.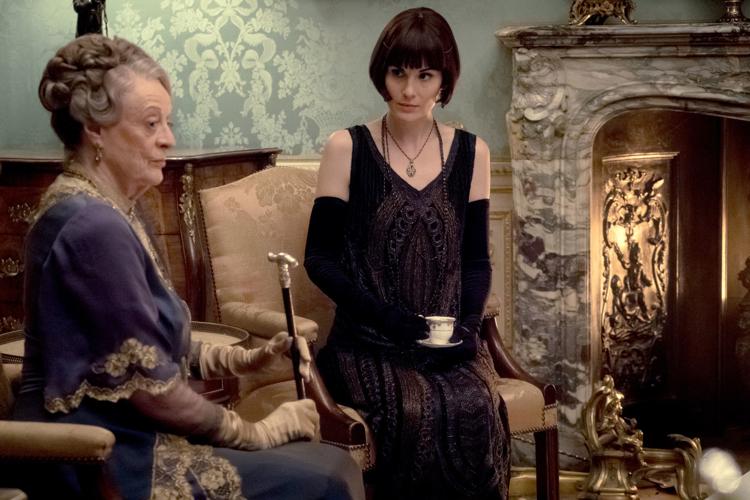 A lot of these stories are trivial, and the stakes in the film are never very high.
But there is great comfort to be had in Maggie Smith speaking writer Julian Fellowes' delicious lines (when accused of being Machiavellian, she sniffs, "Machiavelli is frequently underrated"), followed by Penelope Wilton's marvelously cutting comebacks.
Director Michael Engler's experience is almost exclusively in episodic television, including four episodes of "Downton Abbey," and it shows. He does that TV thing of showing emotion through glances: wistful glances, longing glances, amused glances, perturbed glances. Still, he does an admirable job of reining in all of the many stories, but he can't keep our attention from flagging in the late stages as the script simply refuses to end.
Editor Mark Day certainly could have tightened up the storytelling by cutting down on all of the shots of people laying tables, polishing silver and trying on gowns.
But in "Downton Abbey," these aristocratic accouterments are the whole point.
What "Downton Abbey" • Three stars out of four • Run time 2:02 • Rating PG • Content Thematic elements, some suggestive material, language