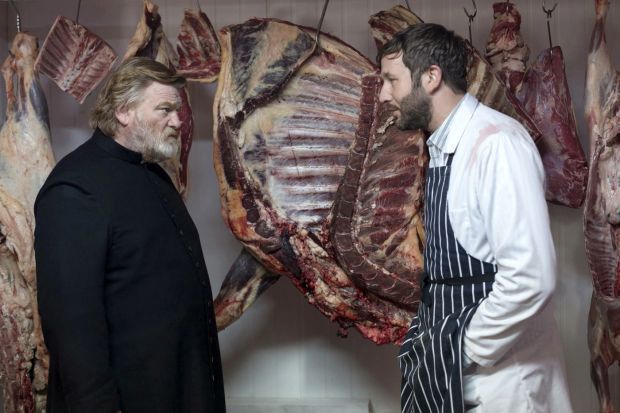 Maybe it's another sign of the apocalypse that there's a new movie about the last good priest in Ireland.
When I was a red-headed altar boy, the only thing I had to fear from priests was losing my allowance in their penny poker games. Now, even that jewel of Catholicism called the Emerald Isle has been tarnished by scandalous headlines.
Father James (Brendan Gleeson) is taking confessions at a tiny coastal church when a man announces from the other side of the partition that he is going to murder the innocent priest as punishment for the sexual abuse that the man endured as a child. He will give Father James a week to prepare before he is shot at high noon on a nearby beach.
An anonymous threat is a chilling premise for a thriller, but Father James tells the local bishop that he recognized the voice. So while the priest does his pastoral duties for the next week, we have to treat the movie like a game of Clue. Will the killer turn out to be the police inspector (Gary Lydon) with the faux Flatbush boy toy (Owen Sharpe)? The sad sack (Chris O'Dowd) whose kinky wife (Orla O'Rourke) is canoodling with an African refugee (Isaach De Bankolé)? The disgraced banker (Dylan Moran) who is trying to buy absolution? The virgin who's torn between suicide and the army? The charming young atheist surgeon (Aiden Gillen)?
Surely it couldn't be the grizzled American novelist (M. Emmet Walsh) or the beautiful French car-crash survivor (Marie Josee-Croze). And to complete the tapestry of frayed lives, there is James' forlorn daughter, Fiona (Kelly Reilly), whom he fathered before his wife died and he joined the priesthood.
"Calvary" was written and directed by John Martin McDonagh, for whom Gleeson starred in "The Guard." That film exported big-city violence to a small town for bleakly comedic effect. "Calvary" gives us a similar microcosm of characters, while both the comedy and the violence are watered down by a dark melancholy. Gleeson is great as the troubled, conscientious priest, but until an abruptly shocking finale, his fatalism turns the ticking clock into a congested hourglass. Like Christ, recovering alcoholic James bears his cross one station at a time, albeit with a glass of gallows humor about the luck of this particular Irishman.
---
What "Calvary" • Three stars out of four • Rating R • Run time 1:40 • Content Sexual references, language, brief strong violence and some drug use • Where Plaza Frontenac