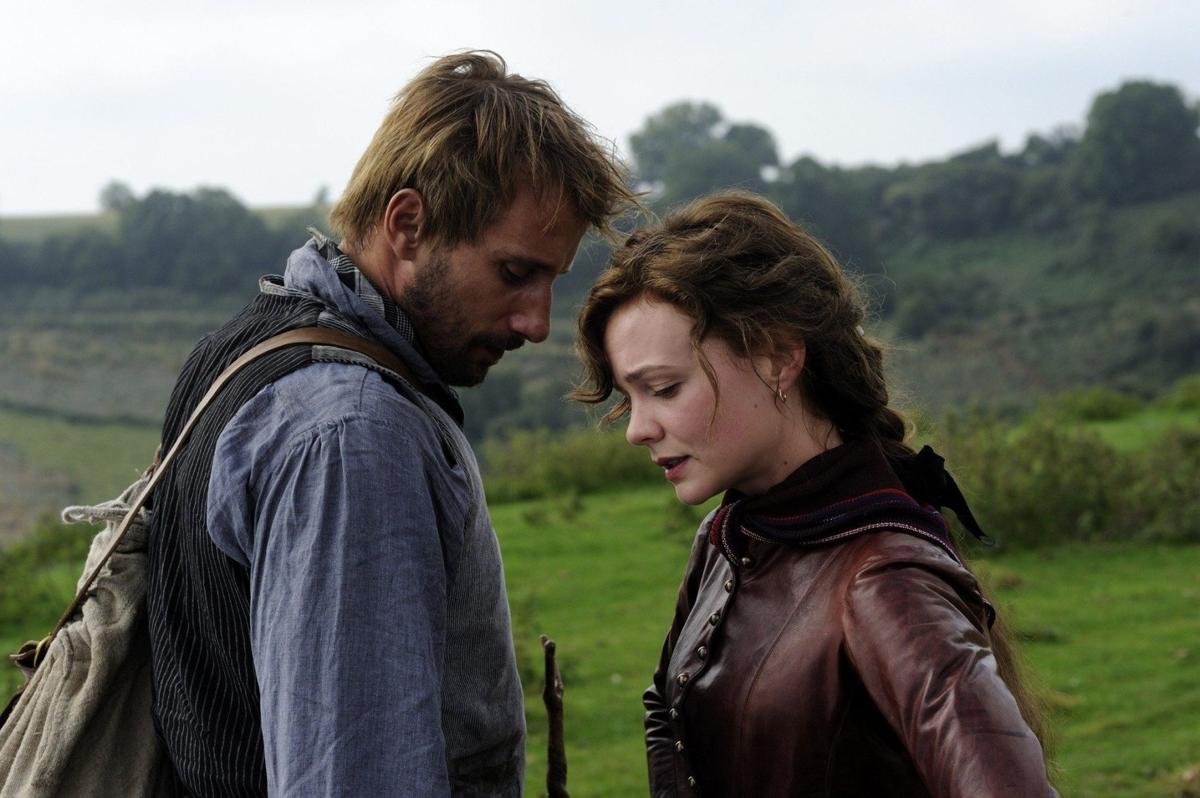 It's "madding," not "maddening." That's what the genteel folk of southwestern England thought of places such as faraway London, which scarcely casts a shadow over this lovely adaptation of the Thomas Hardy novel.
The year is 1870. Self-described independent woman Bathsheba Everdene (Carey Mulligan) is riding bareback across the green and pleasant land near Dorchester when she meets her hunky neighbor. Sheep farmer Gabriel Oak (Matthias Schoenaerts) is as saintly and strong as his name implies, and after a few minutes' acquaintance, he asks the young beauty to marry him. She declines, but she does get a lamb out of the deal. And after one of those reversals of fortune for which Victorian novels are notorious, she gets both a 1,000-acre farm of her own and the perfect man to help her run it: the fallen Mr. Oak.
A woman with a manor house and true grit is like cheese in a trap, and soon Bathsheba attracts the attention of mousy neighbor Mr. Boldwood (Michael Sheen, touchingly meek). He too proposes marriage, one of economic convenience if not emotional connection.
To complete the trifecta, scarlet-clad cavalier Sgt. Troy (Tom Sturridge) rides into this pretty picture. He's a strutting ninny, but his breathtaking swordplay skewers Bathsheba's heart.
It doesn't require a spoiler alert to say that any woman raised on romance novels will develop a rooting interest early in this film. The pleasure of "Far From the Madding Crowd" comes from swallowing the golden-hued Kool-Aid without any bothersome pulp.
There are mewling ewes and frolicking collies and enough russet sunsets to fill a calendar. Danish director Thomas Vinterberg ("The Hunt") was tutored in the low-budget, naturalistic Dogme school of filmmaking, but the limpid images here required a costly crew.
Among the movie's assets is a sterling cast. Mulligan uses her beguiling smile to defuse the dramatic underpinnings of the story, and Sheen adds another shading to his gallery of great performances. But it's Belgian actor Schoenaerts who will leave the target audience atwitter. Seemingly incapable of cracking a smile, he fits securely in the stoic-farmer tradition that stretches from John Wayne in "The Quiet Man" to Russell Crowe in "The Water Diviner."
"Far From the Madding Crowd" is the closest thing this season to a crowd-sourced romance.
---
What "Far From the Madding Crowd" • Three stars out of four • Rating PG-13 • Run time 1:59 • Content Some sexuality and violence