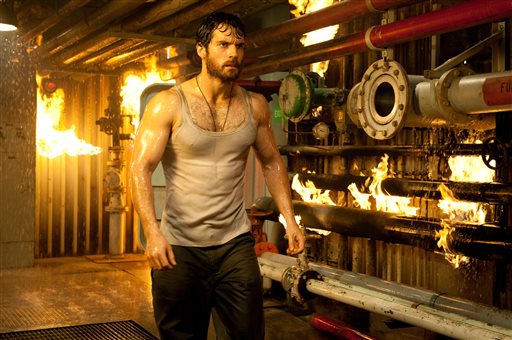 This looks like a job for Truth Man.
If "Man of Steel" had crash-landed in theaters with a title like "After Earth 2: The Rise of Jaden," we would call it what it is: a soulless, overblown bore. But because this desecration is disguised as a Superman movie, sheepish customers will hesitate to say that the emperor of action heroes has no clothes.
Instead they'll say he has new ones.
The most obvious kick in the pants from this reboot is that Superman's tri-colored costume has been replaced by an almost-black body suit of militaristic mesh. It hugs the bulges of British pretty boy Henry Cavill, who avoids recognizable human emotions as if they were Kryptonite.
Of course, Superman isn't actually human, but we all know from 75 years of pop culture that he was raised by Ma and Pa Kent in a farming community called Smallville, Kan., before moving to Metropolis to do good deeds. Yet this misbegotten movie focuses on a feud with a Kryptonian refugee named General Zod (Michael Shannon), whose army of fembots follow the future Superman from their doomed planet to Earth, to extract his species-saving DNA.
While dwelling on daddy issues (in the forms of Russell Crowe and Kevin Costner), this overextended origin story jettisons almost everything we love about the Superman legend. Do we get to meet mild-mannered reporter Clark Kent? Not quite. Is there romantic chemistry between prize-winning journalist Lois Lane (Amy Adams, utterly wasted) and the mysterious lightning rod she dubs Superman? Not much. Is the movie fun to look at? Not even with 3-D vision.
The costumes and sets look like rejected designs for "Dune" collectibles. Instead of the primary colors from the classic comic books, the dominant hue is pewter.
As he proved in movies such as "300," "The Watchmen" and "Sucker Punch," director Zack Snyder is a technocrat who doesn't know a thing about people. Working from a wooden script by "Batman"-franchise freeloader David S. Goyer, Snyder somehow makes it even stiffer. Every opportunity for humor, compassion or plausible responses to otherworldly phenomena is buried beneath product placements and CGI special effects.
"Man of Steel" is just another summer movie about aliens toppling skyscrapers — and our supposed hero does little to stop it. The collateral deaths that he not only ignores but possibly causes while fist-fighting with Zod could number in the thousands. Yet as the decimated city smolders, this British imitation of Superman finds time to snog with Lois — and then he weakly pleads with the villain not to destroy a room full of people with a beam of light.
He should have pleaded with the beam-wielding hack Snyder, a villain of cosmic proportions.
---
When "Man of Steel" • One and a half stars out of four • Rating PG-13 • Run time 2:23 • Content Intense sequences of sci-fi violence, action and destruction, and some strong language