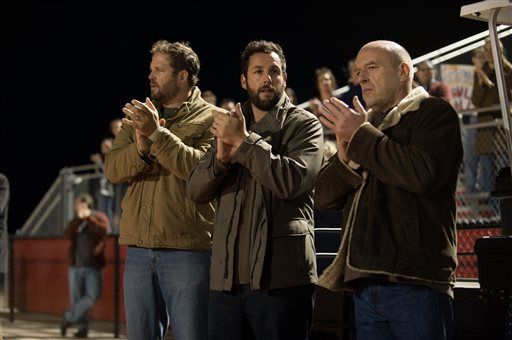 These kids today, with their pagers and Pac-Man. And now they've got these cordless phones that send crazy abbreviations instead of voice messages. Is it too much to ask that they thank Nana for the savings bond with a nice handwritten note?
If your idea of cutting-edge technology is an electric can opener, "Men, Women and Children" may strike an ominous chord with you. But if you actually use and benefit from a cellphone, you might wonder about the fogey filmmaker who's making such a fuss.
He's Jason Reitman, the talented director of "Juno" and "Up in the Air." Reitman is 36, and in real life he carries an iPhone; but in adapting a Chad Kultgen novel from 2011, he comes across as a cranky old visitor from Planet Analog.
Who but a newbie would depict an American mall or high school as a cacophony of cartoonish dialogue balloons saying things like "WTF?" and "Totes!" while no one is actually talking out loud? (In case we miss the point, "Men, Women & Children" has at least two such scenes, and a close inspection of the background extras shows that none of them are not carrying phones.)
Among the characters who are addicted to their tech toys is Hannah (Olivia Crocicchia), a trash-talking Texas cheerleader whose peekaboo website is run by her mother (Judy Greer).
While Hannah wants to make star football player Tim (Ansel Elgort) a notch in her belt, he becomes the town pariah for quitting the team. And to make matters worse, he's attracted to Hannah's best frenemy, goth bookworm Brandy (Kaitlyn Dever). But Tim and Brandy can't make a connection because all of her cellphone and online activities are monitored by her mother (Jennifer Garner as the most stereotypical scold in recent films).
Meanwhile, football booster Don (Adam Sandler, pretending to be a serious actor) is hiding his online porn addiction from wife Helen (Rosemarie Dewitt). Both of them resort to extramarital trysts with tall dark strangers.
There's a good movie to be made about the alienating effects of modern technology. In 2013, a little-seen indie called "Disconnect," starring Jason Bateman, came closer than this well-intentioned failure, which has virtually no heart, humor, sense of place or central point of view. In trying to be a big, important movie, "Men, Women & Children" is about none of the above.
What "Men, Women & Children" • Two stars out of four • Rating R • Run time 1:59 • Content Strong sexual content including graphic dialogue throughout-some involving teens, and for language