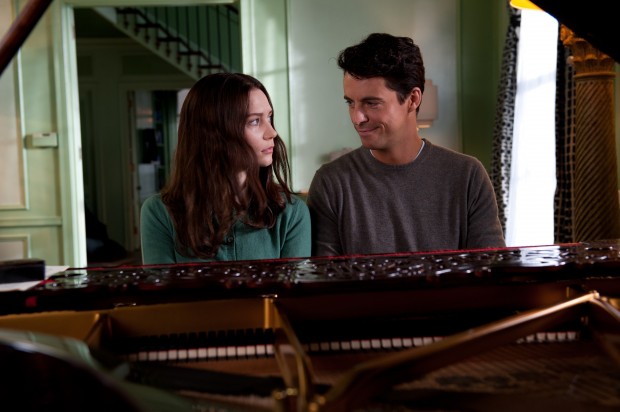 'Stoker" is a horror movie for film snobs. Despite its title, the most obvious influence on this tale about a creepy uncle putting the bite on his nubile niece is not Bram Stoker's "Dracula" but Alfred Hitchcock's "Shadow of a Doubt." The pretty, primal images are like leaves from Terrence Malick's "Tree of Life." And the name above the title is familiar to fans of Asian action cinema: Park Chan-wook.
Park's "Oldboy," a revenge thriller with forbidden sexual undertones, was a sensation at Cannes in 2004 and put Korean movies on the map. While Hollywood remakes that film, Park returns the favor by unofficially remaking a classic Hitchcock flick.
Goth-girl India Stoker (Mia Wasikowska) lives in the kind of crumbling New England manse where nothing good ever happens, and when we meet her, it's the day of her father's funeral. A mysterious arrival at the unhappy event is long-lost and never-mentioned Uncle Charlie (Matthew Goode). Immediately he moves into the house and starts shaking the dust from the doilies, to the consternation of the crabby old maid (Phyllis Somerville) and the visiting grandmother (Jacki Weaver).
For India's blonde and brittle-as-porcelain mother (Nicole Kidman), Charlie is a vibrating presence who reawakens her womanhood. But Charlie is craving a taste of India, who has just turned 18.
But India is no wimpering kitten, and when a high-school hunk tries to maul her in the moonlight, she and Uncle Charlie become cut-throat co-conspirators.
"Stoker" was written by actor Wentworth Miller ("Prison Break"), and Park, who speaks no English, seems to have taken the satire at face value. While he lavishes love on every carefully composed frame, the humans deliver laughable lines exhumed from dinner-theater murder mysteries.
Like a taxidermied owl, "Stoker" is lovely to look at, but in the end it's hard to give a hoot.
---
What "Stoker" • Two and a half stars out of four • Rating R • Run time 1:38 • Content sexuality and violence • Where Tivoli Theatre