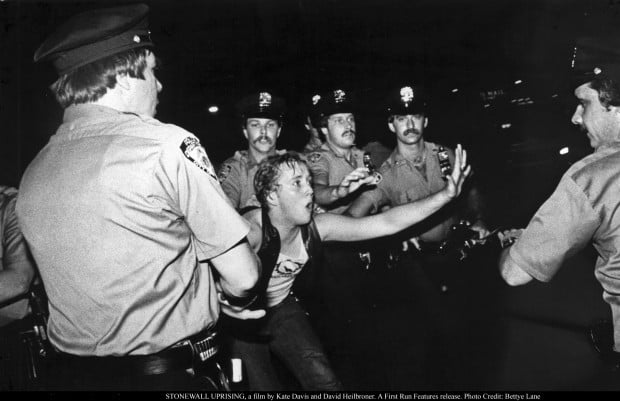 History calls the 1969 showdown between New York police and the patrons of a Greenwich Village gay bar the Stonewall Riots. But a witness says a more accurate term would be the Stonewall uprising, and the documentary of the same name places the incident within the context of the Civil Rights struggles of the 1960s with PBS-caliber tact and compassion.
The first half of the film dusts off some kitschy picket-fence footage and alarmist news reports to invoke an era when homosexual acts were illegal in 49 states, and gays were subjected to arrest, electroshock and sterilization.
This contextual prelude is partly due to the scarcity of images from the riot itself, which started with a routine raid. The shabby, Mafia-controlled Stonewall Inn wasn't the only gay bar in New York, but it was one of the freest, on a street where drag queens and Southern runaways felt secure.
So when six vice squad officers entered the bar and demanded to see the IDs of customers, the presumed weaklings went on the offensive — and hundreds of sympathetic neighbors surrounded the bar to trap the cops inside.
Although reinforcements eventually freed the police, the riots reignited on the next two nights. For one of the participants, it was "the Rosa Parks moment" of gay liberation, the event that galvanized a cohesive movement.
Almost all of the people who testify here were witnesses or participants, now grown to middle age and grateful for the experience. A year after the riot came the city's first gay pride parade, and the Stonewall spirit of collective support has powered the march toward equal rights for 40 years.