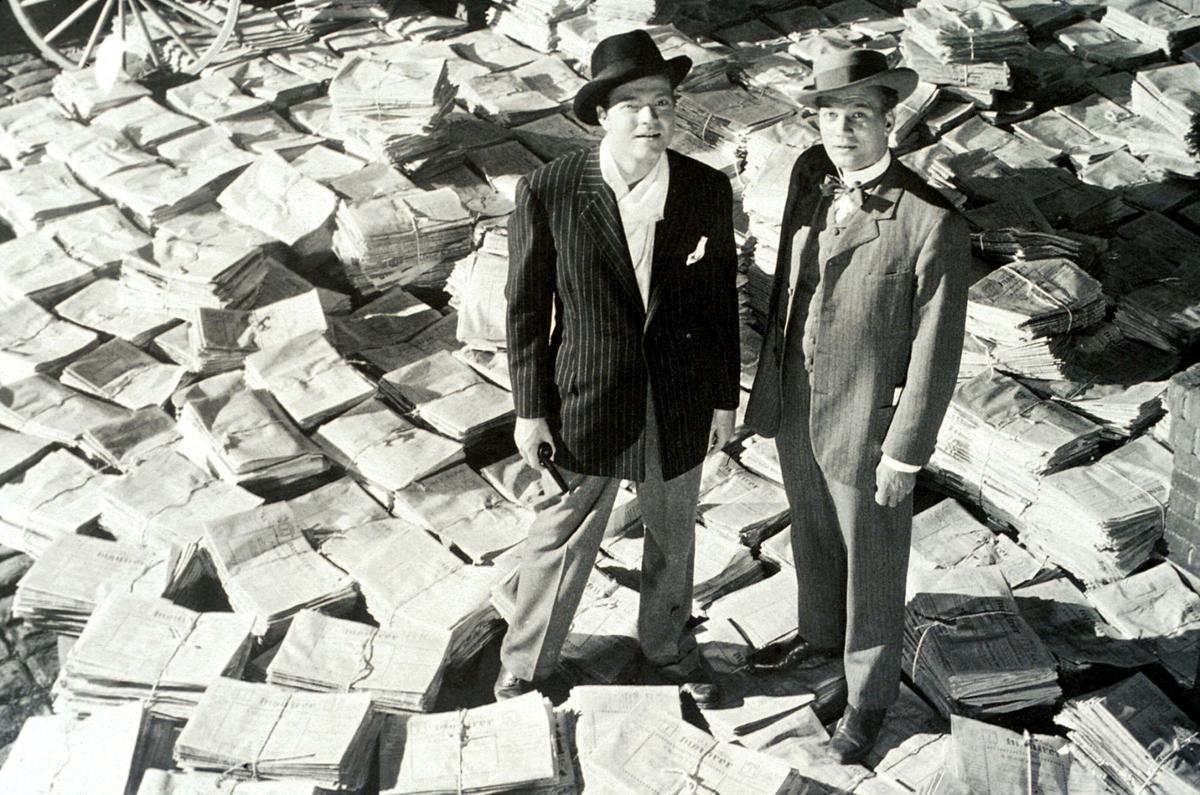 On Nov. 13, David Fincher's new film "Mank" premieres in select theaters and drive-ins, before streaming Dec. 4 on Netflix. Written by his late father, Jack Fincher, David Fincher's film centers on screenwriter Herman J. Mankiewicz, played by Gary Oldman, as he works on the screenplay for Orson Welles' epic, "Citizen Kane." Welles and Mankiewicz were credited as co-writers, and both received screenwriting Oscars for the film.
"Mank" is alternately an old Hollywood hoot and a socialist polemic, both weird and warm, and speckled with personal tragedy and self-destructiveness, seen in the hedonistic behavior of Mankiewicz, affectionately known as "Mank," and his tony cohort. The film flashes between Mank's writing "Citizen Kane" in 1940 while holed up at Victorville ranch with a broken leg, an English typist (Lily Collins), and a German nurse (Monika Gossman), and his days of cavorting with William Randolph Hearst (Charles Dance) and powerful MGM executives in the early 1930s, from which he draws inspiration.
The film is populated with legends of old Hollywood, including super producers Louis B. Mayer (Arliss Howard), Irving Thalberg (Ferdinand Kingsley) and David O. Selznick (Toby Leonard Moore), as well as actresses including Marion Davies (Amanda Seyfried), who was Hearst's longtime partner. Before you watch "Mank," here's a selection of films to get up to speed with who's who and what they did. It's the "Mank" syllabus, if you will.
"Citizen Kane" is, of course, a must-watch prior to "Mank," and thankfully, it's easy to access on HBO Max. Don't be intimidated if you've never seen this classic, which has long held the No. 1 spot on the Top 100 films as chosen by the American Film Institute and is largely considered the best or one of the best films ever made. It's incredibly fast-paced and entertaining, zig-zagging through the life of mining heir-turned-newspaper scion-turned failed politician Charles Foster Kane, played ferociously by a 25-year-old Welles in his very first film, which he co-wrote, directed, produced and starred in.
Welles made 12 other films after "Kane," and you can't go wrong with his stunning and mesmeric 1947 noir, "The Lady from Shanghai," on Amazon Prime, in which he stars opposite his estranged wife, a platinum blonde Rita Hayworth.
One of the central quandaries of "Mank" is the writing of Marion Davies, a charming comedienne and hostess, who is depicted as a close friend and confidant of Mank's. However, her representation in "Kane" as untalented songstress Susan Alexander is less than charitable. Davies' career was highly controlled by Hearst during their relationship, who steered the comic actress toward period costume dramas as he preferred. Although she's also been depicted in such films as 1992's "Chaplin" (on Tubi and Kanopy) and 1999's "Cradle Will Rock" ($2.99 digital rental), check out the real Davies in her 1932 film "Blondie of the Follies," in which she stars as a chorus girl caught in a love triangle with her roommate ($2.99 digital rental).
There's much discussion in "Mank" about the title role of one of MGM's high-profile projects, "Marie Antoinette," which Hearst wants for Davies. Ultimately, the role goes to Norma Shearer (played by Jessie Cohen), who was married to young MGM upstart Thalberg. That 1938 film is available to rent on Amazon for $1.99. Check out the lavish production directed by W.S. Van Dyke, with Shearer starring opposite Tyrone Power and John Barrymore.
Mank's younger brother, Joe (Tom Pelphrey) has followed his brother out to Hollywood at his behest, with the promise, "millions are to be grabbed out here, and your only competition is idiots." Joseph L. Mankiewicz would go on to write and direct many other films, including several collaborations with Elizabeth Taylor, as well as the tremendously enjoyable 1950 Bette Davis classic "All About Eve" ($3.99 digital rental).
Of course, Mank himself was no slouch, with 95 writing credits to his name, having contributed to "The Wizard of Oz," among other classics. His only other Oscar nomination was for co-writing the 1942 Lou Gehrig biopic "The Pride of the Yankees," starring Gary Cooper. Watch that one on Amazon Prime, Kanopy or Tubi.
Weekly movie reviews, local festivals and more.