"Three Billboards Outside Ebbing, Missouri" is shaping up as the film to beat at this year's Academy Awards. The comedy-drama written and directed by Martin McDonagh and released by Fox Searchlight Pictures is nominated for seven Oscars and has scored big in competitions leading up to Hollywood's big night March 4.
Just recently, the film won five awards — including best picture, actress (Frances McDormand) and original screenplay — at the BAFTA (British Academy of Film and Television Arts) Awards.
Set in a town in the Ozarks, "Three Billboards" is the tale of Mildred Hayes (McDormand), a mother who's upset that the police haven't captured the man who raped and murdered her daughter. She vents her outrage through a scathing message delivered on roadside ads.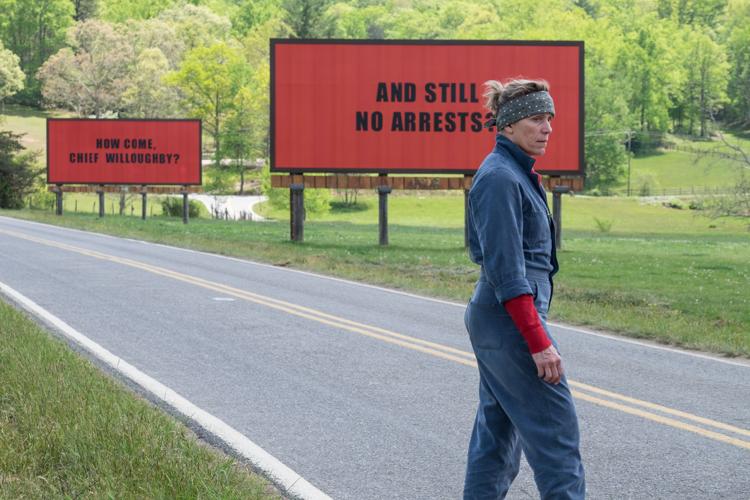 Of course, there's no such place as Ebbing, Mo. But moviegoers might be surprised to learn that "Three Billboards" wasn't even filmed in the Show-Me State. In reality, the setting for Mildred's campaign of vengeance is Sylva, N.C. — amidst the Great Smoky, rather than Ozark, mountains.
Along with Missouri, Georgia, Mississippi, New Mexico and Ohio, North Carolina was among the states that the producers of "Three Billboards" considered for shooting the film. In production notes, director McDonagh cites the reason that the North Carolina location was chosen: "There's nothing about Sylva that hints that a dark story like this should be happening there, and that was important: to have the town itself be a decent foil for Mildred."
There's no question that Missouri backdrops would have been more authentic. But North Carolina offers something important that Missouri currently does not: tax credits for film production.
Proponents of such incentives make the case that big-budget moviemaking can be an economic boon not only for local film craftspeople but also for a range of other enterprises. Detractors argue that courting Hollywood amounts to a bad deal for taxpayers.
In the recent past, Missouri has attracted high-profile films including "Up in the Air" (2009) and "Winter's Bone" (2010), which both earned Oscar nominations for best picture, and "Gone Girl" (2014), which was shot in Cape Girardeau — a town not unlike the one depicted in the bestselling Gillian Flynn novel on which the film was based.

"The economic impact from that movie was over $60 million," said Kim Tucci, who for many years served as chair of the Missouri Film Commission.
"Nobody's coming to your state without tax credits," he said, "because they can get them somewhere else. But the economic impact they generate is absolutely tremendous."
The Missouri Film Office, a resource for production companies interested in filming in the state, took a hit in 2011 when former governor Jay Nixon cut its annual state funding of $175,000. In 2012, the office (not to be confused with the Missouri Film Commission, which performs an advisory function) was reopened under the Missouri Division of Tourism, part of the Department of Economic Development.
In November 2013, the state's film production tax credit expired.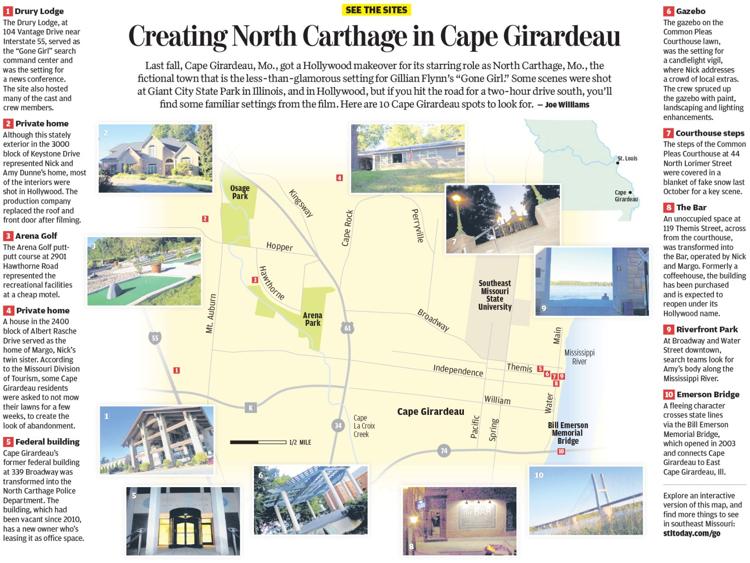 Joni Tackette, president of the Missouri Motion Media Association, said that tax incentives are essential to competing with other states for film and television production. MOMMA promotes entertainment production in Missouri.
"Entertainment is one of the largest exports that the U.S. has, and Missouri is not able to really get a piece of that pie," she said. The fact that a film is set in Missouri doesn't guarantee that it will be shot here, Tackette said.
"When the incentive was in place, it was capped at $4.5 million each year," she said. "It was a very small program. But I think it's easy for a legislator to stand up and say 'We're not going to give money from Missouri taxpayers to Hollywood.' What they don't understand is, that $4.5 million was used to lure productions here that created jobs."
Tackette points out that a couple of high-profile series set in Missouri — "Ozark," a Netflix crime drama starring Jason Bateman and Laura Linney, and HBO's upcoming "Sharp Objects," featuring Amy Adams and based on a mystery novel by "Gone Girl" author Flynn — both are being filmed in Georgia.
"It's really bad for the industry in Missouri when we lose a series, because they can come back to that same location for years, depending on how long that series will play on television," Tackette said.
"Gone Girl," the last big-budget movie to benefit from the since-expired Missouri film credit, received $2.36 million in subsidies. Critics of tax incentives for film production contend that the investment doesn't justify the loss in tax revenue. They also focus on the temporary jobs associated with the film rather than the production's broader economic impact.
On the other hand, some states have made film production a priority. Last year, North Carolina designated $34 million in film incentives and has further earmarked $31 million for that purpose in 2018. And according to the Georgia Department of Economic Development, from July 1, 2016, to June 30, 2017, feature film and television production in the state "generated an economic impact of $9.5 billion."
Kansas City offers production incentives on its own through the Kansas City Film Office. Among the recent film and television productions shot there is the 2016 feature film "American Honey."
In opting out of providing tax credits, Missouri not only limits the opportunities available to local film-industry workers (beyond homegrown, low-budget productions) but also effectively cedes control of how the state is portrayed in film and on television, said Cliff Froehlich, executive director of Cinema St. Louis, which presents the annual St. Louis International Film Festival.
"The benefits of having films shoot here are not really quantifiable: They're more about having the state represented accurately onscreen," Froehlich said. "But be careful what you wish for. Given the series' less-than-flattering portrayal of the Lake of the Ozarks, would state legislators have been happy if 'Ozark' were shooting here instead of in Georgia?"