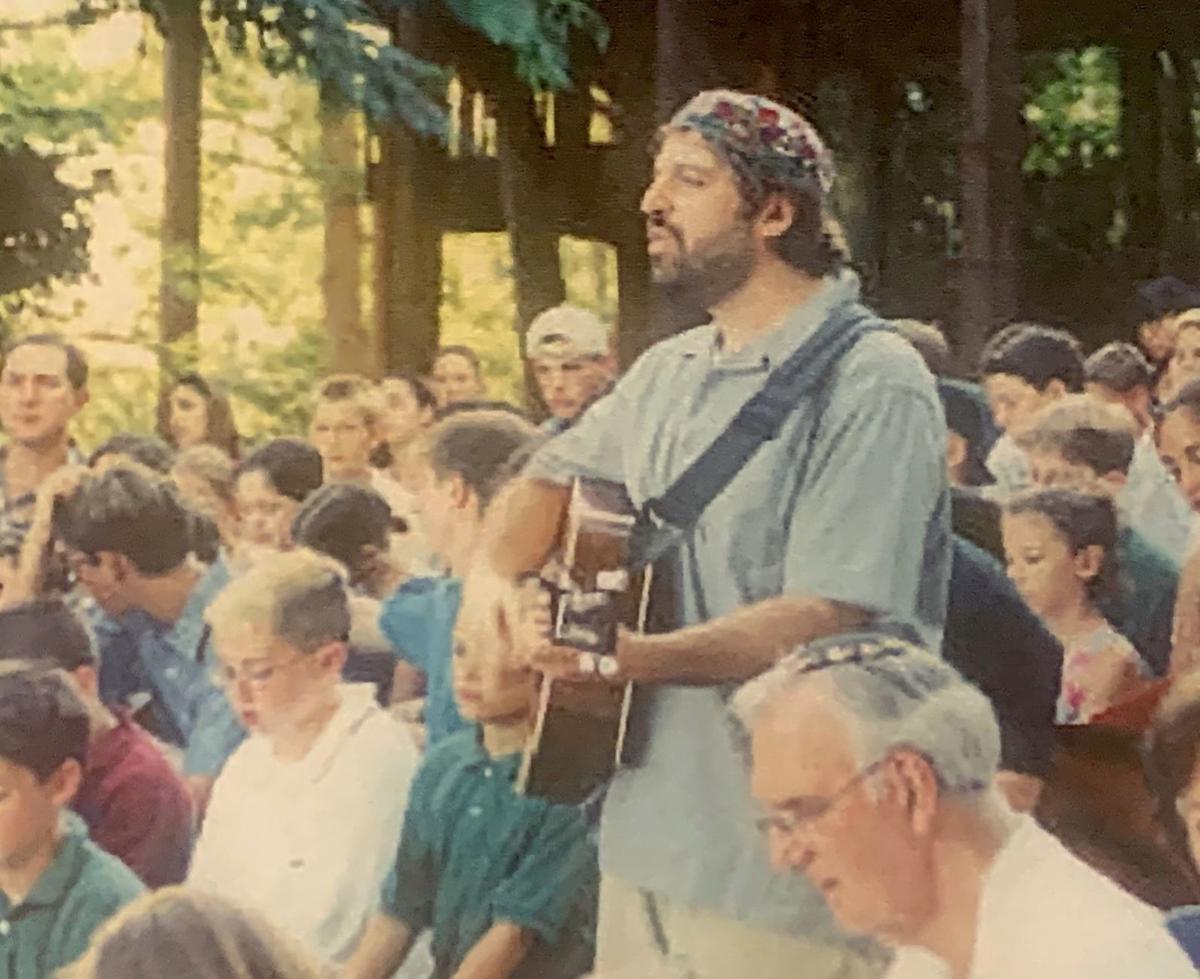 There's this song I like to hear when I'm sad, because it makes me feel a certain way of happy.
It doesn't make me happy-happy. It's not one of those instant pick-me-ups. But the song takes me to a place, every time. Listening to it is a process. An experience. And during this experience, the song nourishes me. It provides perspective, a chance for introspection, and in the end, it makes you believe in believing.
It's called "Hashkiveinu." It's sung by Rabbi Randy.
It's been done by a lot of people in a lot of ways over a lot of years. Leonard Bernstein composed a version in the 1940s. A fellow named Craig Taubman wrote a contemporary version in the 1990s. And then, in the late '90s and early 2000s, a few peace-chasing, farmer's-tanned song leaders mashed up the lyrics at a Missouri summer camp. They added some Bob Marley. And later, some U2. And now, in 2020, the song is quintessentially Rabbi Randy's.
He sings it at my temple in St. Louis, Central Reform Congregation. For the handful of us who know Rabbi Randy's version of "Hashkiveinu," it's like our little secret. It helps us navigate tough times.
So, I wanted to share the song with everyone, during the pandemic, when there's so much fear and sickness and death. So much economic stress and mental anguish. And uncertainty. So much uncertainty.
As another rabbi at CRC, Daniel Bogard, put it: "When Randy sings it, and when he sings 'everything's gonna be all right,' it's the closest I get to believing that."
So, right away, you don't have to be Jewish to enjoy the song. Heck, I am Jewish, and even I don't know what the word "Hashkiveinu" even means. There is Hebrew in the song (it's a prayer, after all), but it's balanced out by a lot of lyrics in English.
My wife isn't Jewish, but this song touches her, too (my whole family is connected to CRC). We sing "Hashkiveinu" around the house.
"It's got a universal message of hope," said Rabbi Randy Fleisher, who's 56, married and a father of two. "The message of both the ancient prayer and the more modern music all speaks about hope and redemption and faith. I think it's a bridge kind of piece. It really connects people. …
"One time a church group visited our temple for a Friday night service. One of the kids, they were students at a Christian college, said to me: 'So I came here not knowing what to expect. But when you sang that prayer with 'everything's gonna be all right,' I found the same kind of spirituality here that I do in my own church.' I remember that really well."
Randy's version of the song opens with gentle strums of his acoustic guitar. The tone sets the tone. It's time for this — let's do this. At temple on Friday nights, for Shabbat service, a couple of men and women accompany him, harmonizing "oooohs" in the background. The words begin differently each time — Randy talking over the guitar about the topics of the day.
"Take this soul, living in my skin and bones, take this soul and let it sing. Yahweh, Yahweh, there's always pain before a child is born. Yahweh, Yahweh, it's always dark before the dawn."
Next, he sings the Hebrew prayer of Hashkiveinu.
"Hashkiveinu Adonai eloheinu l'shalom, v'ha-amideinu shom-rei l'ḥayim. Allow us to lie and rise in peace, shalom."
This leads up to the big moment. Rabbi Randy starts singing this Bob Marley line, over and over. And the words sooth your body.
"Everything's gonna be all right. … Everything's gonna be all right. … Everything's gonna be all right. … Everything's gonna be all right. …"
"It brings tears to my eyes just to think about it," said Jamie Sentnor, a longtime CRC member. "That moment for me, it's like everything goes away, everything else that was hard. Just whatever happened is gone when he starts strumming that tune."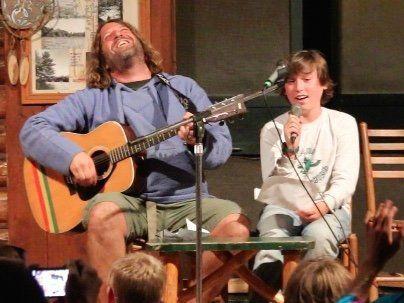 Craig Taubman hated "Hashkiveinu."
Fifty years ago, as a boy at Sinai Temple in Los Angeles, "it was a very long text, and the cantor would (sing) this incredibly non-compelling setting for the text," he said. "But that's my first memory of 'Hashkiveinu.' And it wasn't about comfort. It wasn't about sheltering us. It was, 'Oh, geez, we're gonna be here for another 25 minutes listening to this.' It was probably only 2.5 minutes, but it felt like forever."
By the 1990s, Taubman had become a thriving musician, writing songs for Disney and Nickelodeon. In his spare time, he once wrote a personal lullaby for his daughter, Abby.
He remained a member at Sinai Temple, where a new rabbi had a new idea: a Friday night service to entice a young generation to attend.
So Rabbi David Wolpe enlisted Taubman, who would take old prayers in Hebrew and set them to modern melodies. As for "Hashkiveinu," the song from Taubman's childhood that just dragged on, the rabbi pointed out that it's "really just a lullaby for the Jewish people."
That was the moment. Taubman took the Hebrew words of the prayer and sang them to the music of the lullaby he wrote for his daughter.
"I sold several hundred thousands of those albums," said Taubman, 62. "I thought 'Hashkiveinu' was pretty, but it's somewhat taken on — at least in the Jewish community — a relative life of its own. It's sung at many, many congregations, all over the world.
"I was in Germany in February, right before all this happened. And somebody pointed to me and said, 'This is the man that wrote 'Hashkiveinu!' The year before, we were in Spain. They said, '"Hashkiveinu?" "Hashkiveinu!"' It's my claim to fame. I mean, it's not, you know, 'Imagine.' But it's fun."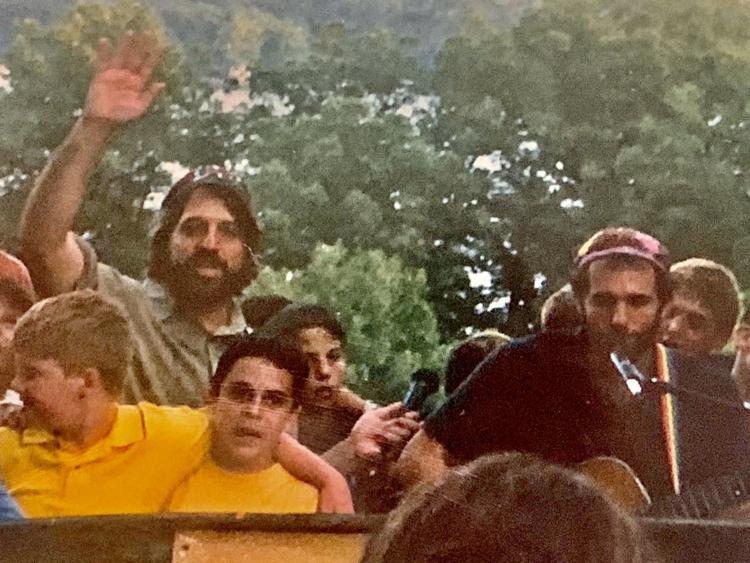 In many ways, summer camp is like college, except sober.
Just like you go to college to learn in classes, camp provides numerous structured activities. But, come on. The real education comes from the freedom. The experiences and interactions outside the structure. A college's campus and a camp's, well, camps are really just locales for kids to roam and take risks, to find out new things and find themselves.
And for the camp counselors and staff members themselves, mostly older teenagers or young people in their 20s, that experience is a rite of passage. You're no longer a kid but not totally a grown-up.
"Camps are great for that," said Rabbi Benjamin Schudson Shalva, 43. "You catch each other in this moment, and then you head off into different directions."
Most Jewish-influenced camps have song leaders, sometimes a scraggly fellow in a tie-dye shirt with a penchant for Phish (but not shellfish). In the late 1990s, a fellow from Milwaukee and a fellow from Brooklyn each descended upon a camp nestled in, of all places, the Lake of the Ozarks. You find these camps, but really, these camps find you.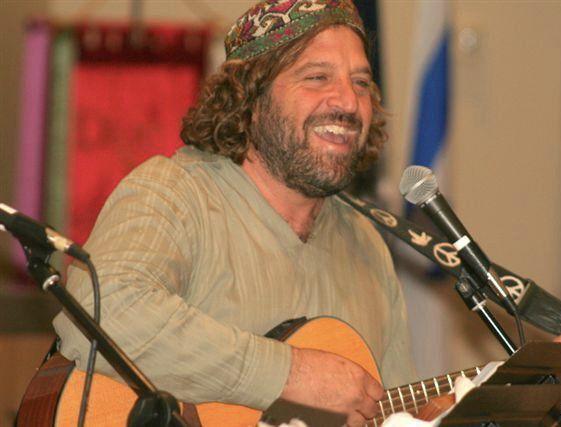 "The Jewish world is always looking for someone who can kind of bring that 'ruach,' that spirit," said Shalva, who came to Camp Sabra from Milwaukee, serving numerous camp leadership roles involving song and theater. "And that's stuff I learned at camp, when I was a counselor."
In New York City, Saul Kaiserman's folks raised him on folk. They'd see shows by Arlo Guthrie, Pete Seeger, and Peter, Paul and Mary.
"So I always kind of had this sensibility," said Kaiserman, a Sabra song leader in the late 1990s, "of being in a crowd of people with somebody up in the front of the room, getting everyone to sing along and harmonize."
Craig Taubman's "Hashkiveinu" made its way into the Sabra orbit. Kaiserman and Shalva began singing it together to the campers, notably on Friday nights during Shabbat services. The song was perfect for camp — a Hebrew prayer prepared as a sing-along lullaby.
"The cool thing about the song is that it's basically that classic four-chord song: G, D, E minor, C," Shalva said of what some call the "four magic chords," which unlock the melody of dozens of famous songs, from those by Queen to Lady Gaga, U2 to Bob Marley.
"I remember jamming with other guys who play guitar at the camp. And I'm pretty sure that we're playing 'Hashkiveinu,' and some other counselor says, 'There's a Phish song that goes to the same chords.' So you could do the chords and sing, 'Hashkiveinu Adonai, eloheinu l'shalom,' and then, 'I never ever saw the stars so bright.' And there's like all these different songs you could put in there with those chords."
But it's unclear whether it was Kaiserman or Shalva who added lines from the end of Bob Marley's "No Woman, No Cry" to Camp Sabra's "Hashkiveinu."
"That would have been the kind of thing I would have been playing around with," said the 52-year-old Kaiserman, the director of lifelong learning at New York City's Congregation Emanu-El. "I really liked to kind of do what I guess has later been come to be called mashups."
It was a summer of synthesis. Fireside fusion. By the end of 1999, "everything's gonna be all right" was part of "Hashkiveinu."
And in 2000, a new, young rabbi arrived at Sabra as camp director. So, Shalva taught him the song.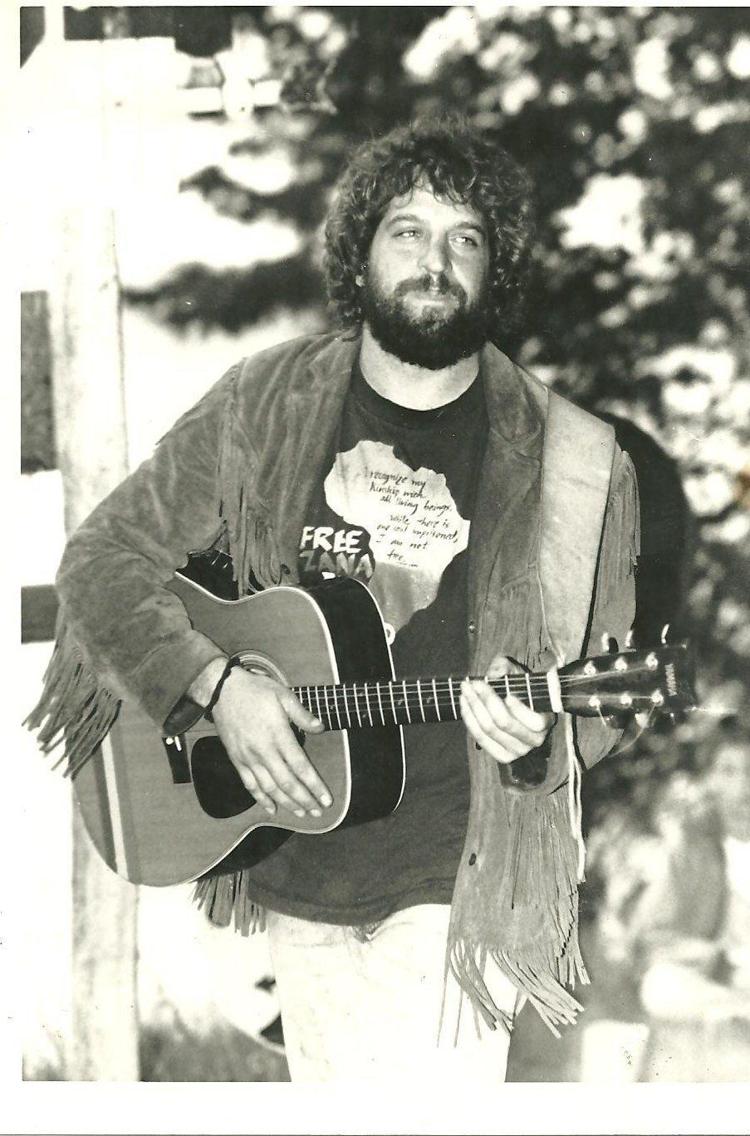 On Dec. 14, 2005, U2 played Savvis (now Enterprise) Center in St. Louis. Kanye West opened. At the end of the show, Bono and the boys paid homage to John Lennon, in the 25th year since his death. They performed "Instant Karma." Then, they followed it with a popular U2 song at the time, "Yahweh."
Rabbi Randy Fleisher was in attendance, and as the words showered over him, he felt what it was like to be on the other side of it.
After two years at Camp Sabra, Randy became a rabbi at CRC in 2002. He infused the "Hashkiveinu" into Friday night services and, a few years later, incorporated the "Yahweh" lyrics — his personal touch to the song, which he's performed hundreds of times over the past 20 years.
He plays it Friday nights as we sing along in the congregation. And he plays it Wednesday for the Hebrew School students, ages 8 to 12. Standing in a circle, the kids have their arms around one another, swaying and belting out the song in high-pitched adorableness.
"I think it's very beautiful to watch the current of music and Judaism kind of work its way," said Shalva, who still performs "Hashkiveinu" every summer at camp near Detroit. "I almost imagine like a river or stream that kind of finds the different eddies and moves through. Because, yeah, it's true, stuff like that just spreads — and metaphorically, in a beautiful way, it works its way to all these different communities."
In 2010, suddenly and startlingly, Jamie Sentnor's daughter was hospitalized. Nine-year-old Bryn was diagnosed with Type 1 diabetes.
"It's not like it's on your radar for your kid to be diagnosed with an illness that's going to be chronic and permanent and forever," Jamie said. "We certainly felt so overwhelmed and so stressed with all the information."
Rabbi Randy arrived at Bryn's hospital room, along with Rabbi Susan Talve, founding rabbi of CRC.
"They show up and your shoulders just drop," Jamie said. "And when he played 'Hashkiveinu,' that was pretty magical. You just feel, like, enveloped by the guitar and the love and the prayer and the music. Everything's gonna be all right."
And it was. Bryn is now 19, a happy freshman in college, studying theater. She's even recorded her own version of Rabbi Randy's "Hashkiveinu" on the ukulele.
"I have a cover! Somebody covered me," Randy said with glee.
Randy plays the song under so many different circumstances. At an interfaith concert. At a gathering in a garden at sunset on a Sunday. At a baby shower on Zoom, in April, for my wife and me.
In December, he played it for an old friend. A St. Louis man Randy knew from their camp days had cancer.
"He has two daughters and his wife, and I've gotten to know his family really well," Randy said. "And I visited him a lot when he was in hospice at home, and I would play camp songs such as 'Forever Young' by his bed, and I also played him 'Hashkiveinu,' and we talked about it — and that's not easy to sing 'everything's gonna be all right' when someone knows they're dying. But he also had some really amazing quality time with his family and friends. And then they asked me to play it at the shiva after he had passed away."
When the coronavirus pandemic hit America in mid-March, "I felt the need for 'Hashkiveinu' at that moment," Randy said, "and so I was hoping that others would, as well."
Randy sat in front of his fireplace with a guitar he's had since middle school. His wife, Amy, recorded the video. He began his lullaby for the soul. But this time, he added verses from "Amazing Grace."
As he got to the "everything's gonna be all right" part, he paused. He strummed his old guitar and spoke: "This is the part that sometimes is exuberant — and sometimes is hard to sing. But it's important. And so we sing this for everybody effected by this crisis, by this virus. We sing it for those who are vulnerable, those who are homeless and ill and oppressed. We sing it for ourselves and people around us — and for people we'll never even meet. We sing it with faith and hope and knowing it might not be immediate, but yet, we have to believe.
"Everything's gonna be all right. … Everything's gonna be all right. … Everything's gonna be all right. … Everything's gonna be all right. …"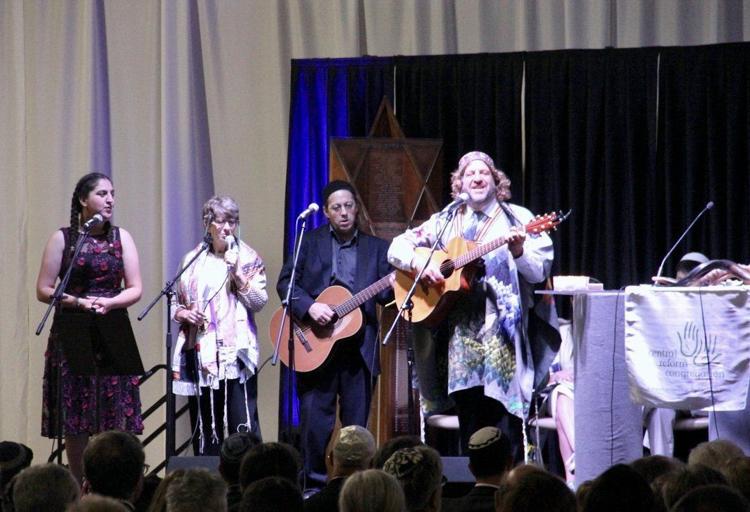 Concerned about COVID-19?
Sign up now to get the most recent coronavirus headlines and other important local and national news sent to your email inbox daily.