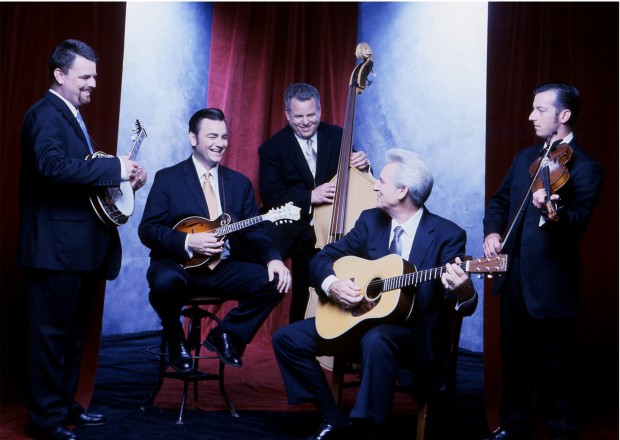 On its face, a collaboration between legendary bluegrass outfit the Del McCoury Band and tradition-rich Preservation Hall Jazz Band seems unlikely.
Yet, on a new recording, "American Legacies," the two acts were able to find more than just a little common ground.
"There are a lot of similarities in the two types of music," Del McCoury's son Ronnie McCoury says. "Of course, what bluegrass is, is a combination of mountain and gospel and jazz and blues. It was real easy to play with those guys."
Del McCoury, who used to play in bluegrass originator Bill Monroe's band, underlines the point. "Bluegrass is entirely Bill Monroe and Flatt & Scruggs," he says. "But everybody's gotta learn from somebody. And before those guys, there was no bluegrass."
The McCourys have expanded bluegrass music's parameters before, performing live with the jam band Phish, touring with latter-day country outlaw Steve Earle and turning folk-rocker Richard Thompson's "1952 Vincent Black Lightning" into a bluegrass classic.
Most of those things have happened by accident, the elder McCoury claims.
"The music my band plays is the same thing I heard when I was growing up," he says. "That sound of a fiddle, banjo, mandolin, guitar and bass. I always thought, 'You can't improve on that.'
"But all these opportunities come up, and I'm game for anything when it comes to music. I realized a long time ago that music is all related somehow."
In the case of the Preservation Hall collaboration, it began when McCoury was asked to perform with the jazz band on the album "Preservation," a post-Katrina benefit to help restore the hurricane-ravaged hall itself.
"I got to know these guys, and they said, 'Why don't we get our bands together and see what it would sound like?'" he says.
They did, and "American Legacies" is the result, showcasing two types of music that no one would have imagined went so well together. No one but musicians, that is.
"When I worked for Bill Monroe, he was in a terrible car wreck," McCoury says. "They had music on in the hospital, and this song came on the radio, 'Mullensberg Joys,' by a jazz band. Sometime later in his career, (Monroe) recorded it from memory, just the way he heard it that day in the hospital.
"When we got together with these guys, Ronnie said, 'Hey, guys, do you know a tune called 'Mullensberg Joys'?' And they just kicked right off with it. Of course, Ronnie knew it as a mandolin tune. So there you go."
---
The Del McCoury Band and the Preservation Hall Jazz Band