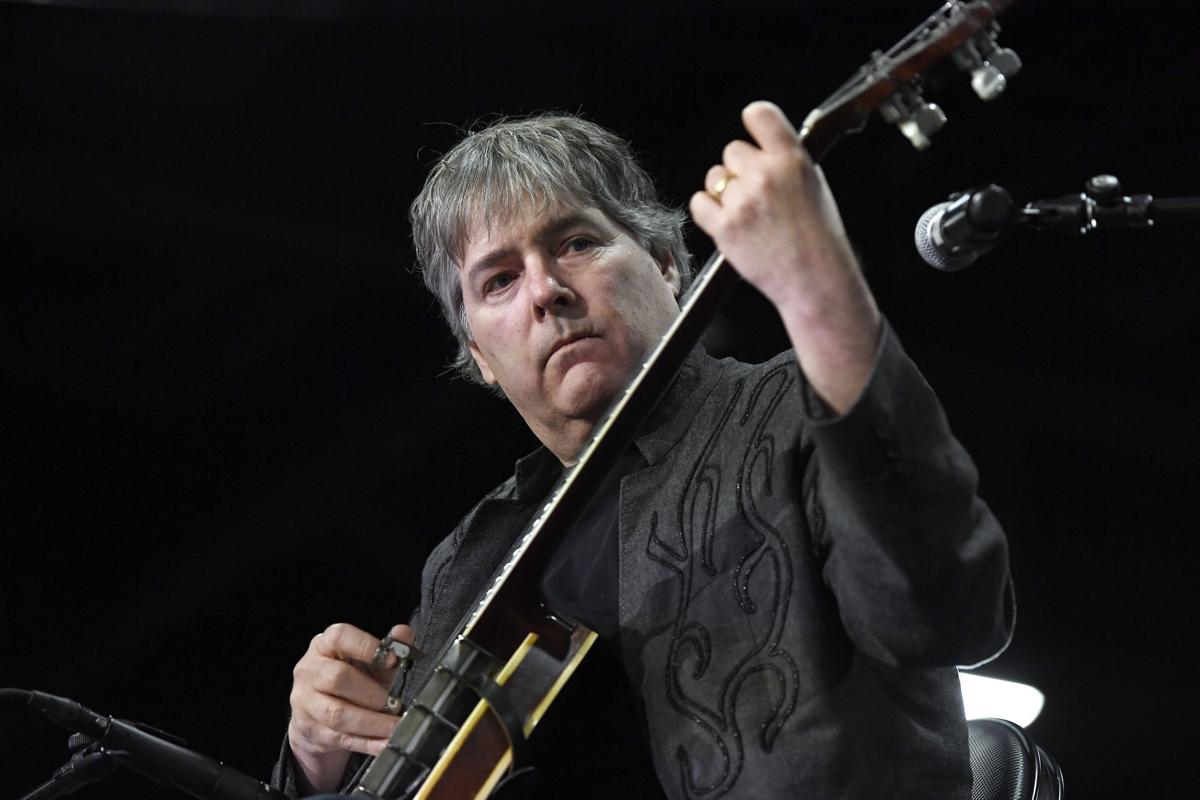 'I make a bluegrass record every decade or so," Béla Fleck says with a laugh.
Well, more or less. In fact, his most recent album, "My Bluegrass Heart," which was released in September, is part of a trilogy that includes "Drive" (1988) and "The Bluegrass Sessions: Tales From the Acoustic Planet, Vol. 2" (1999).
Before, in between and since those albums, the 15-time Grammy Award winner has traversed all manner of musical barriers, plying his virtuosic banjo stylings in musical contexts as varied as classical music, jazz, rock and world music.
It's not what you would expect from your average banjo player, though you might expect it from someone named Béla Anton Leoš Fleck.
He was named for classical composers Bartók, Webern and Janácek. He may have been inspired to pick up the banjo by hearing Lester Flatt and Earl Scruggs play "The Beverly Hillbillies" theme song, but he also hails from New York City and attended the prestigious High School of Music & Art, aka the "Fame" school.
"You know those Pace taco sauce commercials?" Fleck says. "'Where does this taco sauce come from? New York City?' I'm like that. 'Where does this banjo player come from?'
"But that doesn't mean I'm not a part of the bluegrass family," he insists. "I'm sort of like the weird cousin who goes off to India and comes back every once in a while."
After playing in some early bands, Fleck was asked to join the progressive bluegrass outfit New Grass Revival, where he played alongside Sam Bush, John Cowan and Pat Flynn. He also initiated his solo career, launched Béla Fleck and the Flecktones and pursued other wildly varied projects.
It was the illness and untimely death of legendary guitarist Tony Rice, who played on "Drive" and "The Bluegrass Sessions," that brought Fleck back to bluegrass this time around.
"Twenty-something years had gone by, and I hadn't gotten back to it," Fleck says. "And largely because Tony Rice was kind of removing himself — he was not well and couldn't do what he could do before. And then he died. I realized that if I was ever going to do bluegrass again, it would have to be with another guitar player. And so I started exploring that."
Fleck dedicated the album to Rice and to another musical partner, Chick Corea, who died in February.
To make "My Bluegrass Heart," Fleck assembled some of his old friends and compatriots — Sam Bush, Stuart Duncan, Edgar Meyer, Jerry Douglas — as well as players that had influenced him, such as David Grisman and Tony Trischka. But he also brought in some younger players including Billy Strings, Molly Tuttle and Sierra Hull. Eventually, the record turned into a cross-generational who's who of bluegrass music.
As precise as the playing is throughout the record, there's a loose and somewhat experimental feel to the music.
"The recording process was a little bit easygoing in that everybody was going for perfection, but we didn't try to perfect it," Fleck says. "We'd sit and play a song for several hours and ended up with, like, 15 takes. We just played and went with it."
Fleck left some of the between-take studio conversations on the album, giving listeners a fly-on-the-wall perspective.
"Like Billy Strings and Chris (Thile) blowing off steam after playing 'Slippery Eel,'" Fleck says, "which is breakneck and quite complicated. You just have to let the steam off after doing something like that. We're real people doing this stuff."
Astonishingly, Fleck is bringing many of those real people along on the road, assembling a shifting cast of staggeringly great groups along the way. At the Sheldon on Dec. 1, he'll be accompanied by Bush, Douglas, Duncan, Meyer and Bryan Sutton.
"Yeah, it's a superstar group," he says. "Arguably the lifer, top-of-the-field guys. I don't know how many times we'll get to do something like this."
Other shows on the tour will feature other players, but it's not the kind of gig where you can just drop in, tune up and go. "It's a lot of work to learn this music," Fleck says. "You've got to practice this stuff for weeks before you can play. I didn't think it was that hard, but then I had to learn it myself to just play it. I was like, 'Oh my gosh, what have we done here?'"
With so many projects pending across so many genres, Fleck has to budget his time, which can be difficult.
"There are things that pop up, and you just go, 'Yeah, I would love to do that,'" he says. "If I don't have that reaction, I shouldn't do it, because I'm busy, and I've got young kids. So I have to be careful what I take on.
"It's like, when Chick Corea would say, 'Hey, you want to go out on tour?' Boom, that was a yes. And the Flecktones getting together when everybody's ready and wants to? Yes. Edgar Meyer and Zakir Hussain? Yes. My wife, Abigail (Washburn), our banjo duo? Yes.
"That's a lot of stuff right there. How do you do anything new when you've got that much stuff going?"
Fleck has projects already recorded with Corea, with Washburn, and with Meyer and Hussain. The album with Corea likely will be the next release.
"It's half new live material and half stuff that we sent back and forth during the pandemic," Fleck says. "I think we really kind of hit a new place. It's very bittersweet, obviously, but I'm also really proud that there's another chapter of our duo that people can hear."
What Béla Fleck • When 8 p.m. Dec. 1 • Where Sheldon Concert Hall & Art Galleries, 3648 Washington Boulevard • How much $50-$200; proof of COVID-19 vaccination or negative test required • More info 314-534-01111; metrotix.com