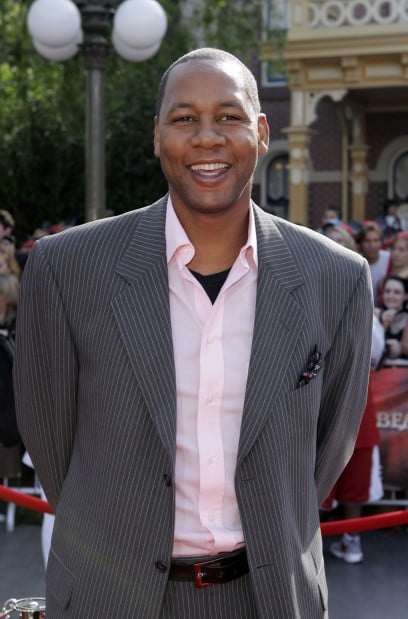 Funny guy Mark Curry calls his heyday on the '90s ABC sitcom "Hangin' With Mr. Cooper" a "beautiful time" in his life.
Curry's fans have been hard pressed to find him in a regular role since those days, when he shared screen time with Holly Robinson Peete and Raven-Symoné.
Curry has been missing in action except for 2006 headlines of a freak accident in his home, when an aerosol can exploded leaving him with second-degree burns on about 20 percent of his body. But the LA-based Curry, who has a new sitcom in the works, says he hasn't been as off the scene as it may appear.
"Where have I been? I've been in Vegas the last three years, and I've also been doing road dates and corporate engagements, honing my craft doing stand-up and getting comfortable being a comedian again," Curry says.
"But I never left stand-up. I just wasn't in the mainstream. I was doing clubs in Arkansas, doing improv in Tempe, Ariz. Comics steal so much material I didn't feel comfortable working in LA in the Comedy Store. So I went on the road. It was the only way to test myself."
Curry says with stand-up comedy, "you have to keep doing it or you'll get rusty, just like with anything."
He's now ready for the Royal Comedy Tour, where he shares a stage with gut busters such as Sommore, Earthquake and Bruce Bruce.
"I had to come prepared on this tour," he says of the take-no-prisoners nature of some of the other comedians on the bill.
His tour mates have been omnipresent in urban comedy for many years.
"Everybody is funny, and everybody has their time and place," says Curry, who has been influenced by Richard Pryor and Bill Cosby, among others. "I love all the guys, know them all and love them all as long as they don't do my material. Other than that, they're funny and bring a great point of view."
Subjects of Curry's set range from President Barack Obama to family to relationships with women. He doesn't target celebrities much.
"That ain't me," he says. "I see those celebrities every day. But I talk about Tiger Woods. He's on the list. But I still don't get into that much."
Curry also says he jokes about his accident, which devastated him so much that he considered suicide.
"You can joke about anything, like me trying to commit suicide, and I'm 6 feet 6," he says. "It's hard for someone to do that who's 6 feet 6. I talk about that and the fire and all of that. After it happened, I had 'Disco Inferno' on my answering machine. I got burned so bad I can take a hot dog off a burning grill."
---
Royal Comedy Tour with Sommore, Bruce Bruce, Earthquake, Mark Curry