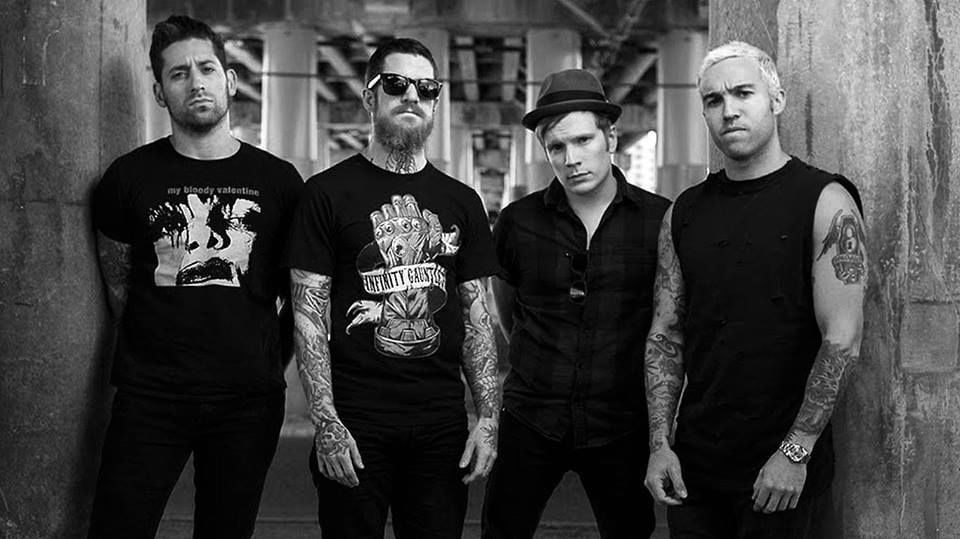 For Fall Out Boy's concert at Scottrade Center on Saturday, only the second stop on its monthslong, worldwide "Mania" tour, the band came armed with all manner of big-show accoutrements — both main and satellite stages connected by a runway that spanned the arena floor, flame cannons and fireworks, confetti, laser lights, even T-shirts that parachuted from the ceiling: everything but the album that the tour was named for.
Late in the show, bassist Pete Wentz explained that the pop/punk band decided the "Mania" album "was OK" but didn't want to put it out until it was "really, really great." (It's now scheduled for release in January.)
"We appreciate your patience," he said. "If you stick with us, we're yours 'til the world crumbles."
Yikes. That's not anytime soon, one hopes, but these days, who knows?
At any rate, it scarcely matters that the album isn't out, because three of the four new songs Fall Out Boy performed during its 90-minute set — "Champion," the EDM-flavored "The Last of the Real Ones" and "Young and Menace," which singer Patrick Stump performed alone, on piano — have already been released as singles and were familiar enough for the audience to sing along. The other new song featured was "Expensive Mistakes."
The show was relentlessly fast-paced and, well, downright manic as it also showcased songs from recent albums "American Beauty/American Psycho" and "Save Rock and Roll," including the show-opening "The Phoenix," "Irresistible," "Immortals" and "Alone Together." Wentz, Stump and guitarist Joe Trohman took turns dashing down the runway to interact more closely with fans.
Though it's not a political band, Fall Out Boy courted controversy with the video accompaniment for "Centuries," which intercut images of outspoken, iconoclastic hero Muhammad Ali with shots of Colin Kaepernick and various NFL players kneeling during the National Anthem. No further comment was offered, leaving the video to speak for itself.
Meanwhile, the band reached back to its earliest albums for "Grand Theft Autumn/Where Is Your Boy," "Sugar, We're Goin' Down" and "This Ain't a Scene, It's an Arms Race."
The start of a new tour — especially a big one with lots of moving parts — can bring glitches, and there were a few at Saturday's show. Most notably, when the band moved to the satellite stage — actually a pair of small platforms that rose 20 feet above the floor — something malfunctioned, creating a chaotic flurry of sounds emanating from Andy Hurley's drums and making a hash of the song "Dance, Dance."
"Our (stuff) is not working," Wentz said. "Rather than play two songs for you (poorly), we're going to go back to the other stage and play 'em well." Which they did, though that threw off the timing of a comic transitional skit with the costumed llama characters from the band's recent videos.
There were more than a few nervous glances between band members during the show, and they abandoned the stage quickly at the close of the regular set. But they returned for "Uma Thurman," "My Songs Know What You Did Last Summer (Light 'Em Up)" and "Saturday."
The technical problems and the delay of the album suggest that Fall Out Boy may have gotten ahead of itself a bit on all fronts. But the show was still a satisfying mix of upbeat anthems and special effects.
Matthew Musto, in his guise as rapper blackbear opened the show, backed by a four-piece band and drawing songs from his latest album "digital druglord" and from previous efforts. His set was well-received, which is unfortunate, in that Musto's lyrics and misogynistic between-song banter sound increasingly anachronistic in the age of Harvey Weinstein and Bill Cosby.
Also on the bill was actor-rapper Jaden Smith, who showed off some smooth dance moves and rapped as his videos for songs including "Batman" and "Watch Me" from his forthcoming album "Syre" played behind him. That made for an odd, insular performance that mostly failed to connect.
Fall Out Boy setlist:


"Sugar, We're Goin' Down"
"American Beauty/American Psycho"
"The Last of the Real Ones"