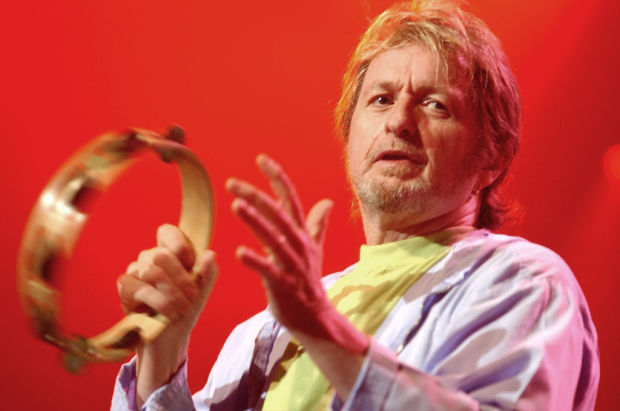 When Jon Anderson was approached to play a pair of shows this weekend — a solo "storytellers"-type gig at the Moto Museum on Friday and the U-19 Bash on Saturday at Chesterfield Amphitheater, where he'll front a band of talented teenagers from the School of Rock — the progressive-rock pioneer had only to say the name of his former band: Yes.
Anderson has been performing and instructing School of Rock kids for a decade. "In 2004, I went to Philadelphia for the first School of Rock," he says, "and since then, every year I'd go over to New York and Philadelphia and we'd get in a bus with 30 kids and go crazy — go on tour for five or six shows."
He'll arrive a few days early to rehearse with the young musicians. "I'll go in and listen to what they do and tell them to slow down at bit, ease it off," he says with a laugh. "And I'll talk to them about stage presence and how to move around. They tend to be very concentrated on playing rather than performing. So the idea is to teach them how to put on a show in front of people."
The School of Rock students can probably expect a kinder, gentler Anderson than the one who was often a stern taskmaster when it came to Yes. "They called me Napoleon in the band, because I wouldn't take any crap," he says. "But my point was that you're lucky to be a musician in this life, and you should be thankful for it and always give 100 percent."
His Yes bandmates dealt Anderson a cruel blow in 2008 when he was laid low by a serious illness and, rather than wait for his recovery, they replaced him with a sound-alike singer and carried on.
"That moment really hurt," Anderson admits. "I think we'd grown apart over the years, and when it came to the crunch, you know, business is more important and that's what they wanted to do.
"But we're still brothers," he adds. "I'd still greet them if I saw them." Noting that an impending reunion could happen if Yes ever makes it into the Rock and Roll Hall of Fame — they were nominated for induction this year but didn't make the final cut — Anderson says he'd be happy to sing with them again.
As for a full reunion should it be offered, though, he demurs. "It's not what I want to do," he says.
Anderson has released a number of solo albums over the years and is continuing to work in that direction, often with online collaborators he's never met face-to-face. He's also formed a band with jazz/rock violin great Jean-Luc Ponty, which will rehearse, record and perform live in Aspen, Colo., in September, the whole experience being documented for possible DVD and online video release.
And there's more to come besides that. "The door is going to open in the next year," Anderson says, "and there's going to be so many things coming out that I've been working on for the last 10 or 15 years. It's going to be an exciting time."
---
What Jon Anderson • When 6-9 p.m. Friday • Where Moto Museum, 3441 Olive Boulevard • How much $129 • More info Ticketmaster.com
What The School of Rock U-19 Bash benefit for Rock Scholarship Fund, featuring Jon Anderson, Steve Ewing and many under-19 bands • When Noon-10:30 p.m. Saturday • Where Chesterfield Amphitheater, 631 Veterans Place Drive, Chesterfield • How much $10-$25 • More info Ticketmaster.com