Editor's note: This article originally was published Dec. 31 and has been updated to reflect the rescheduled concert date. 
In 2017, when guitarist Richard Fortus stood on the biggest stage in town — at the Dome at America's Center, where he was performing as a member of Guns N' Roses — he was wearing a T-shirt emblazoned with the logo of Kennedy's, one of the Laclede's Landing venues where his former band, Pale Divine (nee the Eyes), made its bones.
"I thought it was a nice little tribute," says Fortus, who adds that he gave his bandmates other St. Louis-centric T-shirts to wear. Axl Rose had one from the Coral Court Motel. Duff McKagan's was from Streetside Records. He got a shirt with the famous Harvey's Sandwich System "Brains 25¢" sign for Slash, who failed to wear it, not realizing it was city-specific.
Fortus may be in one of the world's biggest bands now, but he hasn't forgotten those early days, proof positive of which is the occasional Pale Divine/Eyes reunion concerts that happen every few years when band members Michael Schaerer, Dan Angenend Jr., Greg Miller and Fortus can manage to get together.
"It became much more doable after I moved back to St. Louis," Fortus says. "Mike and I started hanging out more and more. We were just like, 'It would be a fun thing to do.' And those guys — we're all just very close friends now."
The Eyes formed in the early 1980s and performed at venues such as the Animal House, an underage club, eventually stepping up to Laclede's Landing clubs including the Frosty Factory, Kennedy's and Mississippi Nights.
People who saw those shows will remember, in addition to the music, billowing clouds of stage fog.
"Oh, yeah," Fortus says. "Our lighting guy loved to fill the place with smoke so he could really make it dramatic with the lighting. He did a great job."
The band became a regional draw, performing in Kansas City; Columbia, Missouri; Chicago; Carbondale, Illinois; and elsewhere. In 1989, the group self-released an album, "Freedom in a Cage."
At that point, the Eyes began to draw attention from major record labels.
"Everyone was flying in to see us, taking us out to dinner," Fortus says. At that time, signing to a major label wasn't seen as the sellout move the indier-than-thou crowd would make it a few years later.
"It was the brass ring," Fortus says. "It was the next big step."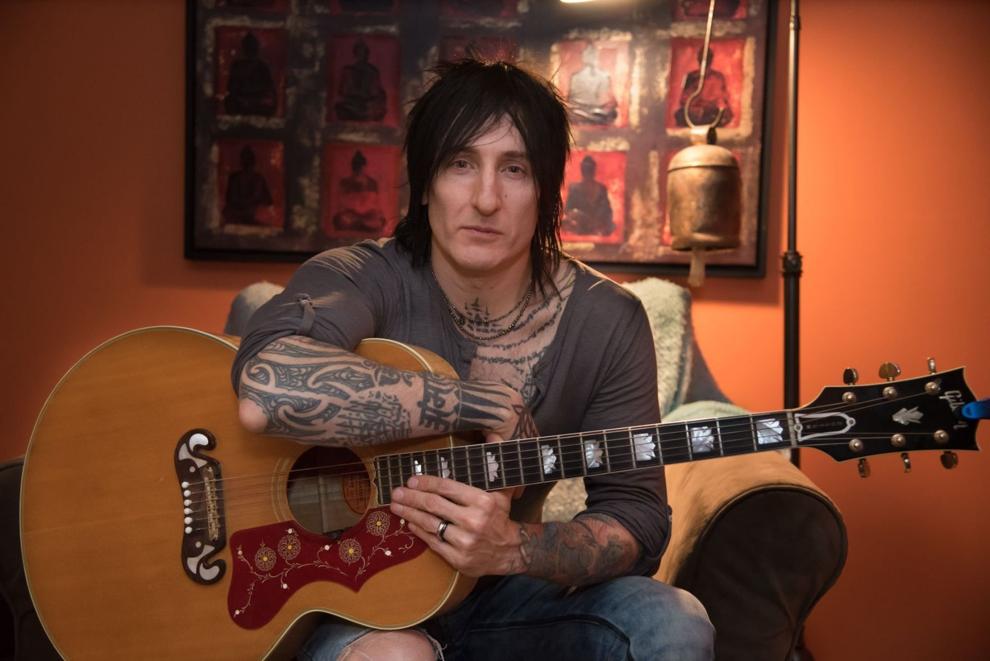 The Eyes signed with Atlantic Records but discovered their name was already taken. So the band became Pale Divine and recorded the album "Straight to Goodbye" in Hollywood with producer Simon Rogers, a former member of the Fall.
The group toured to support the album, opening shows for the Psychedelic Furs, a relationship that would later pay dividends for Fortus, who formed Love Spit Love with Furs vocalist Richard Butler. More recently, he produced the Furs' 2020 album "Made of Rain."
"Straight to Goodbye" failed to take off, however, and looking back on it all now, Fortus thinks the whole adventure may have been somewhat misbegotten.
"In retrospect, had we stuck with what we were doing, building a grassroots following, I think we probably would have found much more success," he says. "We would have made more albums that were really true to what we were doing."
The band recorded demos for what would have been a second album, but nothing came of them, and the group eventually split. Those demos eventually surfaced in a 2008 box set, "To Document the Years," that also included the Eyes album and two DVDs of live performances.
"The stuff that we wrote during that time I think was absolutely the best stuff we had done," Fortus says of the demos. "I think the second (Pale Divine) record would have been great. I don't know that it would have done anything, but I think it would have been something we would have been proud of."
For the reunion show this weekend at the Pageant, Fortus promises songs from all eras of the band, including those demos and the Eyes' "Freedom in a Cage."
Also on the bill that night are the reunited Finns, a power-pop band that was a contemporary of the Eyes (who even recorded the Finns' "Burn Down the Sky." Finns frontman Joe Thebeau currently records under the moniker Finn's Motel
Opening the show will be Poster Logic, a band led by Fortus' daughter Clover.
"My 13-year-old has turned into this incredible little songwriter," Fortus says, "with no tutelage of mine. She's completely done this on her own.
"It's a great band," he adds. "They're really talented kids. I'm just blown away by her songwriting."
No conversation with Fortus would be complete without pumping him for a little Guns N' Roses gossip, but for the most part, he's forbidden from divulging anything juicy.
The band did recently release two new songs, "Absurd" and "Hard Skool." A four-song EP is due in February.
Fortus did mention that he's about to celebrate 20 years with the band, and there are plans for GNR to continue touring in the new year.
Other than that, he's been enjoying being home with his family, doing some session work and working on some orchestral arrangements. Pandemic aside, "it's been the best year of my life," he says.
What Pale Divine, the Finns, Poster Logic • When 7:30 p.m. Feb. 4 • Where The Pageant, 6133 Delmar Boulevard • How much $25-$30; proof of COVID-19 vaccination or negative test required • More info ticketmaster.com