This time in 2011, St. Louis singer Kenny DeShields was working on his debut album, "The Real Love Project." A decade later, he's ready to release it.
All that's left is some final mastering and graphic design work, he says. The experience serves as proof that things will happen when they're supposed to.
He expects the album will be released in May. In the meantime, he will perform this weekend as part of the Open Air Concert Series, under a heated tent outside the Grandel.
"It's been a long time coming," DeShields says of the follow-up to "Mosaic," his 2008 EP. "I've talked about it for a decade, and I finally have it done. The timing is right. I'm in a different space from where I was years ago, and a lot of maturity has come out of that."
DeShields had to realize that he wouldn't be able to finish "The Real Love Project" until he learned a number of life lessons.
He admits the journey was frustrating.
"I would feel like I was getting so close to the finish line at times and then ask, 'Is this album ever gonna get finished? Is it ever gonna get out there?'" he says. "But I knew these songs were meant to be heard and experienced.
"Something clicked at the end of 2019 into 2020 that was the catalyst that said, 'You have to finish this. The world really needs to hear this.' So I really dug down."
What clicked was watching friends go through tough times with marriages and family, which inspired several songs. He also saw that people needed joy in their lives during the pandemic.
"I took that into the studio, and the reaction was 'Wow, I needed to hear that,'" he says.
Some of the new songs include "Fight for Love," "I Won't Let You Be Lonely" and "How I Feel," which will be released this week.
He says "Fight for Love" is a marriage anthem. While there are no perfect couples or relationships, "there are people who will fight for what they believe in," he says. "We've all experienced hard times in our relationships, but we gotta fight through it and not see our spouse as our enemy. There is an enemy who wants to break you up, but we fight against it. You fight to make relationships work, fight to make friendships work."
"I Won't Let You Be Lonely," featuring Anita Jackson, came to him while he was thinking of a friend going through a tough time. The song's chorus jumped into his head, and he rushed to his keyboards.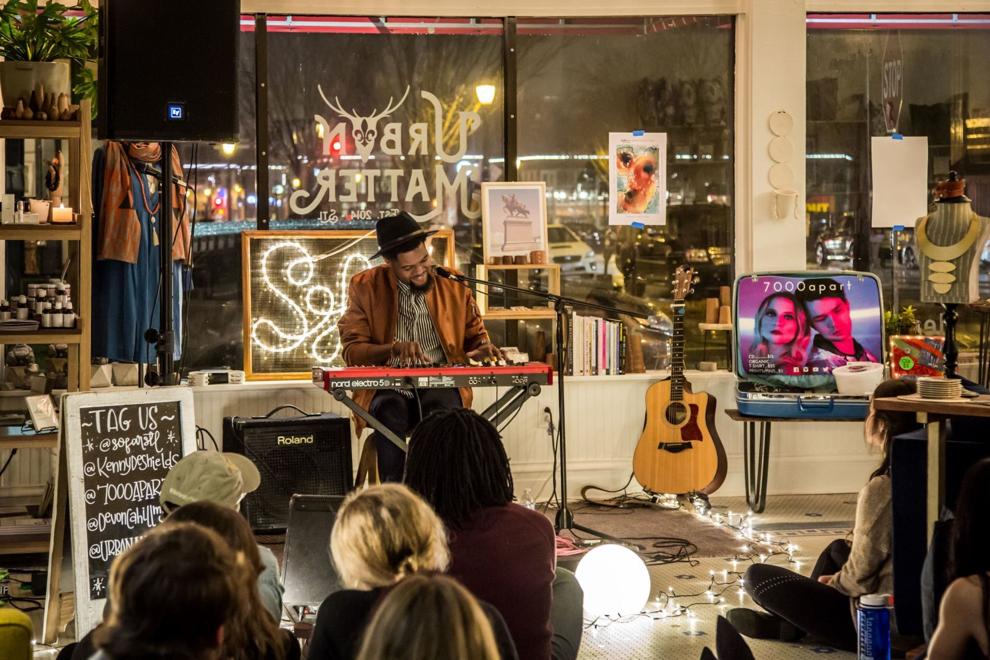 The project will also include "Imagine," a song about social justice, which he wrote with Russ Mohr and originally recorded for Mohr's Kingdom Sessions. DeShields also did his own version and a version with Al Holliday.
Other artists featured on the album are Bjorn Ranheim of the 442's, Tiffany Elle, Latoya Sharen, Charlie Brown, Harvey Lockhart, Thomas Paden and Mohr.
DeShields' wife, Christia, assisted him with some of the writing. She sings, plays piano and even raps. She just released a children's book called "Sensory Seeking Sebastian."
During quarantine, they had plenty of time to flesh out the songs they worked on together.
Artist and producer Courtney Orlando produced "The Real Love Project." DeShields says Orlando has an ear that brings out what he's looking for sonically and vocally. He and Orlando, formerly known as J.R., have a long history of working together.
"He's one of the first artists I really got a chance to connect with from his lyrical approach to his production and performance," DeShields says. "This is somebody I admire, and I really got to know him. He's my brother and my friend, and he's always got a heart for soul."
Greg Hand of the Play Station Studio in North County co-produced, mixed and engineered the album.
DeShields, who is worship arts director at the Crossing church in Chesterfield, no longer uses the term "soulternative" to describe his music.
In 2011, he said: "I'm a Christian and I'm saved and all that, but I can do straight-ahead church music, jazz or rock. I can go in any of those directions, and I like to blend them. I don't like to limit myself."
While that remains true, he simply answers to the calling of creating soul music.
"Soul music has a major place in my life," he says. "That's the kind of music I want to write — music that's timeless."
DeShields always knew he'd keep the album's original title, "The Real Love Project."
"If there was ever a time to love each other, it's right now," he says.
What Open Air Concert Series with Kenny DeShields • When 6 and 8 p.m. Feb. 5 • Where The Grandel, 3610 Grandel Square • How much $10 with food/beverage minimum • More info metrotix.com
"It's been a long time coming. I've talked about it for a decade, and I finally have it done. The timing is right. I'm in a different space from where I was years ago, and a lot of maturity has come out of that."

Kenny DeShields