A planned break from recording and touring for Hootie & the Blowfish was always meant to culminate, eventually, with a comeback. But with the success of frontman Darius Rucker as a solo country act — and life in general — founding member Jim Sonefeld admits there was a hint of doubt.
"There was nothing between us where somebody had a big grudge," drummer Sonefeld says. "We were taking a long break — a long nap. But we did have to all get on the same page.
He says life is different now for members of the group, which also includes Mark Bryan and Dean Felber. "We had to let all the stars line up, and that easily could have taken five years or 15 years. But they did finally line up."
The result: this summer's "Group Therapy Tour," which also includes Barenaked Ladies, coming this weekend to Hollywood Casino Amphitheatre.
It's the first Hootie tour in a decade, though the band has performed over the years, mostly to benefit its nonprofit foundation.
A new album is near completion with only "a few little bows to put on it," Sonefeld says.
He says it's important to point out that the break was agreed upon by all the band members and not something dictated by Rucker so he could go solo.
"At the time, we didn't know if he would be successful or not," Sonefeld says. "We all decided to take time off, that it was a good time to become a little dormant. Those trying to say the reason was because of Darius' country career are inaccurate. Darius doesn't deserve any of the blame. And the fact he was successful kept the Hootie name alive."
The break was definitely a good thing for Sonefeld, who at the time was a couple of years sober and not wanting to "be a part of the traveling party anymore." He was also exploring his spirituality.
"I wasn't ready after two years, after five years, or after eight years. I'm ready now," he says. "Everybody had to be ready to do this little comeback. ... All the musketeers have to be on board."
During the break, Sonefeld got married and had three children. He released a trio of Christian music EPs: "Found" (2012), "In" (2014) and "Love" (2015), reflecting his spiritual journey through sobriety.
"I took time to go out mostly in South Carolina, playing small shows to recovery groups, people seeking transformation through recovery and through Christ."Being back together feels like a celebration for Sonefeld, who calls it "fruitful to see hearts jumping and fists pumping out there" while the band is onstage.
He says the show will feature a slew of Hootie & the Blowfish hits, a few songs that influenced their career and more. The band also wanted to make the show visually stimulating with lighting and projections.
"We wanted to make it modern," he says. "We tried to make it so I was just a hologram."
After seeing Rucker's country shows, the band decided it should include his solo work.
"I saw a spark when he played a Hootie classic. Then I said, 'I bet our audience would love it if we played some of Daruis' hits.' It's a positive part of the show, and people are loving it. It's cool we can mix it up."
Sonefeld says the reality of new music is invigorating for the band, which considered introducing some unheard songs into the show. "It would be exciting to hear some of the new songs, but we don't wanna give them reason to go piss," he says.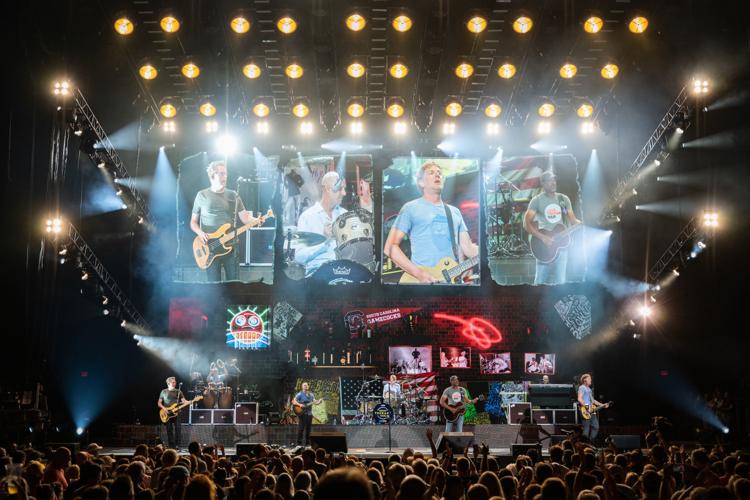 What Hootie & the Blowfish, Barenaked Ladies • When 7:30 p.m. Saturday • Where Hollywood Casino Amphitheatre, 14141 Riverport Drive, Maryland Heights • How much $32-$159 • More info livenation.com