Queen Celine, also known as Celine Dion, reigned over St. Louis Saturday night at Enterprise Center in a welcome return to the city after a decade-long absence while she conquered Las Vegas.
"I made it to the city of the Stanley Cup championship," she said, commenting it had been way too long, a full decade, since she'd been in St. Louis and she'd needed to fix that. She joked she'd been lost in the Las Vegas desert all that time.
"What do you think, champs? Are you ready to have a good time tonight?," she asked the full house. The obvious question with its equally obvious response amounted to nearly two hours of Dion, who reminded us what a vocal powerhouse she remains — not that we'd come close to forgetting.
The show was an early stop on her "Courage World Tour," allowing her to brush off the Vegas dust and perform for her fans on their terms once again.
Silently rising from beneath the stage amid a cavalcade of applause and screams, she graciously took it all in before launching into her first song "It's All Coming Back to Me Now," one of her many signature power ballads that set the tone for the show that included some expected but necessary anthems such as "The Power of Love," "To Love You More," "I'm Alive," "Love Can Move Mountains" and "All By Myself."
She was accompanied by a 16-piece band including small horn and string sections under the direction of pianist Scott Price. The players were gradually revealed amid swirling video panels during the opening song and "That's the Way It Is."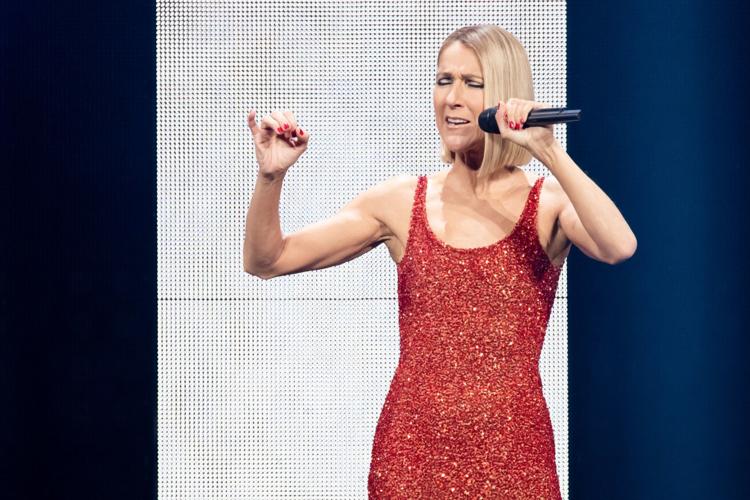 Amid several dynamic costume changes, a splashy video display and her quirky humor, Dion never failed to wow the crowd with her just-enough vocal bombast.
After telling fans she was going to take them way back in time, she gave them her cover of Patti LaBelle's "If You Ask Me To," released by Dion in 1992. Dion's version continues to give LaBelle's a run for the money.
She performed "Beauty and the Beast," which she described as one of her most memorable duets, with one of her backing singers who was a fitting substitute for Peabo Bryson. She approached "The Prayer," a duet recorded with opera great Andrea Bocelli, single-handedly. "Let's give it a try. I hope you like it" she said before knocking it out. "Andrea, where are you?" she asked jokingly at song's end with a slight pout.
Dion asked for the crowd's help on her cover of Australian singer John Farnham's "You're the Voice," which she said can be a powerful anthem if everyone participates. She tapped her backing singers to help the crowd with its part. It was a lot of setup for song that felt unspecial.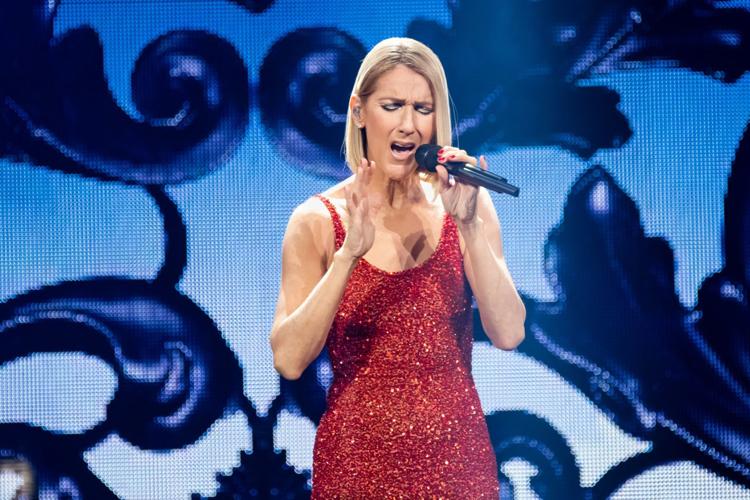 She made another nod to the St. Louis Blues in introducing change-of-pace song "Tous les blues sont ecrits pour toi," which she said was "some English and French blues just for you."
A covers medley just before the encore proved to be a mixed bag. It initially looked like a tribute to fallen greats as she took on David Bowie's "Let's Dance," Queen's "Another One Bites the Dust" and Prince's "Kiss," but no Aretha Franklin somehow, though Dion was the best thing about the tribute event for the Queen of Soul. The medley continued with LaBelle's "Lady Marmalade" and Ike & Tina Turner's "River Deep — Mountain High." She proved not everyone, regardless of how big the talent, can do every song. "Another One Bites the Dust" was a win, while the Turner gem has always held well in Dion's hands. "Kiss," carried over from the Vegas show, was a no here, stripped of what made it great.
Dion saved her "Titanic"-sized hit "My Heart Will Go On" for the encore, and decorated the song stunningly as firefly-like drone lights swirled around her. It was a beautiful moment of concert staging.
In closing, Dion said she wanted to leave the crowd with a message of peace and harmony with a song fans would know well. What else would it be but "Imagine," performed splendidly in a fluffy white gown with just Dion and Price.