One is an esteemed journalist who breaks down the news each night on CNN. The other hosts a late-night talk show and is the king of the "Real Housewives" empire. On their live tour, Anderson Cooper and Andy Cohen bring their passions — and their longtime friendship — to the stage, straight to fans.
The pair packed the Fox Theatre in 2016 for "AC²: An Intimate Evening With Anderson Cooper and Andy Cohen." They bring the show back to Cohen's hometown — this time to Stifel Theatre — on Friday night.
In a joint interview, they promise more deep talk and shallow tales.
Cohen says the uncensored show is "like going out to a bar with me and Anderson and us telling you everything we would never say in polite company — things you want to hear that would typically be off limits."
"It's about career and strange feuds and odd things," Cooper adds.
What the show won't focus on, they say, is politics and serious world events.
"This is a different side of me than what people normally see," Cooper says. "Politics are everywhere, and I talk about it every night. It's nice to have a night out that's not about that. Things are so divided, but we want everyone to be comfortable. It's not a night for Republicans or for Democrats."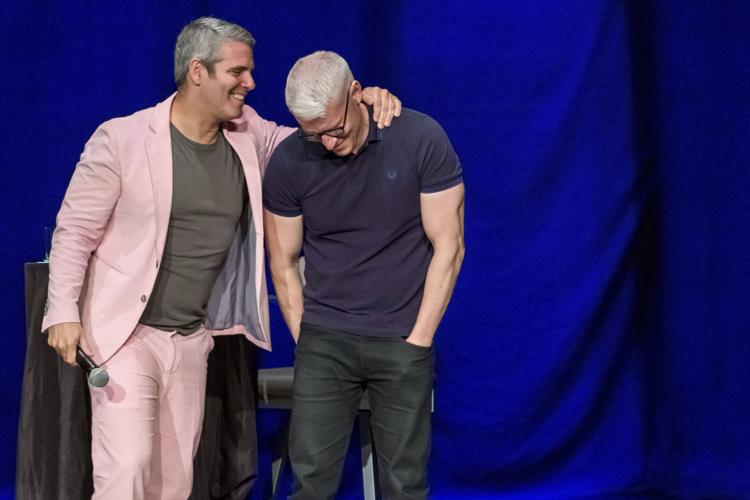 Bravo series debuting Sunday revisits three years in recent history, and Cohen's past in journalism
Cooper is the host of CNN's "Anderson Cooper 360" and is a correspondent for "60 Minutes" on CBS.
Cohen, among many projects, hosts "Watch What Happens Live With Andy Cohen" on Bravo but has journalistic roots. As a student at Clayton High School (class of 1986), he worked on the assignment desk at KMOV (Channel 4). After an internship at CBS News, he spent 10 years at the network, working as a producer for "48 Hours" and "The Early Show."
"If Anderson was going to do a tour about politics, it wouldn't be with me," Cohen says. "I'm not known for my political acumen."
Crazy celebrity encounters are Cohen's specialty, and fans at "AC²" will hear all about them. One could include what he calls a "really weird misunderstanding with Gayle King that's too long to go into. But it's one of the most cringeworthy stories you could ever hear."
"Andy has more bizarre celebrity stories on any given day than I'd have in a whole week," Cooper says.
During an audience question-and-answer segment, Cohen and Cooper say nothing is off limits. But they hope fans will keep it respectful.
Occasionally, an audience member will try to get personal and ask about their sex lives. But the goal is for a night of relatively clean, PG-13 fun.
Cooper (the son of late fashion designer and heiress Gloria Vanderbilt) and Cohen (son of Lou and Evelyn Cohen of Clayton) have been friends for more than 25 years, after an initial attempt at a blind date.
In his third book, the St. Louis native and TV personality dishes on celebs, life with an aggressive dog and his search for love.
There was demand for them to bring their live show back for a second go-around, they say. And it made sense: So much had happened since the first tour. Cooper lost his mother in June. And in December 2018, Cohen became a father via surrogate. (He says he'd consider writing a parenting book, once he has more experience at it.)
"We keep updating the show," Cohen says. "All the stories are different, and we're better at what we do."
They were also excited to do it again because the show puts them both in a setting that's different from what they're used to. "AC360" doesn't have a studio audience; "Watch What Happens Live" has a studio audience of about 30.
"When you're going around and filling theaters with 2,000 and 3,000 people, there's an incredible energy," Cohen says. "That's one of the reasons both of us love doing this. The other thing is how funny Anderson is onstage and what a great storyteller he is. That's surprising for a lot of people. He's known for being so serious."
Cooper enjoys showing people their friendship and bringing fans into the conversation.
In 2014, he spent time in Ferguson reporting on the unrest after Michael Brown's death. He's glad St. Louis once again is on the "AC²" tour schedule.
"I think St. Louis is amazing for many reasons," he says. "I've been there a lot of times for good and bad. It's nice seeing people having a night together where we can all laugh.
"And it's nice seeing Andy's family," he says, adding that Cohen's mother gives them notes after the show.
After the pair's 2016 show in St. Louis, they dined with Cohen's family at Five Guys in Clayton and hung out in the Central West End with some of Cohen's high school friends.
Cohen and Cooper have come a long way since their first awkward encounter.
"We never got past the phone call," Cohen recalls. "He claims I brought up his mom within five minutes. I probably did. And it totally turned him off."
What "AC²: An Intimate Evening With Anderson Cooper and Andy Cohen" • When 8 p.m. Friday • Where Stifel Theatre, 1400 Market Street • How much $66.50-$357 • More info ticketmaster.com
iParty: An evening with Anderson Cooper and Andy Cohen
A sold-out crowd filled the Fox Theatre on Saturday night to hear from Anderson Cooper and Andy Cohen. See who was there.
Stay up-to-date on what's happening
Receive the latest in local entertainment news in your inbox weekly!