A year ago, St. Louis singer Steve Ewing was juggling duties as frontman of four bands: the Urge, the Steve Ewing Trio, the Steve Ewing Duo and his newest, Master Blaster, a Stevie Wonder tribute act. | Then, thanks to the pandemic, his calendar cleared up.
One of the most difficult cancellations was the Urge's annual Thanksgiving shows at the Pageant. The shows had also been a tradition at Mississippi Nights before it closed.
The Urge didn't go the virtual route or organize a reduced-capacity show. The band wouldn't have been able to deliver the killer show its fans expect.
"It was definitely weird," Ewing says. "More than anything, we kept hearing from fans who thought it was weird to hear we don't have a show because all this excitement ramps up over the show. We felt bad, but there was nothing we could do."
His bands were "lying pretty dormant," he says. "There was no outlet for shows, and we've just been good about deciding not to play (in 2020). Some bands went out, and I get it — they need to make money. We said, 'Let's just play it safe.'"
Eventually the Steve Ewing Band played a handful of outdoor midsummer shows at wineries, as well as some acoustic duo shows at his restaurant, Steve's Hot Dogs.
This weekend, after several months of not performing, the Steve Ewing Band will rock out at the Open Air Concert Series. The shows take place in a heated tent outside the Grandel.
"I'll have my four-piece full band," he says. "We'll do a little bit of the Urge, go through half my original catalog and favorite cover songs. It's three hours' worth of material we'll stretch out into two sets. We play all kinds of music — soul, reggae — but in our context of how we do it, it still comes up rock."
Some of the artists the Steve Ewing Band will cover include Sly & the Family Stone and Bob Marley.
Ewing says the Kranzberg Arts Foundation reached out to him about performing, and he was all in.
"The Kranzberg Arts Foundation is really trying to just keep musicians working — keep live music going," he says. "I like what they're doing with it, and musically they're doing a lot of different things. I'm excited I get to play with my band. We feel pretty safe and comfortable and get to rock out."
The band hasn't played together since an August winery date.
"They're all super top-notch musicians," Ewing says. "I love watching them play, letting them do their thing when they go off solo and jam."
His bandmates are Miles Vandiver (drums), Chris Turnbaugh (bass) and Trent Reed (guitar). Ewing has been playing with this lineup since 2006.
He hopes the Urge will be able to make up for 2020 this year. Last year marked the 20th anniversary of the band's "Too Much Stereo" album and the 25th anniversary of "Receiving the Gift of Flavor."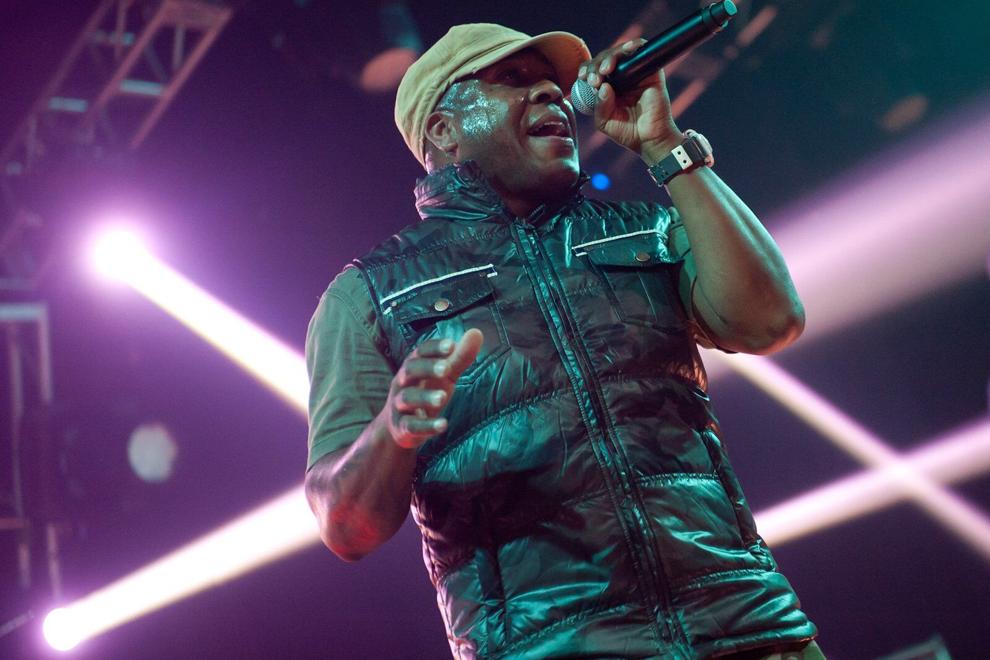 "We had those anniversaries and were gonna play all of that music," Ewing says. "I don't know what we're going to do this year."
He hopes the pandemic will be brought under control, allowing the Urge to hit the summer festival circuit and play its November shows at the Pageant.
Several new Urge songs are nearly in the can, and he has been writing for the Steve Ewing Band.
In 2020, Ewing also kept Steve's Hot Dogs afloat. The restaurant at 3457 Magnolia Avenue had closed in February 2020 after Ewing decided the business no longer was sustainable.
But after an outpouring of support from the community in its final week, with lines stretching around the block in the final week of the Magnolia Street location, the restaurant reopened three weeks later. New investors and partners came on board.
Another Steve's Hot Dogs location on the Hill had shut down in 2019.
Since the pandemic, the restaurant rolled out its #FeedThePeople program, connecting members of the community in need with donated meals, and also won $25,000 as part of Discover's Eat It Forward program in support of Black-owned restaurants during the pandemic.
"We shifted to community efforts and getting others in the neighborhood to join with us," Ewing says.
What Steve Ewing Band • When 6 and 8 p.m. Jan. 15 • Where The Grandel, 3610 Grandel Square • How much $10, food and drink minimum • More info metrotix.com