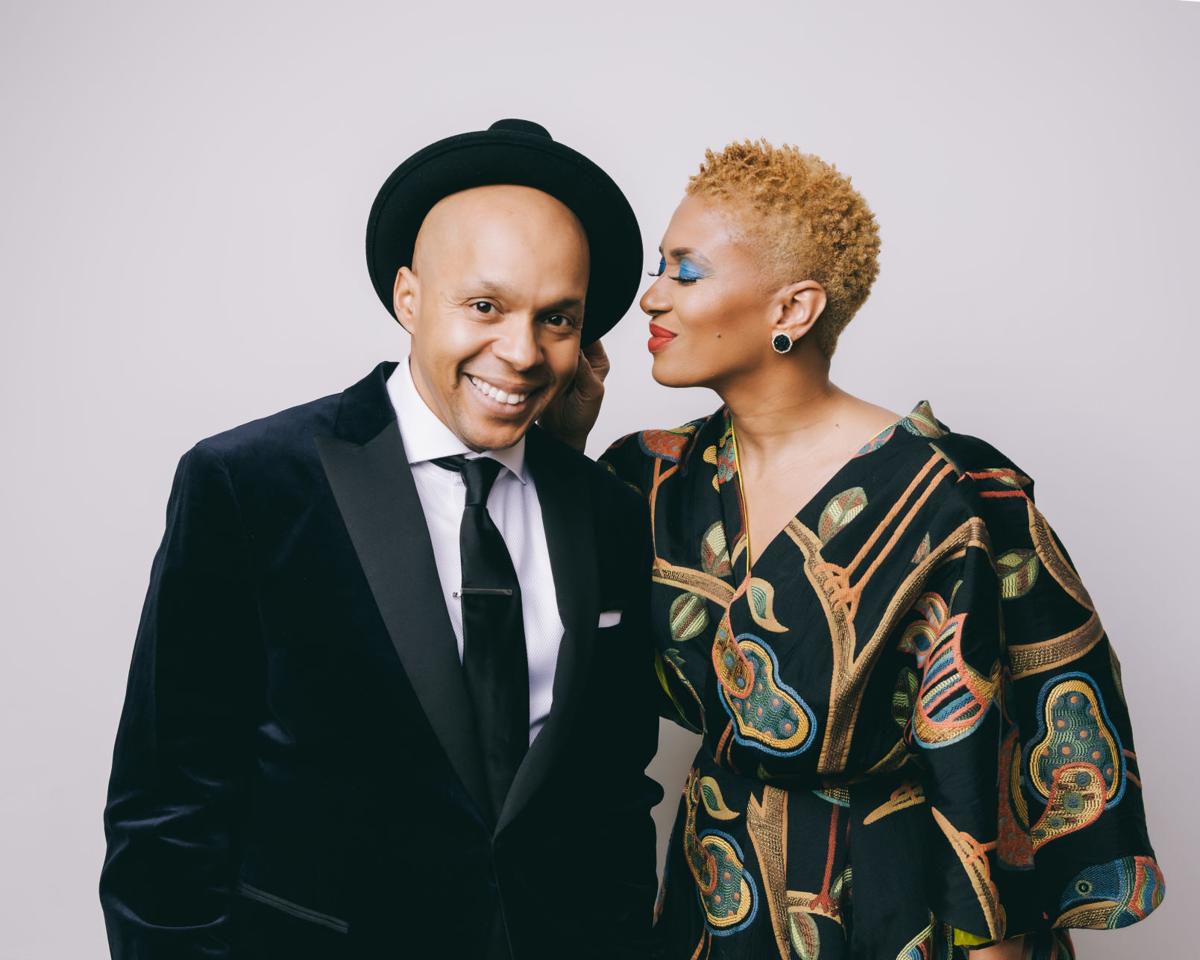 Marcus Baylor's reaction to the Baylor Project earning another Grammy nomination this year was anything but understated.
When he heard the news that he and his wife, Jean Baylor, the other half of the Baylor Project, had been nominated for best traditional R&B performance for "Sit on Down," he ran outside and into the streets of their New Jersey neighborhood screaming with joy.
His wife captured the scene with her cellphone camera — while watching him cautiously.
"I'm hollering, and he gets so excited he can't contain himself in the house, and he goes out the front," Jean Baylor says. "I grabbed my phone. I didn't know where it was going.
"I wanted him to please come back in the house before they call the cops," she says, half-joking.
Clearly, getting a Grammy nomination never gets old. In 2018, the Baylor Project was nominated for best traditional R&B performance ("Laugh and Move On") and for best jazz vocal album ("The Journey") but didn't take home any awards.
The latest nomination is extra special, though, because of how "Sit on Down" came about: on a whim.
While quarantining, the Baylors noticed too many people out partying and violating mandates and public health recommendations. Jean Baylor began humming a little ditty about how people needed to sit down.
"I was just in the kitchen humming and went to the keyboards and worked it out — this idea of 'why can't people sit down somewhere?'" she says.
They took her singing live to Facebook and Instagram, creating a buzz. Then they fleshed out the song, producing and writing "Sit on Down" (with co-production by Ondre J. Pivec) and created #thebaylorprojectchallenge, with fans singing their own versions of the song.
"People were clowning, doing different things," Marcus Baylor says of the online challenge, which went viral.
The Baylors streamed the song and came up with accompanying merchandise to sell and benefit organizations that help musicians.
There's also a remix of the song, the Quarantine Cookout Remix by ThaKracken featuring Eric Dawkins.
"That's why I ran a lap around the corner," Marcus Baylor says. "It wasn't even a song we were thinking about (initially). It was nothing we tried to create."
Baylor, a graduate of McCluer High School whose family founded Faith Miracle Temple Church, performed with the Yellowjackets, a jazz act. The Baylor Project was formed in 2013.
Jean Baylor was famously one half of 1990s R&B duo Zhané ("Groove Thang," "Hey Mr. DJ"), part of Queen Latifah's Flavor Unit. She is from Morristown, New Jersey.
The Baylor Project is a grassroots movement, so earning a Grammy nomination is quite a feat.
"We're independent artists with our own label," Marcus Baylor says. "There's no big machine. It's pretty much us. It's a small, niche team. We strategize and plan in terms of releasing music. We're steady building, growing every day."
"Sit on Down" will face off at the Grammys against "Wonder What She Thinks of Me" by Chloe X Halle, "Let Me Go" by Mykal Kilgore, "Anything For You" by Ledisi and "Distance" by Yebba (featuring trumpet player Keyon Harrold of Ferguson).
The Baylors say all the songs in the category are amazing, and they're fans of the artists.
"It's a win just to get here," Marcus Baylor says. "If it's a win, it's a blessing; if we don't, it's still a win. We're all pushing for the same thing: getting Black music the exposure it needs."
"Anyone has a chance," Jean Baylor says. "There's so many different things that go into play. Obviously we'll be ecstatic if we win."
While the Baylor Project got the full Grammy experience in 2018, including attending the ceremony and parties, this year is obviously different. This year's ceremony, postponed from an earlier date, will take place March 14 with a limited live audience. The Baylors will be watching from home.
"I think ... they'll have nominees log in when their category is announced, and you'll get to see us on the screen," says Marcus Baylor. He expects their category to be presented during the pretelecast portion online.
At 7 p.m. March 13, the Baylor Project will throw its own Grammys Zoom party, complete with a media wall and a photo shoot.
The Baylor Project just finished its next album, "Generations," the follow-up to "Journey." Jean Baylor says "Generations" tells the story of who they are, not just as individuals or as a couple but as people in general and Black people in America in particular.
She calls it a culturally based album with universal concepts framed in Black culture.
"It gets heavy," Marcus Baylor adds, "but at the same time, you laugh, you dance. You may cry."
Songs on the album will include the first single, "Striving" with Kenny Garrett, along with "Black Boy," "We Swing (The Cypher)" featuring Dianne Reeves, and "Only Believe."
They've been working on the album since 2018. The pandemic slowed things down, but the Baylors are eyeing a release in June, Black Music Month.
"We had to let it breathe," Jean Baylor says. "We were rushing to release it last year, and it wasn't working out."
What The Baylor Project Zoom Pre-Grammy Celebration • When 7 p.m. March 13 • Where Zoom (Meeting ID 85223085060; passcode TheBaylors)
What 63rd Annual Grammy Awards • When 7 p.m. March 14 • Where CBS • More info grammys.com
Could this be the year Taylor Swift joins the Grammys' "three-timers" club?