St. Louis singer-songwriter Beth Bombara has embarked on a new musical project, vowing to write and record a new song each week for a year.
Starting in March 2020, she livestreamed concerts from her home for 52 weeks.
"I kinda like having one big thing to focus on every year, like I did with livestreaming," Bombara says. "That's done. Now it was 'What do I wanna focus on the next year?'
"I've never seen myself as an extremely prolific writer. That was something I wanted to dive into, seeing if I can stretch myself that way."
She describes herself as the type who needs to process things over time. She's been amazed by how quickly other artists have put out music that directly addresses the pandemic.
"People putting out COVID albums — why can't I do that?" Bombara says. "It took me a year to process what was happening in the world. Some of these songs are me processing the whole pandemic situation finally."
She's also trying not to overthink things. "Songs don't have to be super deep all the time," she says. "It can just be something captured that day that's kind of whimsical."
Six weeks in, she says the project is going better than she imagined. To hold herself accountable, Bombara started a Patreon account, which allows fans to create memberships and access selected digital content.
On Patreon, she's sharing songs and behind-the-scenes content. She's even shared a Zoom concert there.
"There's a lot of different things artists and musicians can do," she says of the platform.
Eventually, Bombara will select favorite recordings for an album to be released in 2022. Other songs will be stand-alone singles. Many of the songs will never be heard outside of the Patreon audience.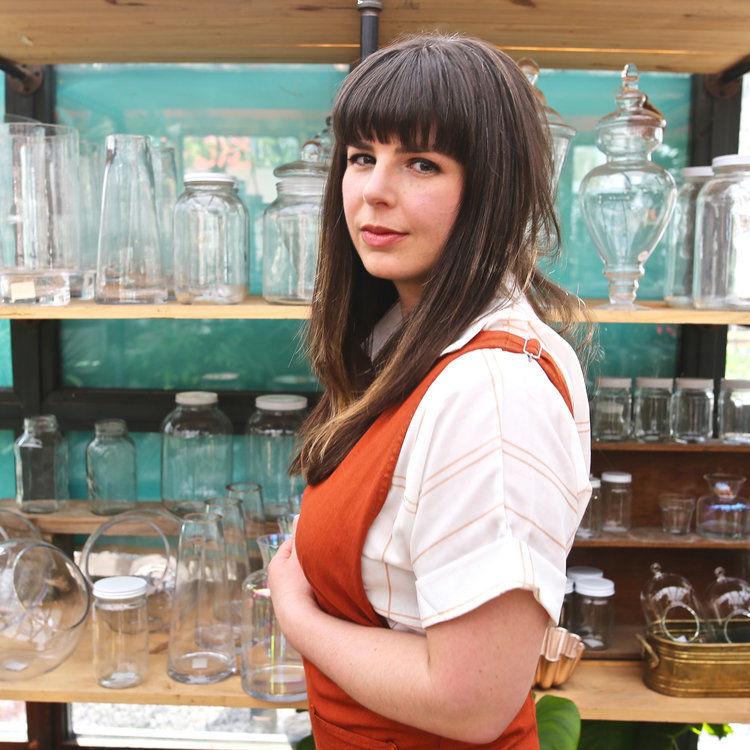 Her livestreaming started in much the same way it had for other artists. Her first pandemic-related cancellation, a mid-March show at the Duck Room at Blueberry Hill, was followed by a slew of others. She set up an iPhone in her kitchen and went live on Facebook.
"The response was overwhelmingly positive," she says. "That was a time when it was all new. We didn't know what was going on. It was kind of scary. But seeing the positive feedback in uncertain times, I immediately knew I had to do this — have something to focus on every week.
"I felt lost. That was a way for me to say, 'OK, I'm going to commit to doing this every week,' something to focus on to help me keep my head on straight. I felt people needed that, and it was helping them as well."
Each week, she kept it fresh, debuting new cover tunes. She learned a new song weekly — songs she listened to often.
"I always wanted to sing some Joni Mitchell but just never actually did it," Bombara says. "The past year was a great time for me to take stock. What are the things I said I wanted to do but didn't have time to do because when you're touring a lot, life gets busy."
Tom Petty is another artist she'd been wanting to cover. She was so pleased with her take on Petty's "Love Is a Long Road," she filmed a video to accompany it.
She also upped her game as time went on, rearranging her songs "and learning how to talk to an audience you couldn't see, which is weird."
The weekly shows started with a single iPhone and progressed to a four-camera operation. "We asked, 'How big can we build this?' But it was unsustainable to keep doing it every week."
Her last livestream was March 29.
"I felt slightly relieved to not have to keep that production level up every week," Bombara says. "But it's also kind of bittersweet. It captured the year, and it was a cool, fun thing to do."
She may do other livestreams here and there on a smaller scale.
This weekend, Bombara makes her second appearance at the Open Air Concert Series, under a tent outside the Grandel. She made her debut there in October. She will play guitar, with Kit Hamon on bass and Mike Schurk on drums.
They'll be playing a couple of new songs, along with songs from her latest album, "Evergreen," which she had been promoting before the pandemic. She'll also reach further back in her catalog.
"I think it's a great space that utilizes having a show but also makes it feel safe," she says of the concert series. "I didn't know what to expect the first time, but I was pleasantly surprised how it was set up.
"To me this is a breath of fresh air. We can actually play a show. We can do this. It felt so good to be able to do that. It wasn't back to normal. It's still social distancing and masks, but it felt great to get back onstage and play and see people enjoying music."
Bombara will make her Blue Strawberry debut May 28, followed by other area performances, but she isn't looking to tour.
"I'm trying to stick close to home with my shows," she says. "I'm not really foreseeing touring on a bigger scale. For me, personally, I'll slowly be coming back."
What Open Air Concert Series: Beth Bombara • When 6 and 8 p.m. April 30 • Where The Grandel, 3610 Grandel Square • How much $10 with food-beverage minimum • More info metrotix.com