Jefferson County native C.J. Lewandowski got a big bump into the bluegrass big leagues. "Toil, Tears & Trouble" by his band, the Po' Ramblin' Boys, is nominated for a Grammy Award for best bluegrass album.
Lewandowski, of Grubville, is on lead vocals and mandolin. The group signed last year with Rounder Records.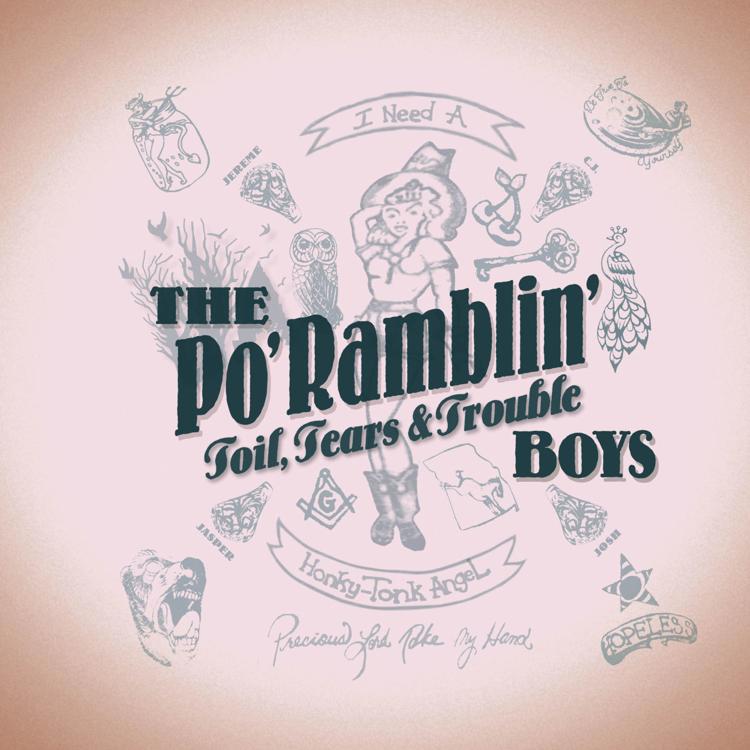 The nomination is especially meaningful for Lewandowski, who was often told by family and friends that he'd never make it as a musician. Early in his career, he flexed his chops at jam sessions in House Springs.
"People said I wouldn't be successful, and I might as well give up, that there was no money in music," he recalls. "They were being protective, but they were also being judgmental and not having much faith."
He never imagined Grammy recognition would be in his future.
"I didn't think it was reachable," says Lewandowski, who formed the Po' Ramblin' Boys in 2014 with Josh Rinkel (lead vocals, baritone vocals, lead guitar, rhythm guitar), Jereme Brown (lead vocals, tenor vocals, bango) and Jasper Lorentzen (bass).
"Every artist has goals in their mind, and to see some of those things come to fruition is kind of hard. I remember going to those jam sessions in House Springs as a kid and would never think anything like this could happen."
Lewandowski was in east Tennessee, where he has lived since 2013, when he learned last month about the Grammy nomination. He'd just returned from a visit to Missouri, where much of his family — including his father, grandmother and aunts — lives.
"I got back late and was sleeping in. Our publicist sent me a text message and said 'congratulations.' I said 'on what?'"
The publicist sent a link to the Grammy website, and Lewandowski texted his bandmates with the news.
The album was released near the end of the Grammys eligibility period, so he figured voters would be more prone to choose older albums.
The Po' Ramblin Boys' album is up against Michael Cleveland's "Tall Fiddler," Doyle Lawson & Quicksilver's "Live in Prague, Czech Republic," Missy Raines' "Royal Traveller" and Frank Solivan & Dirty Kitchen's "If You Can't Stand the Heat."
Lewandowski thinks the Po' Ramblin' Boys have a decent chance at a Grammy win.
"I did some snooping around at how many bluegrass albums were won on Rounder (Records), and it's the majority of them," says Lewandowski, who has lots of friends nominated in the same category. "We're a close-knit community, and there's a lot of competition, but it's good competition. Bluegrass is represented so well, all the different styles. There's not one album remotely close to another album."
The band plans to attend the Grammys ceremony on Jan. 26 at Staples Center in Los Angeles. Even if the Po' Ramblin' Boys don't win, Lewandowski expects the band's fee could increase.
"Toil, Tears & Trouble" follows "God's Love Is So Divine" (2018) and "Back to the Mountains" (2016).
Lewandowski says anticipation for the new album had been high after the band's strong reputation on the road and at festivals. The album originally was to be released in May but was delayed until August.
The album represents the band more clearly than its earlier, pre-Rounder releases, though he says the others were good efforts.
Part of what contributed to the success of "Toil, Tears & Trouble," he says, is the song selection process. It was a time-consuming process; Rounder Records co-founder Ken Irwin sent the band 250 songs for consideration.
"I went through every one of them," Lewandowski says, gravitating toward songs that stood on their own and told a complete story. In addition to taking its time with the material, the band made sure to stretch beyond its comfort zone with its arrangement.
"I think it worked. It feels good," he says.
Lewandowski, the only member of the band from Missouri, made it a point to include Missouri songwriters on the project. There's Mac Patterson on "Next Train South," Jim Orchard on "Longing for the Ozarks" and Frank Ray on "Ice on the Timber." Orchard taught Lewandowski to play mandolin, and the band was honored to record a song Orchard recorded 50 years ago.
"You have to carry your people with you, those who invested in you," he says. "People take time for you for a certain reason. You may not know it at the time. But I wouldn't be where I am if it wasn't for those people."
"People said I wouldn't be successful, and I might as well give up, that there was no money in music. They were being protective, but they were also being judgmental and not having much faith."

C.J. Lewandowski
Stay up-to-date on what's happening
Receive the latest in local entertainment news in your inbox weekly!