For their 2017 debut album, "Memories ... Do Not Open," the Chainsmokers went the more traditional route of releasing a couple of singles and then the full album. For its upcoming "World War Joy," the group is taking a more modern approach.
The band spent a good chunk of this year releasing song after song — so many, the band's Drew Taggart says, that "half of the album has already dropped. We're putting our songs out one by one, and we're halfway through with that."
When the album will officially drop is anyone's guess. In the meantime Taggart and Alex Pall are on the road, promoting the album.
Already, the band has released "Who Do You Love" (featuring 5 Seconds of Summer), "Takeaway" (with ILLENIUM and Lennon Stella), "Kills You Slowly," "Call You Mine" (featuring Bebe Rexha), "Do You Mean" (featuring Ty Dolla $ign and Bülow) and more.
"We're always writing and producing and touring," Taggart says. "We get inspiration from the road. We wanted a release strategy that kept the same pace of the other things we were doing. I didn't want to write a song and wait to put it out."
The new songs are the group's most mature yet. "We've grown up a little bit, but we still have a ways to go. But it's our most complete songs," he says, adding that "World War Joy" brings the group out of the darkness of its "Sick Boy" album (2018).
While the group started out in the EDM arena, it has transitioned into a bona fide pop act.
"When we get in the studio, we don't have to adhere to a genre," Taggart says. "We make what we feel like making. I love the EDM scene, and I'll always have one foot there. We love pop music, and we love indie music, the two other genres we're closest to, the stuff we've always gravitated toward."
Fans should look out for a few more surprise collaborations on "World War Joy," Taggart says. Collaborations are common for the Chainsmokers. Memorable ones so far include "Closer" (Halsey), "Something Just Like This" (Coldplay), "This Feeling" (Kelsea Ballerini) and "Don't Let Me Down" (Daya).
"Every time we work with artists, we learn something new with the creative process because they come from so many different genres," Taggart says. "We look for people who want to work with us and who understand our sounds."
The "World War Joy Tour" visits Enterprise Center on Friday with 5 Seconds of Summer and Lennon Stella, two of the acts that have made hits with the Chainsmokers.
Taggart considers them the perfect support acts. "Everybody has their own energy," he says. "It's three different types of shows."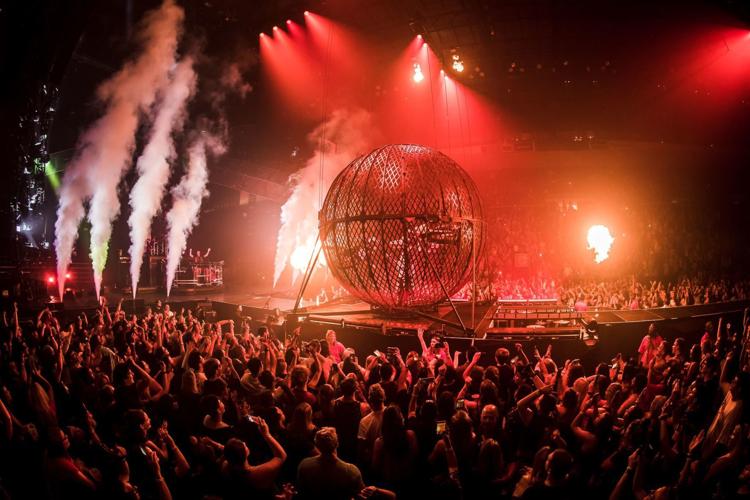 The show is inspired by the modern sci-fi feel of movies such as the "Blade Runner" remake, "Mad Max: Fury Road" and "Ex Machina," "the aesthetic from that dystopian, post-apocalyptic vibe."
On the act's last tour, which visited Scottrade (now Enterprise) Center in 2017, the Chainsmokers headlined arenas and played as a band for the first time. Since then, Taggart says, they've performed more than 300 shows, and those shows have become more concise.
"We spent so much time building this production," he says. "It's our most elaborate and sophisticated show. Though the production is elaborate, it has a specific purpose. It continues to build. There's something new every 10 minutes."
What The Chainsmokers, 5 Seconds of Summer, Lennon Stella • When 7 p.m. Friday • Where Enterprise Center, 1401 Clark Avenue • How much $25-$126 • More info ticketmaster.com