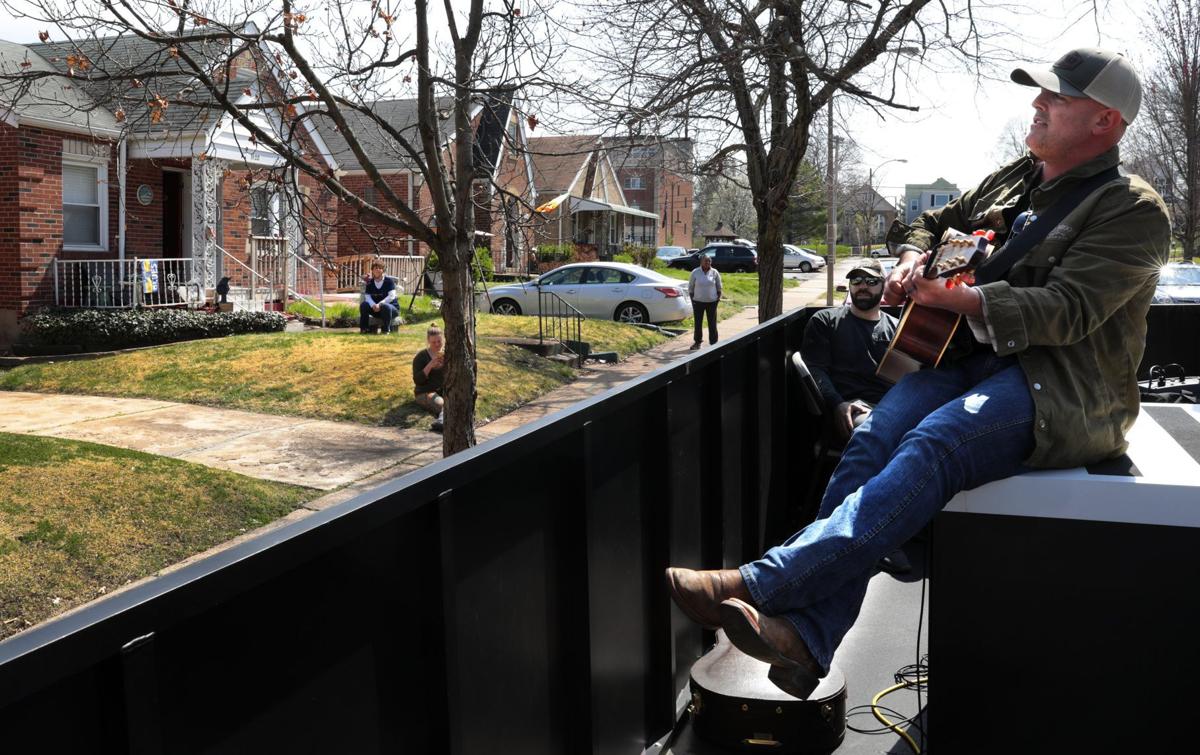 Concerts in this age of social distancing aren't just livestreaming into your home. You might also see a show roll through your own neighborhood.
The "Ezra Brooks Stay Home Tour" kicked off Wednesday in St. Louis starring country singer-songwriter Matt Stillwell.
In the series of pop-up performances, Stillwell sings and plays guitar from a slow-moving trailer as residents watch from a safe distance — porches, windows, driveways, lawns. The trailer doesn't stop, as congregating is not encouraged.
Two neighborhood visits Wednesday carried Stillwell through Brentwood Forest and Dogtown, where he spent about 90 minutes each. The tour continues in two more St. Louis neighborhoods Thursday, two on Friday and two on Saturday.
Fans can find out where the tour will visit by following Stillwell or Ezra Brooks Bourbon on social media, or by following the hashtag #StayHomeTourStl.
"We wanted to provide the St. Louis community with some entertainment during difficult times, provide the entertainment they've been lacking, give them some laughs and cheers," says Philip Lux, an assistant brand manager at Luxco. "It's been so doom and gloom. We wanted to break up their day a little bit."
Luxco, a St. Louis-based distilled beverage company, is the parent of Bardstown, Kentucky-based Lux Row Distillers, which produces Ezra Brooks Bourbon.
"We want to support staying at home while also sharing music in the spirit of positivity," Lux says. "People were in their windows watching and walking down the street with their dogs. It was a great turnout, and it'll continue to grow and build."
Stillwell, of Knoxville, Tennessee, says he loved the idea immediately when Luxco contacted him.
"With everyone trying to figure out this crazy time, I think that human interaction and something tangible is needed for everyone," he says. "Even with social distancing, this provides that in a way. So hopefully this will break people's days and give them a little happiness."
Stillwell's songs include "Ignition," "Shine" and "Sweet Sun Angel," but "Everybody's Got a Hometown" made him a fit for this tour when people are holed up at home.
Rather than traveling with a band and a crew for this tour, Stillwell brings his own microphones and speakers and performs solo. Also along for the tour are Lux, a photographer and a representative from Kicking Cow, a St. Louis marketing agency; they maintain a safe distance from one another.
"Many times, he's the only one on the trailer," Lux says of Stillwell. "We're taking every precaution."
St. Louis is the first and only scheduled city for the "Ezra Brooks Stay Home Tour."
"We see it as something other communities may want to do to promote safe distancing, spread joy and cheer, and positivity," Lux says.
Stay up-to-date on what's happening
Receive the latest in local entertainment news in your inbox weekly!