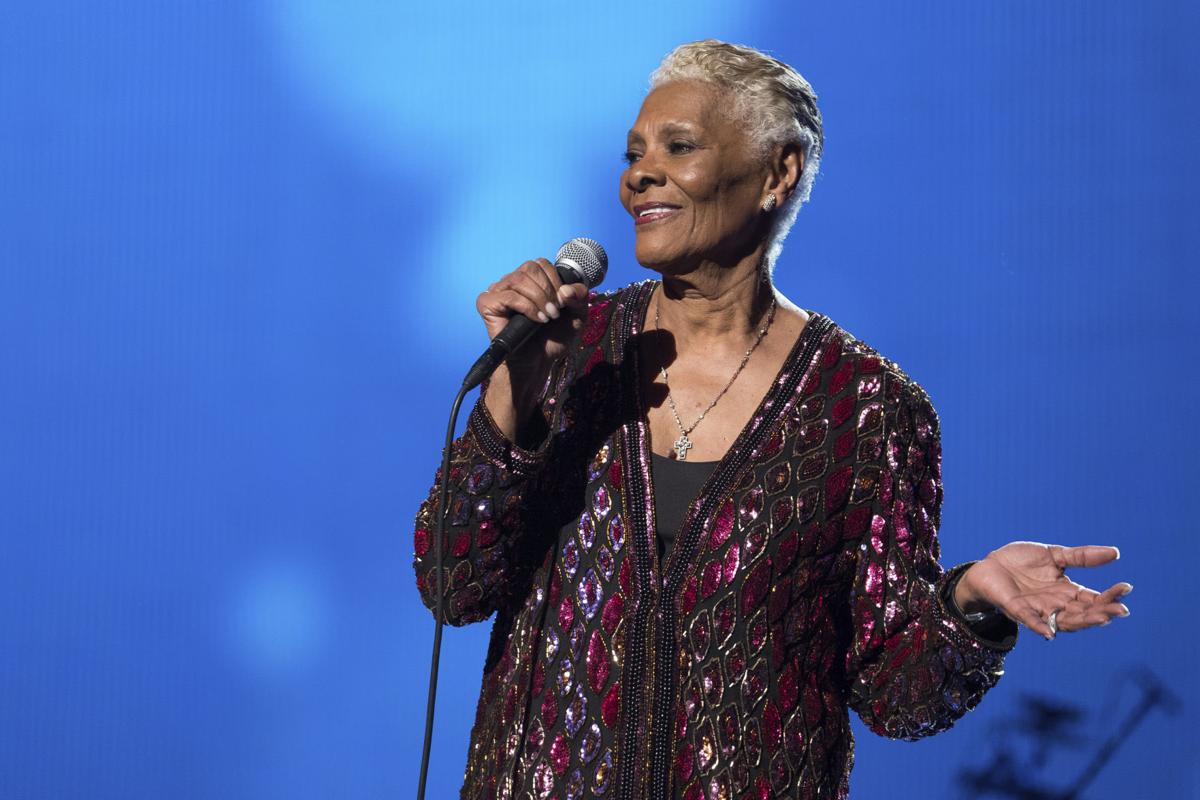 There probably shouldn't have been huge expectations of Dionne Warwick doing her late cousin Whitney Houston's songs at her concerts, though one overzealous fan front and center Saturday night at Stifel Theatre apparently thought differently.
The fan kept shouting "Whitney, Whitney," each time more distracting than the last, then referred to Warwick as "Diane" instead of Dionne, which got the singer's attention as she shook her head and questioned what the fan called her. After the fan apologized profusely, Warwick told her it was OK.
Shortly afterwards, another woman kept interrupting as Warwick told a story about her granddaughter, prompting Warwick to say, "Hush up, girl. I'm trying to tell you something important."
Dionne Warwick has spoken. Otherwise, "A Night of Class" with Peabo Bryson and Deniece Williams, as the night was billed, lived up to its name. Warwick, a living legend at 78, unceremoniously took to the stage, walking out slowly in an elegant dark ensemble with house slippers to join her band. Resting on her stool, she chatted a few minutes before singing a note, telling fans she was having issues with a foot that refuses to heal and she'd be sitting all night.
She then promised an evening full of songs new and old, familiar and unfamiliar, and delivered a hits-packed set.
Warwick, while substantial, never belonged to the school of deeper soul that birthed names such as Aretha Franklin, Gladys Knight or Patti LaBelle. With Burt Bacharach behind her during her heyday, she rode in the pop lane, and reminded us of her successes there with tunes such as "Walk on By," "Anyone Who Had a Heart," "You'll Never Get to Heaven If You Break My Heart" and "I'll Never Fall in Love Again," a few quintessential Warwick tunes that came early in the set.
"This Girl's in Love with You," "Alfie" and "I'll Never Love This Way Again" were other essentials on hand that adeptly showcased her skill at gliding through songs in her relaxed, graceful style free of vocal acrobatics. While still smooth, her delivery wasn't as pristine as before, and there weren't any big moments per se. But there were some very big songs at play.
Warwick's son David Elliott, her drummer, joined her on vocals for an updated version of "I Say a Little Prayer." Also updated with some extra swing was "Do You Know the Way to San Jose." Her latest album, "She's Back," follows that model with some updates of her classic material.
Elliott's daughter and Warwick's granddaughter, Cheyenne Elliott, joined them on stage for "Love Will Find a Way," a song David Elliott wrote for Warwick and Houston. Warwick said it was appropriate for Cheyenne Elliott to sing it with her now.
The young singer stayed on stage the rest of the night for "That's What Friends Are For" and "What the World Needs Now is Love." Warwick stopped the latter at one point for a redo after the audience's lackluster singalong.
Bryson, who survived a heart attack in April, appeared to have bounced back nicely with no signs of what he'd been through. He gave fans the best of his R&B staples, songs such as "I'm So Into You," "Show and Tell," "Let the Feeling Flow," "Feel the Fire" and "Can You Stop the Rain," and a new offering in "Love Like Yours and Mine."
Bryson, a duets king, delivered one of his favorites, "Tonight, I Celebrate My Love," which he recorded with Roberta Flack, and performed with one of his backing singers. He said no matter where anyone is in the world, they need to put both their hands together whenever Flack's name is mentioned. He also gave a special nod to Sade, saying she represented everything good and sexy in every woman, then performed her "King of Sorrow," accompanying himself on guitar.
Before he left the stage, he thanked fans for praying for him while he was ill because he couldn't pray for himself.
Also opening was singer Deniece Williams, who performed "Let's Hear It for the Boy," "Silly" and "Free."
Attendance figures were not available for the show, but it was far from a sellout.