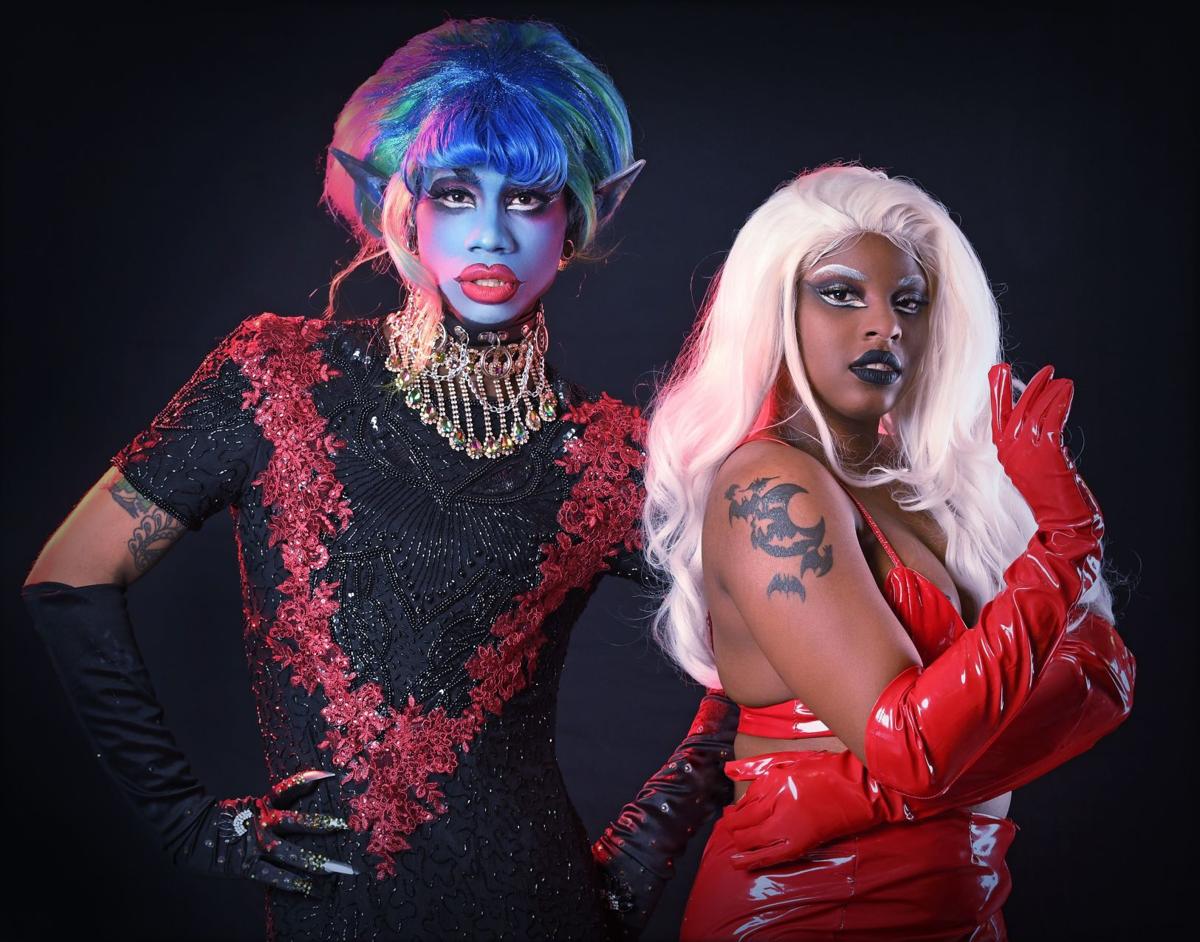 At the Crack Fox downtown, things get a little spooky at "The Devil's Cabaret," a monthly show that combines drag, burlesque and sideshow.
The hosts and producers of the show are the colorful Maxi Glamour and Sailem, who lead a revolving cast of oddball characters.
Glamour's vibe is inspired by raw experimentalism and impulsiveness, a mix of neo-classical and Afro-futurism as well as old-school blues and African-tribal sounds.
"I have a lot of different looks," Glamour says. "My signature one is old-school '30s, '40s burlesque, sort of Endora from 'Bewitched' meets Jean Harlow." Glamour is often seen in blue body and face paint, accented with pink cheeks and green hair.
Sailem's look changes on a whim. "It can go from really polished and very high-femme dramatics to rolling around in black paint. You never know what I'm going to bring," Sailem says.
The pair will co-host a one-year anniversary party for "The Devil's Cabaret" on Saturday night at the Crack Fox. The show is sure to be packed with surprising shenanigans featuring special guests showing off various skills.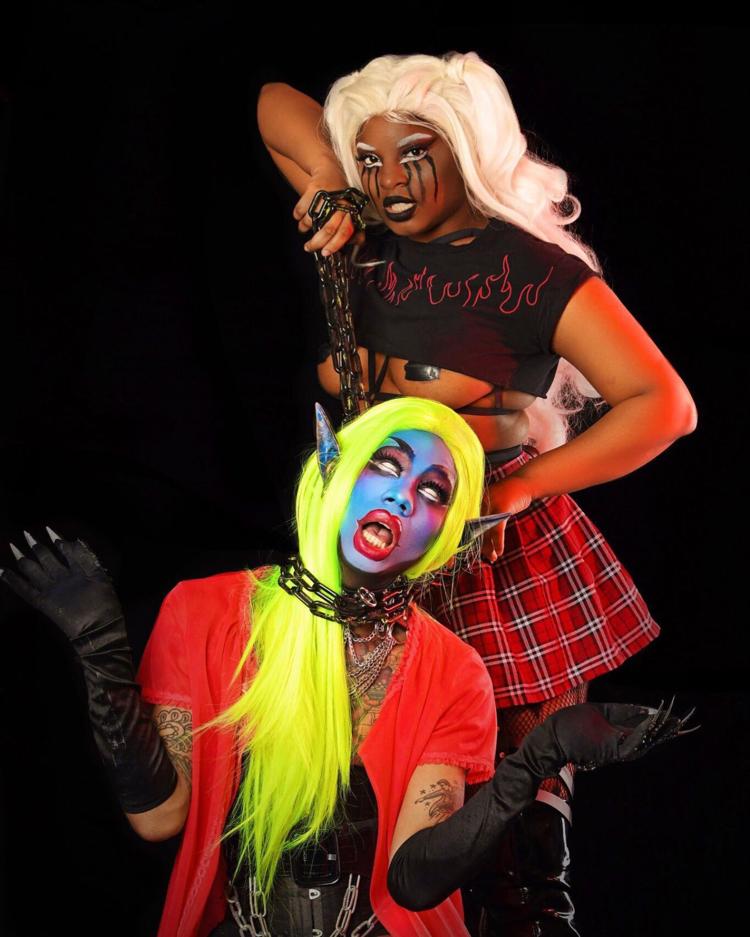 When creating "The Devil's Cabaret" last year, Glamour and Sailem set out to provide a fresh platform for underrepresented quirky — and often queer — performers.
Both performers identify as nonbinary and prefer gender-neutral pronouns. They say the idea for "Devil's Cabaret" had been in the works for a while before the actual event got off the ground.
"I wanted to do something that was satanic and dark — things that are in society," Glamour says. "I called Sailem and said, 'Hey, I wanna throw this party. I'm dark and spooky, and you're dark and spooky.'"
Saliem adds: "It wasn't a hard sell for me. I love working with Maxi — we're both kind of a lot, and we're always down to clown."
They're also both African-American. "The Devil's Cabaret" showcases performers of all races, but Glamour views the show as a space where blacks can be different without judgment.
"There's a shortage of blacks producing drag and burlesque — and everything," Glamour says. "It's hard finding black persons who want to do this alternative stuff. Black folks are subject to more critiques when they steer from the normal path. When white people do it, it's 'so innovative, so artsy.' When a black person does it, 'it's ghetto — they didn't put any time into it.'
"We're trying to change that, and some of them are coming out of the woodwork. We're happy with our sloppy messes onstage; we can inspire others."
Glamour and Sailem also wanted to help fill the void in local burlesque. "There needs to be a renaissance of St. Louis performance art, and we want to step it up with high-quality entertainment that inspires more local drag and burlesque and sideshow, weird stuff that you've never seen before, with black entertainment at the front of the conversation," Glamour says.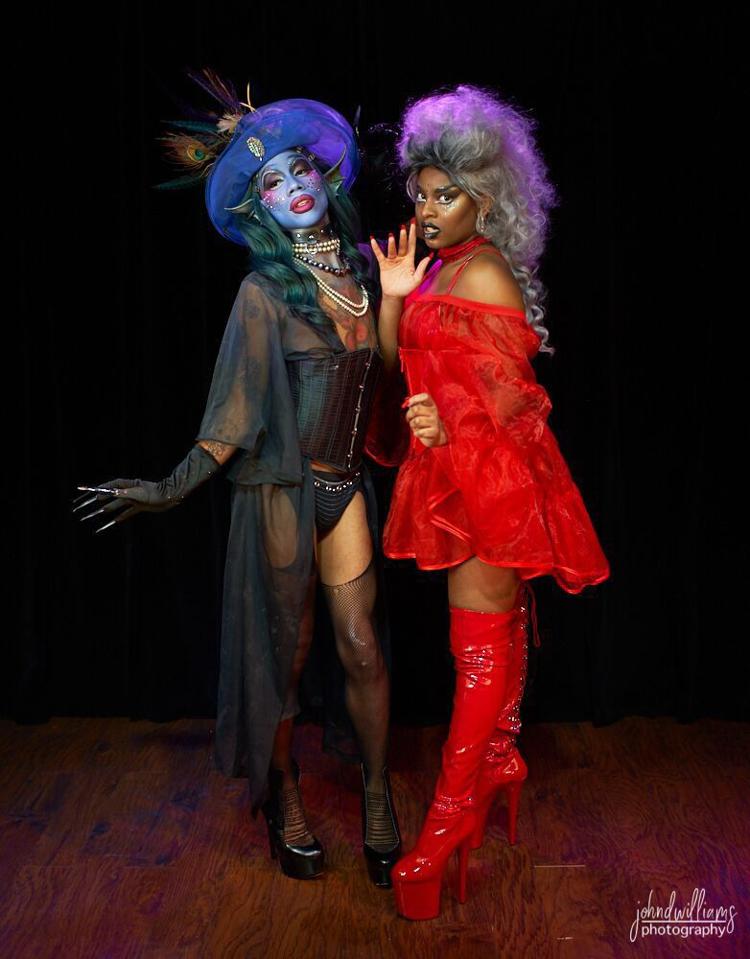 "The Devil's Cabaret" debuted at the Monocle in the Grove and ran there for a few months. "That's very cabaret, and it suited what we were doing," Glamour says. After a scheduling conflict that moved the show to the Crack Fox, the pair decided to stay there, loving the venue's "goth-alternative kink bar" vibe.
The one-year celebration will begin with a live band, a first for "The Devil's Cabaret," with Tiger Rider offering rock and punk sounds. "They'll do their thing, then we do our thing," Sailem says. The show also will include performances by Blair WarnHER, Cadaver Daddy-O, Ari Gato (from Chicago) and Dr. Bones (from Denver).
Glamour says there'll be "drunk clowns yelling things, telling us how bad the performances are. And if we can, we're going to get a goat."
Sailem and Glamour haven't taken the show on the road, though they've toured independently. Glamour begins a 20-city tour in October.
Sailem started about five years ago as a burlesque artist, has taught burlesque at the St. Louis School of Burlesque and Variety (as has Glamour), makes music, and wants to venture into fire and aerial performance.
Glamour's talents include costume design, belly dancing and pole dancing. "You don't want to put all your focus in one category," Glamour says.
Glamour can be seen on "The Boulet Brothers' Dragula," a reality competition that focuses on the darker side of drag. The third season, featuring Glamour, began this week on Amazon Prime Video.
Glamour also started Qu'Art, a queer arts organization, five years ago. They have participated in the St. Louis Public Library's Drag Queen Storytime and hosted the St. Louis Art Museum's first drag event.
The pair eventually want "Devil's Cabaret" to venture into short films — "narcissistic ways to document how cool we look," Glamour says.
What "The Devil's Cabaret One-Year Anniversary Spooktacular" • When 9 p.m. Saturday • Where The Crack Fox, 1114 Olive Street • How much $10-$13 • More info eventbrite.com