Hip-hop is making inroads in Grand Center like never before.
Elemental includes concerts, DJ spins, workshops, demonstrations, installations, exhibitions, parties, film series and more. Some events are free; some are ticketed.
The showcase of St. Louis and national talent is named for the four original elements of hip-hop: DJ'ing; emceeing/rapping; breakdancing/B-boying and B-girling; and graffiti.
"We want to show that hip-hop is everywhere and touches everything," says Chris Hansen, executive director of the Kranzberg Arts Foundation, which produces Music at the Intersection and the Walls Off Washington. "We wanted a place to land all these amazing events we're going to be doing — some of our own events, some events with others."
Hansen says KAF has never presented anything as ambitious as a yearlong event series. Elemental celebrates "the culture that has shaped everything around you," he says, "It's a way to put a shine on the music that's so important to the vibrancy of the (Grand Center) district."
The series kicked off in January with "Elemental: The Party" at Sophie's Artist Lounge, with Biko and DJ Charlie Chan spinning. The event included host Finsta, a B-boy/B-girl demonstration curated by IDUNNOMARTY, and live art by Brklyn and special guest emcees. The party is a recurring, ticketed event on the fourth Saturday of each month with a rotating roster of DJs, emcees, artists and dancers. The next party, at 9 p.m. March 25, features Biko and DJ Mahf, a "Breakin Showcase" presented by Grand Leroy, live art by BRKLYN, and host Finsta. Tickets are available at eventbrite.com.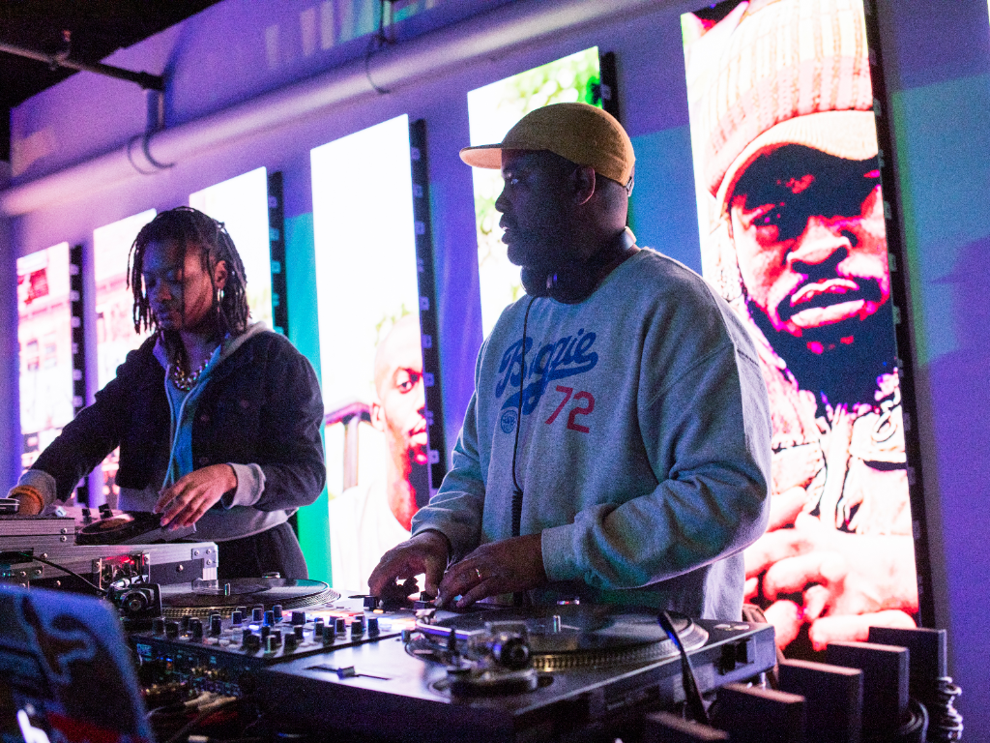 More recently, Elemental presented its first visual art exhibition, Paint Liborius, a collaboration with Paint Louis and Sk8 Liborious, a skate park that occupies the former St. Liborius Church. Paint Liborius featured artists Brian DePauli, STYLE from LORDS AND WST, ATOMIK from MSG, Mique Michelle, TATU from XMEN, Damon Thompson, ZONE and LETRS.
A few other upcoming Elemental events:
• DJ Chris Brown and DJ Whiz will instruct students on the art of spinning vinyl with the first class 6-8 p.m. March 29. $10, with registration required.
• The Puerto Rican influence on hip-hip will be explored April 22 with artist panels, screenings of "From Mambo to Hip-Hop" and "Wild Style," B-boy/B-girl performances, live art and skate demonstrations, and "Elemental: The Party" with renowned hip-hop figure Tony Touch.
• July 22 brings a celebration of the golden era of hip-hop with an unveiling of new public art installations in Grand Center.
• The Intersessions conference Sept. 7-8 — part of Music at the Intersection, Sept. 9-10 — will focus on hip-hop's influence on the music industry. Music at the Intersection will elevate hip-hop with the expansion of DJ Village and more. On the larger stages, international DJs will spin jazz, blues and soul tracks sampled to make iconic hip-hop songs.
• A celebration of hip-hop's influence on fashion is Oct. 28.
More events will be announced.
"It feels like the right pace at the right time," Hansen says of Elemental. "It's not forced. It's not contrived. It's created by the creators. These were things that were already exciting in the community. We're just giving it a platform."
The goal is to connect St. Louis to the bigger story of hip-hop with a series that brings new audiences to Grand Center, where the music has been making inroads. Sophie's Artist Lounge places heavy emphasis on hip-hop and street art, the Dark Room at the Grandel features occasional hip-hop shows curated by Alonzo Townsend.
"This shows that hip-hop is everywhere and touches everything," Hansen says. "Without hip-hop, we wouldn't have Walls Off Washington. Without hip-hop, we wouldn't have Sophie's. We wouldn't have Paint Louis. We wouldn't have so many of the important artists and creatives we have.
"We're seeing it make an indelible impression in this neighborhood, and we have to elevate it to a status where it's seen as high art."