The owners of the Grove neighborhood's newest nightspot needed the perfect name — one that represented heat, fire and passion while also being short, sweet and sexy.
New to the scene is Ember Nightclub and Bar, which mixes high-energy dancing and pulsating beats in a swanky setting. Ember opened in September; the space has been home to Novak's Bar & Grill and, more recently, Siam.
"Inspiration struck — people really love the name," says Ryan Jacobsen, who owns Ember with Paige Lewis.
Chris Murphy (aka DJ Merf) is the resident DJ and entertainment director. "We're trying to create something new and fresh in St. Louis — help St. Louis turn the page."
Murphy previously spun at the Wheelhouse and Start Bar downtown, along with clubs in Columbia, Mo., and Lake of the Ozarks. He also had DJ'd at Siam. He dropped everything to focus on Ember.
"You grow and you want to do better things, and then all the venues will step up," he says. "We want to make people appreciate the city."
Murphy says the team at Ember strives to create an inclusive environment for its guests.
"One thing that's important to all of us is everyone feels welcome, no matter where they come from, what their background is, their race, their religion," Murphy says. "If you're here and you want to have a good time, you're welcome."
Murphy says the music at Ember is eclectic, and he feels out the crowd before deciding what to play.
"If I notice there's a crowd of Latino people or a bachelorette party, I can cater my set to make sure everybody is included in the environment," he says. "I promise the newest music — the newest of the new in Latin, hip-hop and electronic music.
"St. Louis can get stuck venue-wise and music-wise, not moving forward in testing out the newest genres of music. I think we're really trying to do that here. It's important to have fresh stuff."
Jacobsen, previously of Budweiser Brew House's Crown Room at Ballpark Village, says approachability, "in terms of the pricing and the visual aesthetics," is a priority, along with comfort and safety.
He says bottle service, which has been sold out on weekends, is driving the club. The philosophy at Ember is to sell the experience, not the bottles.
"Bottle service prices can be unfathomable," he says. "In some cases, we're half the prices of anybody else, and the experience you get is on par with anything you can get in St. Louis."
Admission to Ember is free except for special events with guest DJs, such as Halloween, New Year's Eve and Mardi Gras. That way, patrons who want to try something new can visit without having to dig into their pockets.
Most of the other nightspots in the area also are free.
"We don't believe in your having to pay money to go pay money," Jacobsen says.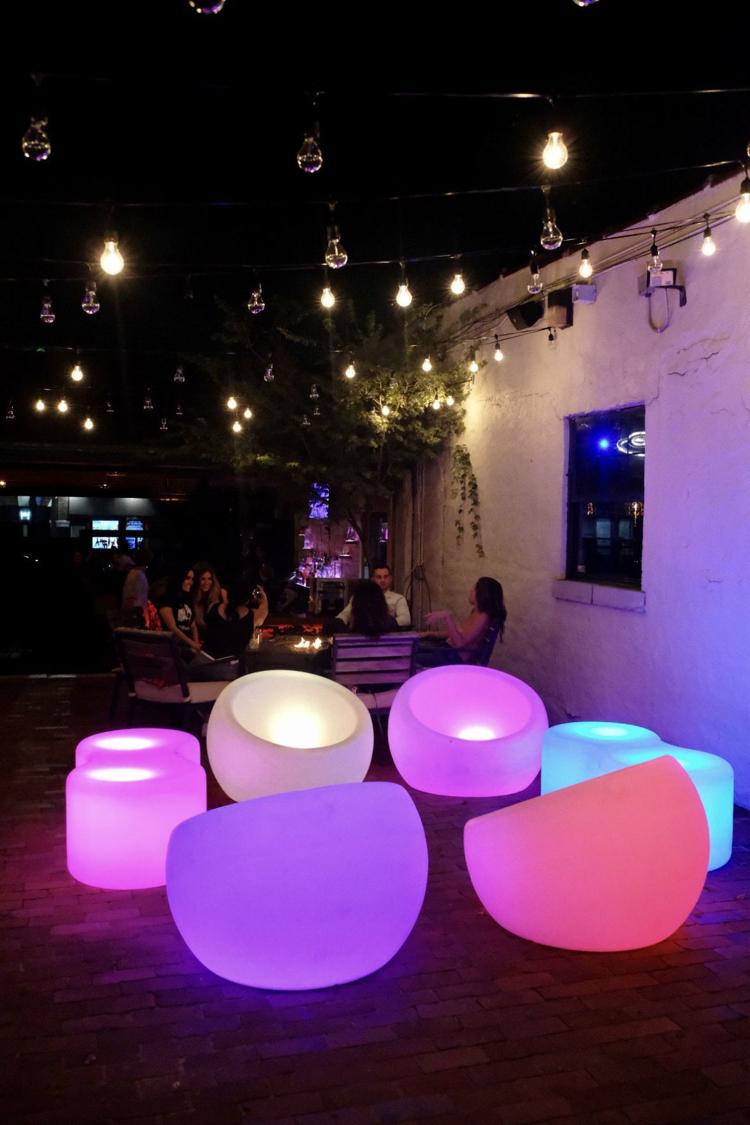 Jacobsen and Lewis opened Ember in the Grove because it's an up-and-coming neighborhood. They also love being one of the first Manchester Avenue spots people see when entering from the east end.
"We're easy to get to and easy to find," Murphy says.
Where Ember Nightclub and Bar, 4121 Manchester Avenue • More info 757-513-8006; emberstl.com • Hours 8 p.m.-3 a.m. Wednesday, 9 p.m.-3 a.m. Thursday-Saturday (closed Sunday-Tuesday)