Erykah Badu brought her royal neo-soul vibes to a nearly sold-out crowd at the Fox Theatre on Saturday night, doing what needed to be done during her 100-minute set.
It was the venue's first concert, following a pair of Bill Burr comedy shows, since fully reopening with COVID-19 protocols including vaccination card or negative test requirements in place for entry.
Faring strongly against the competing Legends of Hip-Hop show at the nearby Chaifetz Arena, where she performed in 2019, the last time she was here, Badu was all the way up in her funky groove at this weekend's Fox Theatre show.
Accompanied by her 10-piece band including backing singers and a DJ, Badu delivered a set of hits, B-sides, unexpected covers and more that reinforced the notion she's still a force to reckon with.
Badu spent a good portion of the pandemic with her interactive "Quarantine Concert Series," widely heralded as an innovative success. Free from that format, she's back in front of live audiences finally, and it's clear she's basking in it.
It took her a spell to get on stage however. Her band performed for nearly 20 minutes reinterpreting songs by Michael Jackson, Prince and Crystal Waters before Badu joined them appropriately with "Hello" from her 2015 conceptual mixtape "But You Caint Use My Phone" (itself a riff on her huge hit "Tyrone").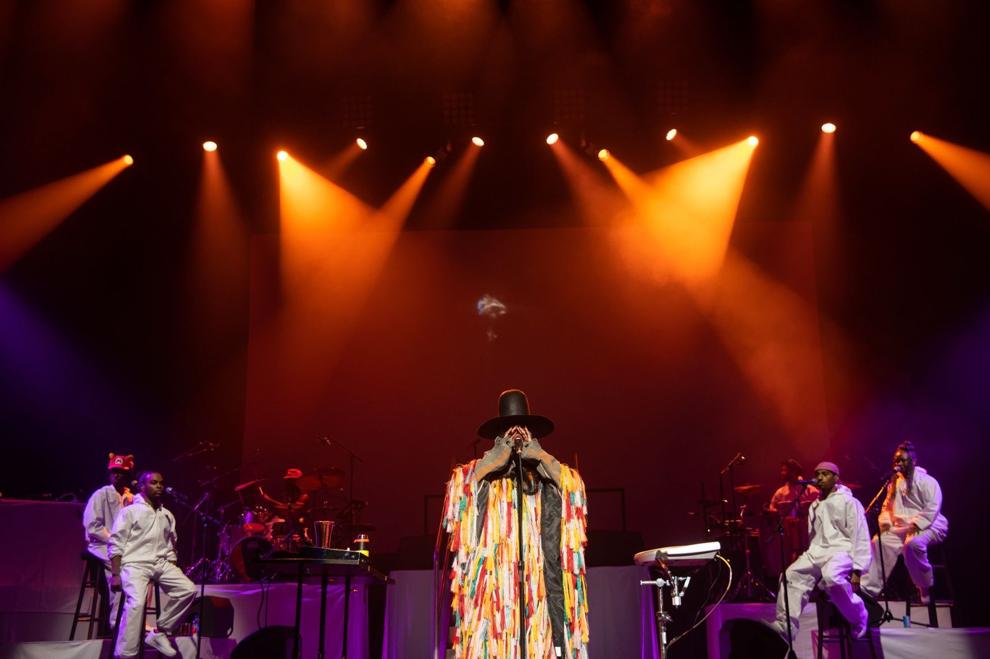 Reintroducing herself, she ran down nearly a dozen of her alter egos including Badulla Oblongata and Analog Girl in a Digital World before pulling out the big guns like "On & On," and "Love of My Life (An Ode to Hip-Hop)," occasionally punching up the proceedings with the drum machine that's a staple of her performances.
Badu's uniquely flavored song stylings were intact as she took fans through staples including "Otherside of the Game" and "Window Seat." Just as uniquely flavored was her colorful layered garb, which she removed pieces of throughout the show.
Her creative use of colorful, laser-like beams of light often encased the singer within pyramid shapes.
Badu ventured back to "But You Caint Use My Phone" for some of that collection's stronger songs, including "Phone Down" and her cover of New Edition's "Mr. Telephone Man."
She gave double exposure to "To Each His Own," a mostly forgotten disco gem by Faith, Hope & Charity, giving it her own lyrical twist as she performed it twice, early and late in the show. Were two spins with it necessary? Not really, though there are no complaints here. A great dip into another older, Yarbrough & Peoples' "Don't Stop the Music," looked to fly over fans' heads.
The band was funky and free throughout such as on her epic "I Want You," perhaps her best-ever B-cut. On the other hand, Badu's singers, including Durand Bernarr, weren't given real time to shine, unusual for a Badu show, and weren't even introduced.
A mandatory break she said was built into her contract translated to Badu and her band smoking what appeared to be weed on stage as the intro to "Back in the Day (Puff)."
"Tyrone," "Bag Lady" and "Next Lifetime," with a nod to Rene & Angela's "You Don't Have to Cry" kept the many hits in focus.
At least a couple of times during the night, the sound wasn't what Badu needed it to be. She handled it by singing instructions to the sound technicians into the microphone.
Feigning wanting to connect with a fan in the front row to impart some deep meaning between the two, she instead burst into Snoop Dogg's raucous "Ain't No Fun," her funny show-closing highlight.
Leaving the stage, she told her fans she guesses she'll see them next lifetime, lyrically referencing "Next Lifetime."
Making its way to the stage was a beautiful painting of Badu from St. Louis visual artist Kyla Hawkins. Badu held the painting above her head for everyone to see. Throughout the show, Hawkins and her friends held the painting up over their heads and used their smartphones to shine light on the painting, waiting for Badu to notice it.