KISS will scrub off its war paint after its "End of the Road" tour, but St. Louis fans have a load of memories of the band. "Kiel Auditorium is something you don't forget," says the band's Paul Stanley.
March 29, 1974 • For its first St. Louis show, KISS performed at the KSHE Kite Fly in Forest Park. It had been the band's largest audience so far. In 2014, Stanley told Post-Dispatch's Ian Froeb that he recalled "being driven out in a van without windows into a field, not knowing where we were going, and playing as a new band cutting our teeth."
July 28-29, 1976 • KISS at Kiel Auditorium with Bob Seger. "KISS, if you hadn't guessed, is following in the proud tradition of Alice Cooper in suggested musical depravity," Dick Richmond wrote in the Post-Dispatch. "The difference is that unlike Alice there is really nothing sickening about the words of the quartet's songs, which mostly are basic one-lyric rockers. The similarities lie in the costuming and the staging. ... Where Alice wallows in filth, (KISS) are rather spiffy — more like Park Avenue witch doctors than the dead chicken, Louisiana bayou variety."
December 1977 • KISS at the Checkerdome with Detective
October 1979 • KISS at the Checkerdome with John Mellencamp
February 1983 • KISS at Kiel Auditorium with Plasmatics
January 1986 • KISS at Kiel Auditorium with W.A.S.P. "The group still delivers each song with all the delicacy of a sledgehammer on a railroad spike," David Surkamp wrote in the Post-Dispatch. 
January 1988 • KISS at Kiel Auditorium with Ted Nugent. Surkamp's review: "While the hairline of the band's sex symbol, Paul Stanley, recedes further with each passing tour, the singer's nonstop enthusiasm propels both him and the audience through the program with an almost juvenile abandon." 
June 1990 • KISS at Kiel Auditorium with Slaughter and Faster Pussycat. Surkamp's review: "While some critics have been trying to dismiss the group as a passing fad since its inception in 1973, KISS continues to prove its staying power with fans, while producing some of the most hard-hitting material of its career." 
November 1992 • KISS at the Arena with Great White and Trixter. Surkamp's review: "If there is a counterpart to the circus in all of rock 'n' roll, certainly the legendary rock group KISS fits the bill." 
July 1995 • KISS Convention at the Airport Hilton
December 1995 • Ace Frehley and Peter Criss perform with their respective bands for KSHE's Real Rock Concert Club at Union Station.
July 1996 • KISS at Kiel Center with Alice in Chains. "Criticizing KISS is like criticizing a magician because we know it's a trick," Randall Roberts wrote in the Post-Dispatch. "KISS is pure gimmick — without the schtick, it'd be mediocre glam-rock. But KISS made it all work because they understand that a performance at a huge venue like Kiel Center demands over-the-top entertainment, lots of action, perhaps some blood and fire, and loads of innuendo."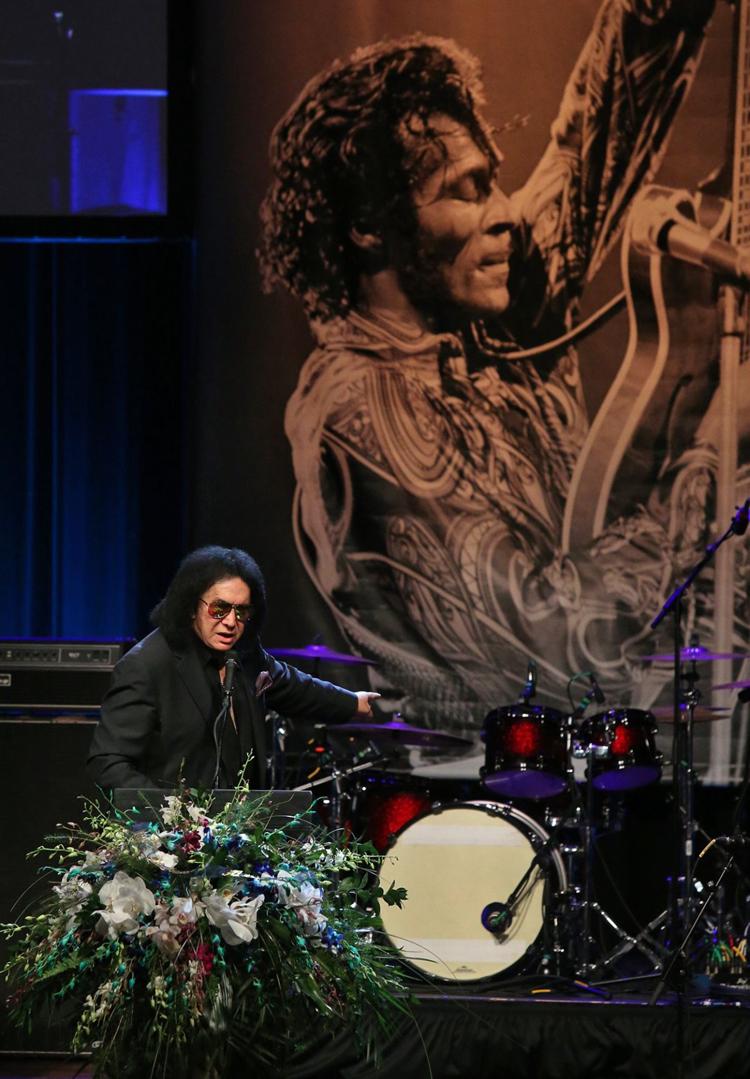 April 1997 • KISS at Kiel Center. "If the Smithsonian ever mounts a major exhibit of groundbreaking 20th-century pop artifacts, surely bassist Gene Simmons' tongue will be preserved for posterity," Chris Dickerson wrote for the Post-Dispatch. "It is a thing of creepy wonder."  
August 2000 • KISS at Riverport Amphitheater with Ted Nugent. "Kansas City! Let me hear you!" Gene Simmons said to the crowd before Paul Stanley corrected him, according to Dan Durchholz in the Post-Dispatch.
September 2003 • KISS at UMB Bank Pavilion with Aerosmith. "If anyone left the Aerosmith/KISS concert at UMB Bank Pavilion with their eardrums and eyebrows intact (the noise, the pyro) and their eyesight undamaged (a side-butt display from Gene Simmons), they got off easy," Post-Dispatch critic Kevin C. Johnson wrote.
October 2003 • Gene Simmons signed copies of his book "Sex Money Kiss" at the St. Louis Galleria. He and a woman accompanying him were removed from the mall for not agreeing to put the woman's dog in their car, Post-Dispatch columnist Deb Peterson wrote.
June 2004 • KISS with Poison at UMB Bank Pavilion. Of the band's lineup changes, which includes the departure of Ace Frehley and Peter Criss, Gene Simmons told the Post-Dispatch: "We're still KISS. If you want to talk about original members, you can't talk about the Beatles. You can't talk about the Stones, because they only have three of their original members. You can't talk about AC/DC. They've had different singers. You can't talk about Van Halen. You can go right down the line." 
August 2012 • KISS and Mötley Crüe at Verizon Wireless Amphitheater. "It's a healthy competition," Tommy Thayer told Durchholz of the bands' friendly rivalry. "And it's not even a competition. It's just a healthy vibe. We've all known each other for a long time." 
August 2014 • Verizon Wireless Amphitheater with Mötley Crüe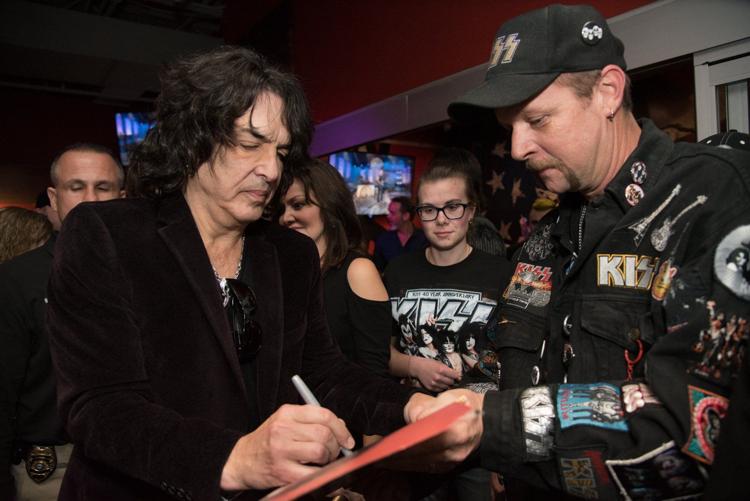 Rock & Brews' menu is exactly what you'd expect from a chain restaurant on Chesterfield Airport Road, bar-and-grill fare aiming to please an arena-size audience.
November 2016 • Paul Stanley and Gene Simmons' Rock & Brews restaurant opens in Chesterfield. 
April 2017 • "An Evening With Gene Simmons and His Band" at the Pageant, in conjunction with Simmons' appearance at Wizard World St. Louis Comic Con. The same weekend, Simmons dropped in on the Celebration of Life event for Chuck Berry at the Pageant. After standing in the rear unbothered, he was encouraged to speak. "I wasn't planning on saying anything," said Simmons, who wore sunglasses. "These shades are going to help me a lot. But there are real tears behind them."