KVtheWriter hasn't been on the St. Louis music scene for long, but her reputation is growing quickly.
She just dropped her debut hip-hop EP "Love Sucks!" on major streaming platforms and digital stores, and her April concert at the Monocle — her first — sold out.
She follows that show with a weekend concert tour, playing three venues Friday through Sunday.
The funniest part: It was never KVtheWriter's goal to be an artist.
"This journey is about me getting in the door to be a songwriter and to write for other artists," she says. "I consider myself a writer. But I don't know how to get in the door and write for other artists."
KVtheWriter (aka Kayla Thompson) lists Ne-Yo and The-Dream as two of her favorite songwriters.
Her dream would be to write for Rihanna — she has songs that would be perfect for the artist — as well as SZA.
But until then, she recognizes that she's good at her "artist thing."
She calls "Love Sucks!," produced by Blair™ (Blair the Machine), a look at her journey of losing and finding love, spread over the EP's tracks: "Seat Back," "Time," "Laid Up," "Crazy" and "Snow Factory."
She's up-front and shows vulnerability on the EP, which she wrote, with material about how she was at fault in relationships. She says female artists often aren't that honest.
"Sometimes it's hard for us to talk about us being the bad guy," KVtheWriter says. "I'm open as a woman about my sexual experiences, and I do it in a way that's direct."
She says writing comes easy for her because she relies on real stories based on real experiences — her own and of those around her.
"Snow Factory," for instance, is about a boyfriend who took her out for ice cream — and to break up with her.
The EP is full of her brand of melodic rap, though she sings occasionally. But KVtheWriter doesn't call herself a singer.
"A lot of people try to make me a singer," she says. "My producer tries to make me a singer. My engineers try to make me a singer. I'm a rapper disguised as a singer."
She finished "Love Sucks!" in November after recording in her home. "I like the convenience of waking up and going to the next room to record," she says.
Her 32-week rollout began on Valentine's Day. At the time, though, her fans didn't know they were being set up for her debut.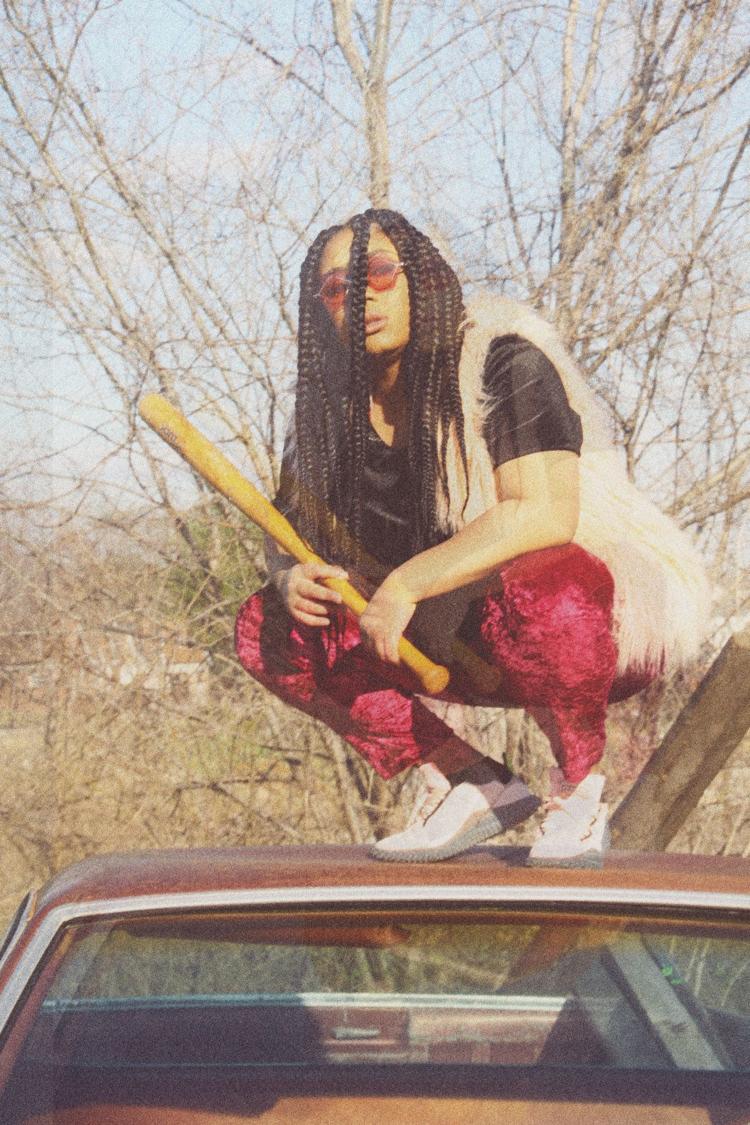 "I didn't tell anybody it was about my upcoming music, and it got attention. In the midst of that I announced I was having a show. Nobody knew I was making music. Nobody knew what to expect until I released the music," she says.
When fans showed up at the Monocle, they naturally assumed it was for a poetry event; "Of Magic and Madness," her 2017 book of poetry, won first place in the Writer's Digest Self-Published Book Awards.
What fans got instead was KVtheWriter's first concert.
Selling out the Monocle — especially considering it was a stormy Tuesday night — was a real wow moment. "People came out heavy. I really had people curious just based on my rollout."
This weekend, KVtheWriter keeps the momentum going as she embarks on her "Every Little Bit of Love Tour," three shows over three days at three secret St. Louis locations. She will announce the unorthodox venues on the day of the shows, which sold out immediately.
She has already finished two more albums, with the next one coming this summer.
KVtheWriter's grandmother Betty Thompson served six years in the Missouri House of Representatives. Her uncle Tony Thompson is president and founder of TBeats Studios and CEO of Kwame Building Group. A brother, visual artist Tyrell Thompson, was a shot to death in a 2016 robbery.
She wrote a song about her brother titled "Last Words"; it's not on her new EP.
"The song is written from the perspective of him, what he would say if he had his last words," she says. "I opened with that at my show."