Singer Lynne Fiddmont is known for the silky-smooth jazz tones on her Billie Holiday tribute album "Lady" (2010) as well as on "Flow" (2006). But on her new album, "Power of Love," the St. Louis native is making music in a different space.
"Power of Love," featuring the song and video for her cover of Lou Rawls' "Groovy People," is Fiddmont's dip into soul and R&B. It's a collection of original tunes and select covers including two from Minnie Riperton — "Memory Lane" and Lovin' You" — along with John Lennon's "Imagine" and Stevie Wonder's "Ngiculela-Es Una Historia-I Am Singing." The album was released in June.
"It's less jazzy and more of me dealing with my roots, how I first loved music and the first things that made me want to do music," says Fiddmont, who lives in Los Angeles. "I grew to love the more jazzy stuff, but this is more the root of me."
As part of the duo Linsey, with then-husband Wayne Linsey, she landed a hit in 1991 with "U R Loved."
She has always been influenced by male R&B acts such as Stevie Wonder and Earth, Wind and Fire, so going the R&B route on the new album isn't a stretch.
The title track reflects what she calls the underlying meaning of her mission in life. "That's more where I am — it's power of love for the world, myself, my neighbors, for immigrants, for people I don't like. It's a love song like a romantic song, but there's the deeper meaning as well."
On the album, Fiddmont embraces things she didn't always embrace, most notably her own voice.
"Some things are just what they are, and you do the best with what you've got," she says.
What she considers a light vocal quality worked well when it came to covering songs by Riperton, known for her falsetto. For years, Fiddmont had been told she sounded like Riperton.
"I said, 'All right, if you can't beat them, join them," she says.
Riperton's songs were the most difficult to sing on the album.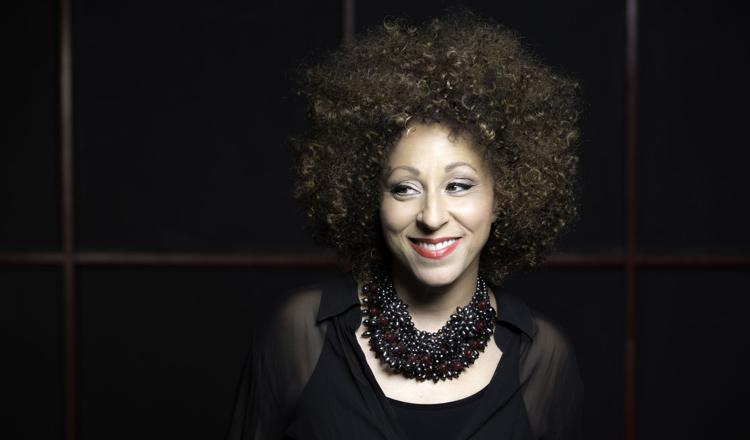 "There's such a standard there," Fiddmont says. "When I write my own songs, I can sing it any kind of way I want to. These weren't easy. 'Memory Lane' almost wasn't going to make the record. I just wasn't having it.
"I worked on it for a long time. High singing isn't easy. It was a challenge."
Fiddmont says "Imagine" is the kind of song everyone needs to hear, especially now with "all the divisive things happening with our government and flat-out race baiting. I just don't think that's going to do well for us. We need to create more love."
"Walking on Rainbows," as the title suggests, looks at her life today. "You know what? It's good. It's not what I thought it was going to be, and I didn't know what it was going to be, but it's all good. I'm walking on rainbows and embracing my imperfections."
In her show Sunday afternoon at the Sheldon Concert Hall & Art Galleries, Fiddmont will sing Christmas music, songs from "Power of Love" and more.
For the first time in St. Louis, Fiddmont will perform with her two adult children. Her son, Sun Whoa Love, and daughter, Alana Linsey, are both artists working in Los Angeles.
A portion of the show will focus on Fiddmont's rise in the music industry; she has been an in-demand studio and touring backing vocalist, beginning with the Jazz Crusaders.
She has also worked with Stevie Wonder, Michael Jackson, Babyface, Whitney Houston, Barbra Streisand, Diana Ross, Seal, Phil Collins, Rod Stewart, Kenny Loggins, Bill Withers, Lou Rawls, Burt Bacharach, Stanley Clarke and Chaka Khan. She has performed at the Grammys, the White House (under President Barack Obama) and on "American Idol."
Fiddmont has taken something away from each situation, most notably from Stevie Wonder, who told her to always have fun.
"If you're not having fun, no one else will be having fun, no matter how good you sound," she says. "I had one gig where I completely lost my voice, and it was one of the funnest gigs ever."
What Lynne Fiddmont • When 4 p.m. Sunday • Where Sheldon Concert Hall & Art Galleries, 3648 Washington Boulevard • How much $35 • More info 314-534-1111; metrotix.com