For contemporary Christian band MercyMe, "I Can Only Imagine" is "the song that won't go away," frontman Bart Millard says.
He wrote the song, which inspired a blockbuster movie and has become the biggest-selling Christian song of all time. The band's "Imagine Nation Tour" visits Enterprise Center on Saturday.
The song is actually an old tune that was included on two early MercyMe albums, "The Worship Project" (1999) and "Almost There" (2001).
The song had created some noise in the Christian music community, but in 2003, it found new life. A morning radio host in Dallas, doing a truth-or-dare bit, played the song on a dare. The airwaves lit up, and other mainstream stations across the country picked up on it. "I Can Only Imagine" was a hit all over again with a new audience.
"For three or four months we were No. 1, and 50 Cent's 'In Da Club' was No. 2, and our label was like, 'What do we do? It's blatantly Christian. It shouldn't work.'"
Then Millard was approached about turning the song — based on Millard's life and relationship with his father — into a film.
"Whenever someone wanted to approach me about making the movie, I thought they were crazy," he says. "I didn't think it was going to happen."
The faith-based drama, directed by the Erwin Brothers, debuted in 2008, grossing $84 million. Dennis Quaid portrayed Millard's father.
The movie stirred up a lot of emotions, Millard says. "The first time I read the script was really emotional. The first time they shot scenes (depicting his father) was harder than tough."
He'd see the film in different stages, from viewing an early cut on a laptop to seeing it on the big screen with an audience. The movie addresses some family things that hadn't been discussed, but with his family's blessing, he says he has no regrets.
"Fortunately, it turned out OK," he says. "The hardest part was that everything was magnified."
The band re-recorded the song for the movie and released it as part of "I Can Only Imagine: The Very Best of MercyMe."
"Once the movie came out, it was really 'when it rains it pours,'" Millard says. "It was amazing how fast and crazy everything was. Before the movie, we were averaging 3,000 to 5,000 people a night. After the movie, it was 10,000 to 15,000. That's pretty impressive."
MercyMe's "Imagine Nation Tour" includes special guests Crowder and Micah Tyler. Millard says response has been unbelievable, considering the band's longevity.
"If somebody told me people would still care about our music 25 years ago, I would have thought they were crazy," he says.
Millard says MercyMe always loves visiting St. Louis. "We have an amazing time every time — it's always incredible. I don't know what it is, but St. Louis has always welcomed us with open arms."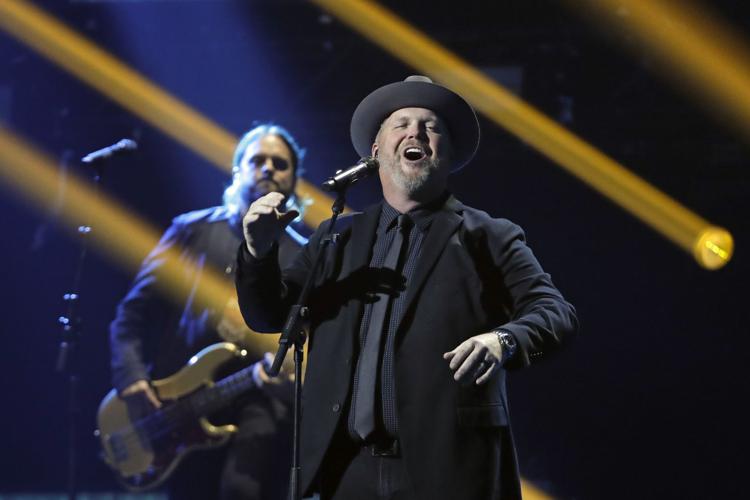 He describes the tour as MercyMe's biggest production yet, full of LED technology and moving parts. "I don't do a lot of moving around. We have things that move for us."
But what he likes best about the show is a quiet segment that comes midway through. "It's nothing but us," he says. "When you strip everything down, you can hear everything like we're sitting right in front of you. Any time you can find an intimate moment, it's awesome."
The hope is for fans to leave the show a little different than when they arrived.
"Good songwriters write about what consumes their heart, and ours is about our relationship with God," Millard says. "It shows up in the music. Some people will be seeing us for the first time, and they're not sure what they're walking into.
"We never want to force the Bible down people's throats. But I want them to ask, 'What joy do they have that I don't have?' Let go and enjoy yourself and leave feeling like you can take on whatever you're facing in life."
What MercyMe, Crowder, Micah Tyler • When 7 p.m. Saturday • Where Enterprise Center, 1401 Clark Avenue • How much $27-$77 • More info ticketmaster.com
"If somebody told me people would still care about our music 25 years ago, I would have thought they were crazy."

Bart Millard
Stay up-to-date on what's happening
Receive the latest in local entertainment news in your inbox weekly!