Michael Gerow, 16, of Lake Saint Louis says making the early cut and heading to Hollywood to compete on "American Idol" was "really surreal." His first audition aired last week.
"I'm so proud of myself for getting a golden ticket. 'Wow, I did it,'" says Michael, a junior at Christian High School in O'Fallon, Missouri. He performed his original song "Nice Boy" for the show's judges, Katy Perry, Lionel Richie and Luke Bryan.
The prerecorded Hollywood Week shows often are the most intense — and most dramatic — part of the competition. The episodes air March 21-22 and precede the live shows.
"On the one hand, it's even more nerve-wracking than the auditions," says Michael. "I didn't know if I really believed in myself. I walked in there confidently and tried to stay confident, but I didn't fully believe in myself."
He'd lost some of his confidence after trying out for "The Voice" in 2019. He was accepted and then rejected for that singing competition show.
"I've had bad experiences with 'The Voice,'" he says. "It hurt my confidence as a singer. I didn't know if I was good enough."
Michael didn't want to bring those nerves with him into Hollywood Week. He already knows his fate but is sworn to secrecy until the episodes air.
"I still had nerves, but it was less," he says. "It's intense because the bar is a lot higher. When you make it past the auditions, they expect you to step it up, show unique sides of yourself. You can't do the same thing."
Hollywood Week takes the hopefuls out of their comfort zones by pairing them for duets or dividing them into groups. Singers also give genre-specific performances.
"Performing solo is an easier thing to do because you're always gonna be comfortable just doing things your way — controlling the performance," Michael says. "If you're put with someone to duet with, you have to figure out how to create a performance together. It takes effort. You have to give each other moments to shine. I would definitely say I'm more comfortable performing solo. But doing a duet is not something that scares me."
He will perform in the pop genre during Hollywood Week, though he feels more closely aligned with R&B. But he's comfortable with the choice.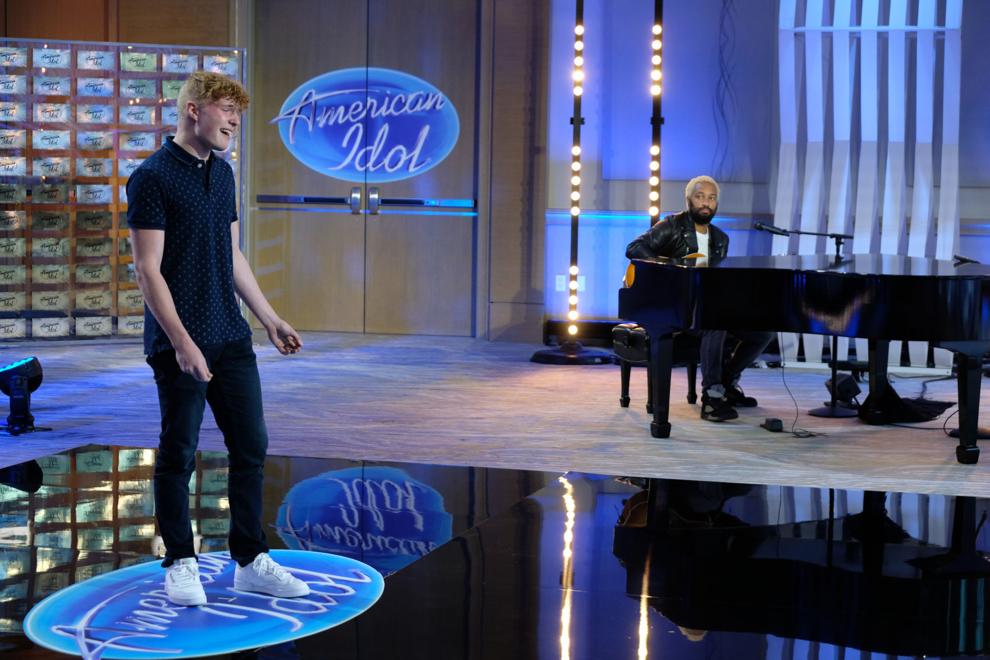 Looking back at his audition, he says the judges didn't critique him as much as they did the other singers. But the feedback he received was especially meaningful. Perry told him he's top-10 material.
She also told Michael he had swag — "kind of an outdated term," he says — and that she loved the vulnerability of his voice and how he presented himself.
When Michael entered the audition room, only Bryan was there, who said it would just be the two of them. Perry and Richie showed up later.
What viewers didn't see was that Michael actually performed "Nice Boy" for Bryan and again after the other judges arrived.
Other untelevised moments: He also performed Allen Stone's "The Bed I Made" for the judges, and Perry told him he sounds like singer Daniel Caesar, prompting him to sing Caesar's "Best Part."
"They definitely complimented me on it," he says.
Hollywood Week allowed Michael to make a lot of new friends, some he met for the first time because they weren't part of his San Diego audition.
"We couldn't be close — we had to be socially distanced," he says. "I think it probably would have been a better environment before COVID. But I still made a ton of friends."
What "American Idol" • When 7 p.m. March 21-22 • Where ABC • More info americanidol.com
---
21 St. Louisans who made us proud on TV
"It's intense because the bar is a lot higher. When you make it past the auditions, they expect you to step it up, show unique sides of yourself. You can't do the same thing."

Michael Gerow