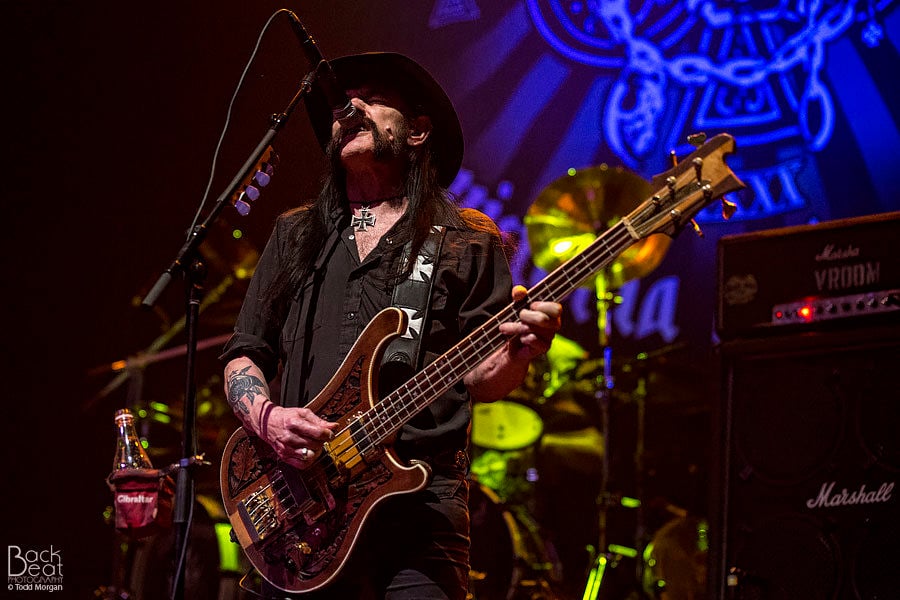 "Monday Night Metal" is back on radio station KSHE 95, and it's louder than ever.
Shepherded in the 1980s by "Radio Rich" Dalton and since then airing in different incarnations, the show is now hosted by Lauren "Lern" Elwell, a KSHE personality since 2008. "Monday Night Metal" airs 9 p.m.-midnight on Mondays.
"Out of all the special programming and shows KSHE has had throughout its history, 'Monday Night Metal' has stood the test of time," says Elwell, who also hosts 2-6 p.m. Monday-Friday.
She says Marty Linck, the station's program director and brand content director, saw a need for the show to return.
"People wanted it back so badly," Elwell says. "He could tell they missed metal on a big rock station."
Though metal figures into KSHE's regular playlists — mostly the commercial acts such as Metallica, Def Leppard, AC/DC, Great White and Ozzy Osbourne — "Monday Night Metal" provides a dedicated home for it.
"Never would I think I would get asked to be host," says Lern. "Marty asked 'what do (you) think?' I was like, 'holy (crap).'"
The gig takes Elwell back to her days at Columbia High School in Columbia, Illinois, seeing Gwar in concert at Pop's in Sauget, going to every Motorhead concert that came to town and picking up every Deftones album.
"Oh my God, I'm actually able to play bands I've never been able to play before on KSHE," she says. "Marty really wanted to open the catalog up."
Elwell is the first woman to host the program. "To be able to say I'm the first female is just so cool," she says. "It's a new era."
On Feb. 22, she opened her first "Monday Night Metal" with Motörhead's "Overkill." She was at the band's last St. Louis show at the Pageant before frontman Lemmy's death in 2015. The last song performed that night was "Overkill," she says.
"Lemmy is beloved — he's a god to metal fans," Elwell says. "I loved Lemmy. That's a special song, and it shows there's a lot of heart in metal."
Other acts featured on her first episode included Rob Zombie, Five Finger Death Punch, Ozzy Osbourne, Whitesnake, Volbeat, Krokus, UFO, Queensrÿche and Mötley Crüe.
St. Louis metal isn't part of the lineup yet, but she says the show is open to submissions from local bands.
"I'm excited to learn more about local metal bands," she says. "There's such a great energy there."
Elwell, who was born in 1985, is too young to know the original "Monday Night Metal," but she's well informed of its history, beginning with its first host, Radio Rich.
"He had this Monday night persona where he really unleashed himself," she says. "I think it was the first time at KSHE anyone had a different persona. That was legendary."
In the 1990s, "Monday Night Metal," moved to Tuesdays with host Drew Johnson, but the name stayed the same. The move was precipitated by a syndicated program that took the Monday slot.
"I don't remember hearing much about his time hosting it," Elwell says. "He followed Rich, and then it dissipated and was taken off the air."
In 2006, the show was back, with Thomas Terbrock at the helm. According to station lore, Elwell says, the show returned after Terbrock won a game of pool with the program director at the time. That show lasted about six years.
"I took it all in," she says. "I would sit in the studio with Tom. He was such a sweetheart. That was my first introduction to the program."
Elwell's goal is to break new metal while also spotlighting the history of the genre.
"Honestly, the people are so passionate," she says. "That's what's so fun about metal as a genre. And they're so happy the iconic show is back and excited to see what's in store. They're excited to have this destination. I'm hosting it live. It's like going to a show."
What "Monday Night Metal" • When 9 p.m.-midnight Mondays • Where KSHE 95 (94.7 FM) • More info kshe95.com