KISS and its St. Louis fans will rock and roll all night when the band brings its "End of the Road World Tour" to Hollywood Casino Amphitheatre on Sunday. 
The costumed headbangers say it's their last go-round; they embarked on a "farewell" tour in 2000. 
Singer-guitarist Paul Stanley — as his KISS persona, Starchild — has been with the band since its formation in 1973. The 67-year-old vocalist and guitar player says it wasn't a tough decision for the Rock and Roll Hall of Fame act to bring its live spectacle to a close.
"It's a part of life knowing what you can do and what you can't do," Stanley says. "Even if you can do something now, you have to be realistic and realize you can't go forever. We know we won't be able to do this indefinitely. So it's time to do the victory lap — run the course one more time."
Gene Simmons, as the fire-breathing, tongue-darting Demon (vocals, bass), is the band's other founding member. He's 70. 
If KISS were just a band that could simply get onstage in blue jeans, "we could do this into our 90s," Stanley says.
But we know that's not KISS. The band is known for its big personalities — and its big hair, leather, rhinestones, spikes, thigh-high platform boots and more.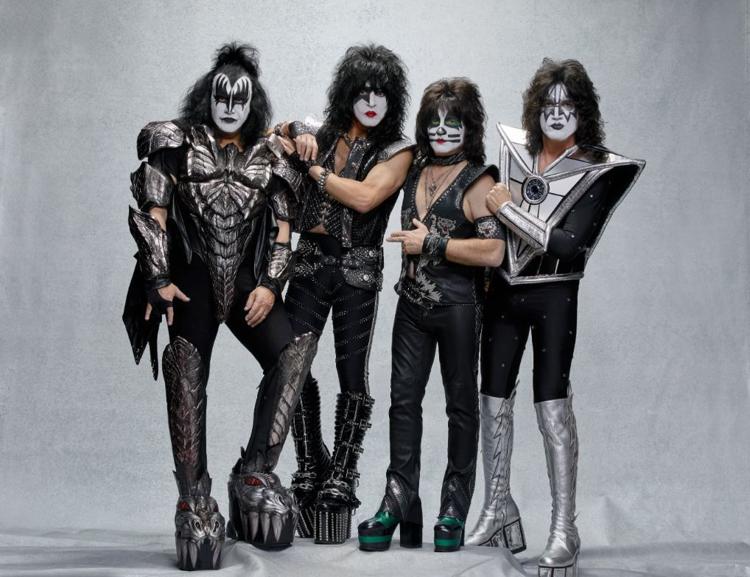 "We're carrying around more than scarves and tattoos — it's 40 pounds of gear," he says. "We're running around in a way no other band could ever do. It's just a matter of time before we can't do that anymore. Rather than reach that point, we'd rather celebrate on this tour everything the band has done and accomplished.
"Most people couldn't do this at any age. Show me somebody who can run around the stage with 40 pounds of gear, and I'll show you KISS."
Stanley says closing up shop now puts the band in the unique position of going out on top, delivering the show fans expect.
"This is the ultimate KISS show," Stanley says. Though the spectacle of the band's concerts makes every one feel like the ultimate KISS show. The band's last St. Louis concert was in 2014 at Verizon Wireless Amphitheater, now Hollywood Casino Amphitheatre.
"We've never done anything on this scale before — this massive. This is the right way to cap it off," Stanley says.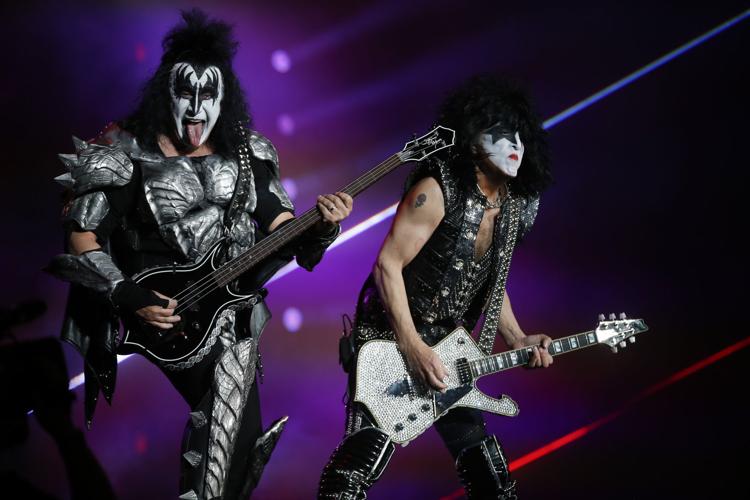 He describes "End of the Road" as the ultimate because of all that goes into giving fans the most, from the pyro to the mechanics.
"Everything is really state-of-the-art," he says. "Our show has lost none of its power. Sometimes things can get too technical, and it begins to seem sterile or machine-like. But we use technology to make KISS that much more powerful and dazzling and bombastic.
"There's nothing safe about this show — nothing generic."
Many headliners these days have great stage designs, he says, but the stages all seem interchangeable. "They're great to look at, but they're just eye candy that has nothing to do with the act onstage. Our stage can only be ours. It's a manifestation of who we are. That's what sets us apart."
KISS will scrub off its war paint after its "End of the Road" tour, but St. Louis fans have a load of memories of the band. "Kiel Auditorium i…
There's also the set list, which is all-encompassing. Stanley says KISS wanted to stick with the songs they knew fans wanted to hear one more time.
"It isn't a night of obscure tunes for a handful of people," he says. "Nobody in the audience is going to go, 'What was that song?' That's not going to happen. This is a night to celebrate everything that made us who we are."
KISS has had different musicians under the black-and-white face paint over the years. Stanley says there's nothing planned as far as bringing back any former members. The classic lineup featured Stanley, Simmons, Peter Criss and Ace Frehley. These days, along with Stanley and Simmons, it's Eric Singer and Tommy Thayer.
While "the door is open, this is a celebration of KISS and the history and the longevity of the band, not a celebration of any particular lineup."
There hasn't been any thought or desire to do a final recording in conjunction with the final tour.
Stanley stops short of saying KISS is breaking up. "All I can tell you is our touring is over. Beyond that, I can't say what will happen. But I can tell you the idea of going out on tour is something we won't do again," he says.
"I'm having a ball, and I've had a ball."
What KISS • When 7:30 p.m. Sunday • Where Hollywood Casino Amphitheatre, 14141 Riverport Drive, Maryland Heights • How much $39.50-$750 • More info livenation.com