Kanye West is known for stirring the pot, but 2018 may have been over the top even by his standards.
The controversial rapper, singer, songwriter and fashion designer kept the headlines coming — his association with President Donald Trump, his comments about slavery being a choice, his use of a photo of Whitney Houston's drug-filled bathroom for an album cover and his issues with mental health, just to name a few.
So it's not surprising that Jeffrey McCune, a Washington University associate professor, is following his popular 2017 course "The Politics of Kanye West: Black Genius and Sonic Aesthetics" with a sequel: "The Politics of Kanye West: Black Genius and Monster Aesthetics."
The new course kicked off Jan. 14 with a racially diverse group mirroring what one might see in the audience at one of West's concerts. This semester, 100 students are enrolled.
The first course drew national attention from Billboard, "Entertainment Tonight," E! News, Complex, "The Real," the Guardian and more. In 2017, 75 students had enrolled in the course, and there was a waiting list for more.
"Kanye West continues to be a figure of great interest to both my students and to the world, and this year has been a year of unfolding more complex layers to Mr. West," says McCune, who teaches African and African-American studies and women, gender and sexuality studies at the university. "And I think it really gives an opportunity to really think about what it might mean to think of Kanye West as doing performance art."
In saying that, McCune believes most of West's shenanigans last year — wearing a Make America Great Again cap for a meeting with Trump at the White House, the slavery rant in TMZ's newsroom — are provocative pieces of performance art.
"At the moment when Kanye returned to the American public wearing the MAGA hat, it become clear to me he's a provocateur and performance artist who takes the everyday and mundane and makes it extraordinary and controversial," says McCune, who, like West, is from Chicago.
He says that, when West voiced his support for President Trump, fan reaction was different from when he bullied Taylor Swift or married Kim Kardashian. Many found the political endorsement hard to accept.
"In the past, the stakes weren't as high," McCune says. The comments struck a chord with people who already felt their well-being was threatened by Trump.
McCune never expected the course to take off — much less attract so much attention off-campus.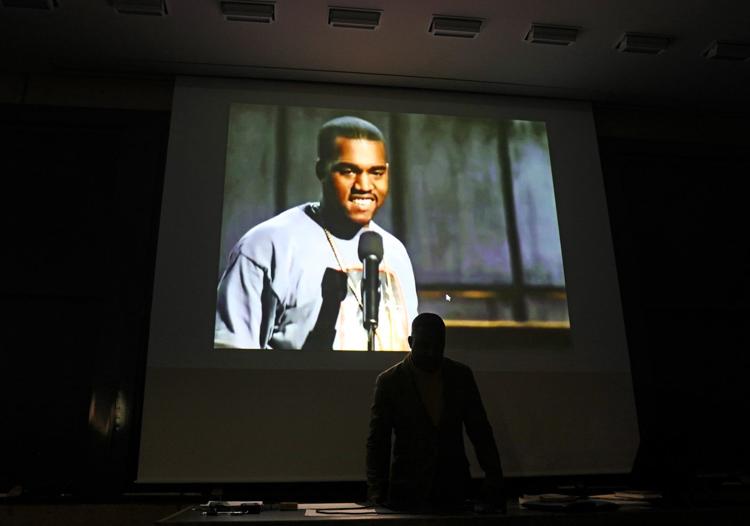 "It took me off guard," he says, "but the media afforded me the opportunity to teach the public while simultaneously teaching the world."
When West re-entered the public consciousness — both through his politics and his producing albums by Nas, Pusha T, Teyana Taylor and Kid Cudi — McCune decided to revisit the course.
"It was indicative of a continued fascination with Kanye as a figure, the opportunity to watch an icon rise and fall in front of us repeatedly, when one might have thought the energy around Kanye was waning," he says. "It was clear his words were as important as his music. One might argue his words in this particular moment became more important than the music."
In bringing back the course, it was clear to McCune that he'd have to cover more than just the "genius" of West — he'd need to address the perception of West as a monster. He opened the class by playing West's song "Monster."
"I'm always interested in how 'monster' is attached to black (people's) bodies," McCune says.
Topics on the course syllabus include:
• All of the Lights, or Racial Icons and the Politics of "Poopity Scoop"
• "I Been Losing My Mind a Long Time": Kanye, Madness, and Freedom
• Father Stretch My Hands, or How Hip-Hop Takes us to Church
• "No one man should have all that power," or Black Masculinity and Vulnerability
• "I don't feel that she's mine enough": Kanye and the Treatment of Women
• I Love Kanye, I Hate Kanye, or How to Reflect on a Cultural Icon
McCune is working to schedule a class visit by a major recording artist, along with appearances by a selection of St. Louis artists.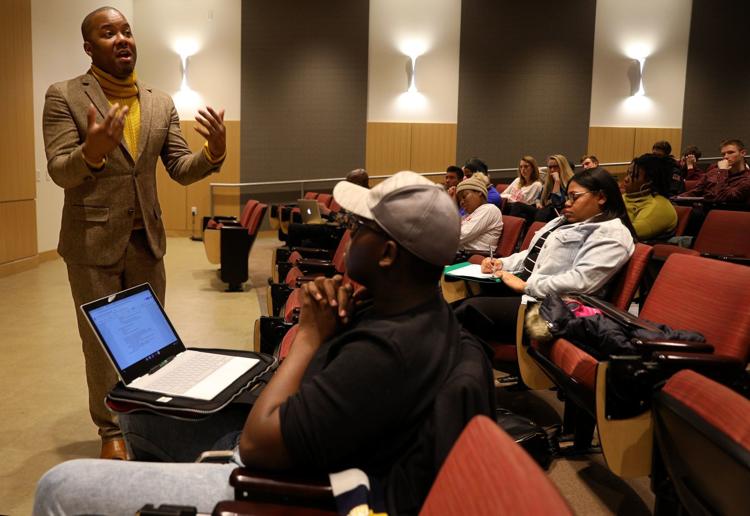 His goal is to teach a course that's comparable to courses on greats like Mozart and Langston Hughes and to show that hip-hop warrants academic attention.
"I thought it sounded interesting and socially woke, and I like to be in the know," says 20-year-old student Kelcie Ford, who's studying psychology. "And hip-hop hasn't really been taught until recently. I like seeing it go into places where it can be seen as marginalized or unimportant. And if you can understand how pop culture works, it can help you in life decisions."
Craig Hirsch, 18, enrolled simply because he's a fan of West. As soon as he heard about the class, he knew he had to take it. He's studying economics and strategy.
Christian Baker, 21, hopes to learn more about the intersection of rap, religion and politics. He says the course brings him deeper into his own research as a religious studies major.
At some point, McCune wants to teach a course on black women in hip-hop culture, as well as one on the politics of hip-hop. His dream course would be one on the late R&B superstar Luther Vandross.
McCune is finishing the first draft of his book "On Kanye," which looks at West as living art and what his music and politics teaches us about the world and about ourselves.