Rock heavyweights Korn and Alice in Chains team up for a co-headlining tour rockin' into Hollywood Casino Amphitheatre on Friday night. Sean Kinney, drummer for Alice in Chains, says it's the first time the bands have toured together, though they've shared a bill at a number of rock festivals.
Alice in Chains, which also features Jerry Cantrell, William DuVall and Mike Inez, is on the road with its Grammy-nominated "Rainier Fog," featuring "The One You Know," "Never Fade," "So Far Under" and the title track. The album was recorded in the band's native Seattle.
Korn's upcoming album is "The Nothing," to be released in September.
Kinney talked with Go! Magazine about the tour and the band's new music.
Q • Where did the idea come from to put Alice in Chains and Korn together on tour?
A • We share a lot of the same management. We are tapering down near the end of an album cycle, and they're starting off a new one, and we were both thinking of going out this summer. It just seemed to be a cool thing to pair up and do this thing. We were going to do the amphitheater thing with us as the headliner and some other bands, and Korn was thinking the same thing, and we were approached by management with "what do we think about doing it together?"
Q • The two bands represent distinct types of rock. How does that play out?
A • Our band came up in an era of very diverse bills. Over time, that skewed back to similar-style music shoehorned together, cut from the same cloth. They're from the next wave of rock after our hometown (Seattle and its grunge scene) dominated. But we're both rock. It's not like one is Kenny Chesney and one is Jay-Z. We're not that far apart, and we both probably share quite a few fans. It's a good night of music, and that's all you really try to put together.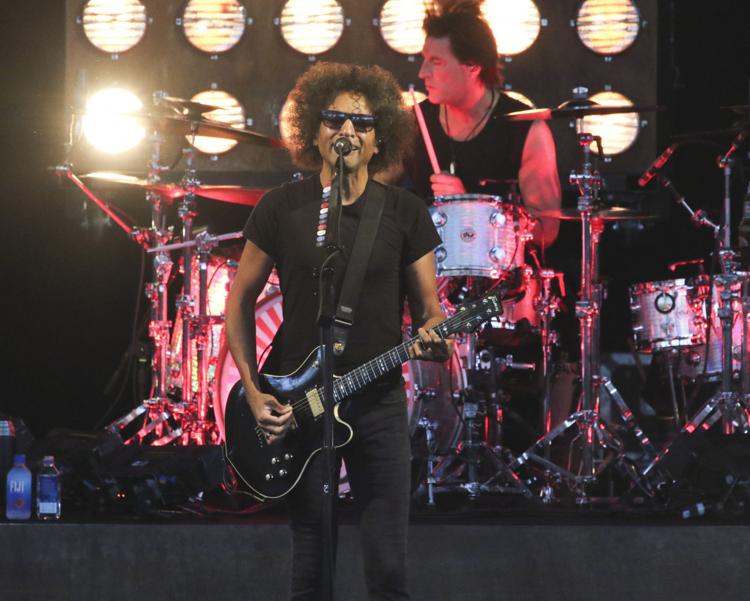 Q • Who opens and who closes? Or do you and Korn alternate those slots?
A • Somebody has to go first. We're up first every night. There was talk of splitting it up, but that's a real cluster — a real mess. You both have your own production, and it's hard on the crew and everybody. You need to get a routine going out there. They do a bigger show. Our band's never had fire or pyro. Our lighting isn't "check me out" lighting. We're pretty old-school. We go out and play our tunes. We can change songs whenever we want and can pull songs in and out. We don't have a real gimmick. We missed that boat.
Q • Will either act cross over into the other's set at all?
A • Not yet. We play, and we usually leave pretty soon afterward. We haven't gotten there yet, but there has been some talk of it. I'm sure something will happen.
Q • What do you like most about Korn?
A • They have a very strong identity. You know that's Korn. That's the thing I gravitate toward when I hear music — those who made their own way. They've been at it for a long time, and they have a great fan base.
Q • What's your favorite thing about the "Rainier Fog" album?
A • It's all new songs. We didn't rerecord any old songs, and it's not a bunch of cover tunes. We created tunes we like, and that's all we've ever done. We never tried to be a band made for the masses.
Q • What's next for Alice in Chains?
A • We've been going pretty hard on this record. At the end of this tour, we're going to shut it down for a bit and decide what and if there is a next, if there's anything else we want to do.
What Korn, Alice in Chains, Underoath, Fever 333 • When 6 p.m. Friday • Where Hollywood Casino Amphitheatre, 14141 Riverport Drive, Maryland Heights • How much $24-$135 • More info livenation.com
From left: William DuVall, Sean Kinney, Jerry Cantrell and Mike Inez of Alice in Chains