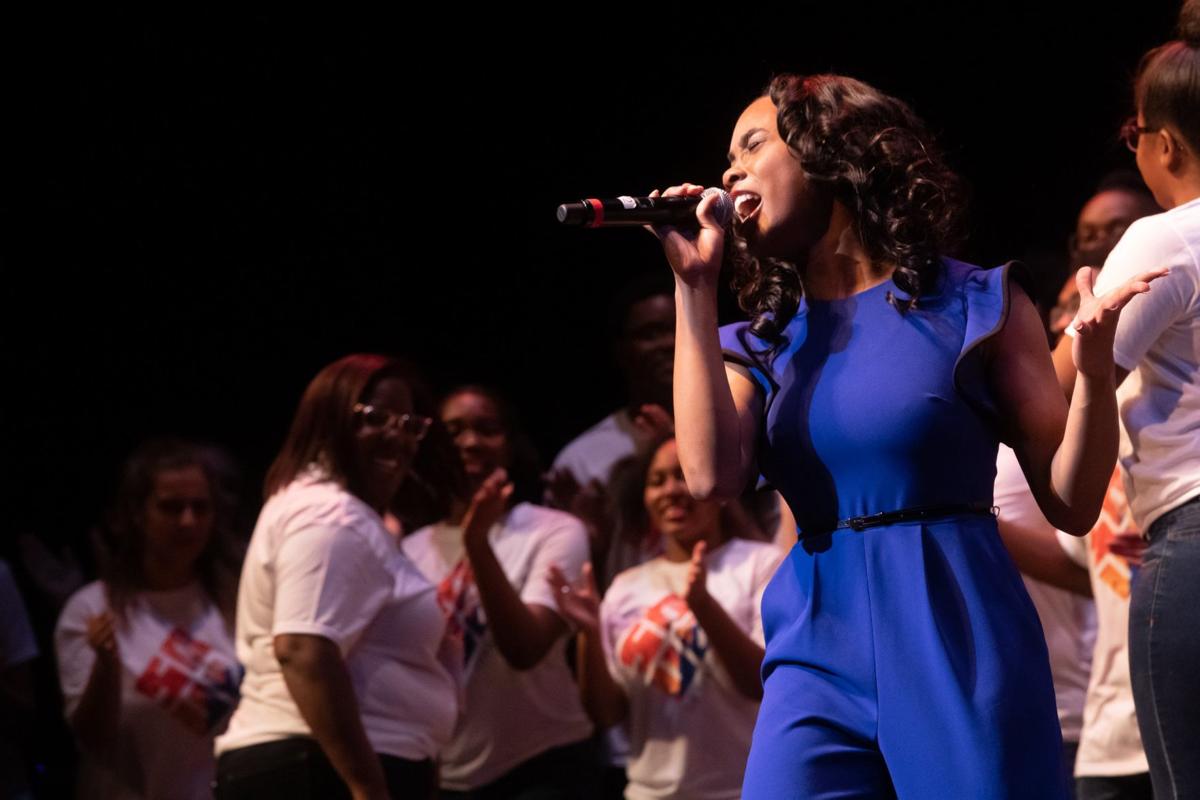 With two nights of holiday shows next week, rising star Kennedy Holmes of Florissant will rack up several firsts.
"A Gospel Christmas" will be her Powell Symphony Hall debut. It will also be her first performance with a chorus or orchestra — in this case, the In Unison Chorus and the St. Louis Symphony Orchestra, under the direction of Kevin McBeth.
Kennedy, who finished fourth in 2018 on Season 15 of NBC's "The Voice," is excited and ready for the new experiences.
"People ask (whether) I get nervous. Yes, I do," she says. "But I just let it go and do what I do."
Since "The Voice," Kennedy — who recently turned 15 — has performed with Michael McDonald and Dianne Reeves.
"I know the symphony is amazing," Kennedy says. "I'm honored to be able to perform with them. I have a thing about strings."
The two concerts will feature gospel arrangements of holiday favorites. In 2020, she says, she's looking forward to working on original music that'll be in the pop-R&B vein.
Here are some of Kennedy's favorite Christmas songs. She hints that two of them will make their way into her shows at Powell Hall.
"All I Want for Christmas Is You" • "I love listening to Mariah Carey sing it. It's a great song — a great little bop. I listen to that every year. It's a traditional song for me."
"Santa Baby" • "I like the smooth sound to it. Putting up the tree, you can play that song."
"It's Beginning to Look a Lot Like Christmas" • "The Michael Bublé version — I love his voice. The first time I was introduced to his music was when he was on ('The Voice'). I didn't get to meet him. He didn't sing that song, but I went and looked him up."
"Rudolph the Red-Nosed Reindeer" • "I love singing it with kids. It's a family and friends song. I love listening to it around kids."
"This Christmas" • "I used to dance to the Chris Brown version with the Karah Academy of Dance. It's a good song to sing with the family, describing your Christmas day."
"Have Yourself a Merry Little Christmas" • "It has a great meaning to me and a positive vibe. It's a song I've always loved."
"Santa Tell Me" • "I'm a huge fan of Ariana Grande. She can do so much with her voice. She's incredible. Any song she sings, I enjoy listening to."
"Jingle Bell Rock" • "It's another traditional one for me. Most of the songs for me have to have a one-two-step vibe that I can dance to."
"I Saw Mommy Kissing Santa Claus" • "I like this one because my mom sings this song during Christmas. I always listen to that song, and she loves to sing it."
"Santa Claus Is Coming to Town" • "I like it because I used to listen to it a lot when I was a lot younger. It's just another traditional song."
What "A Gospel Christmas" with Kennedy Holmes and the St. Louis Symphony Orchestra and In Unison Chorus • When 7:30 p.m. Wednesday-Thursday • Where Powell Symphony Hall, 718 North Grand Boulevard • How much $34-$70 • More info slso.org