After nearly 60 years as one of the world's most successful touring acts, it took a global pandemic to bump the Rolling Stones off the road.
The band's "No Filter Tour 2020" was to include a June 2020 show at the Dome at America's Center.
After the unscheduled break, the tour relaunches this weekend at the Dome at America's Center. It will be the band's first St. Louis show since 2006 at the arena now known as Enterprise Center.
"We're all feeling exhilarated," says Dale "Opie" Skjerseth, production manager for the new tour. "It's really exciting, and we're all champing at the bit. Rehearsals have been good."
Rehearsals in Massachusetts took place for five weeks, then crews started loading in Sept. 13 at America's Center. The band and production teams arrived Sept. 19. They announced Thursday that rock band the Revivalists will open. 
"They're doing a lot of things in rehearsals they never play live, and they're really getting into it and really working," Skjerseth says. "They had two years off. 2019 was the last time they toured, and so touring is always exciting for everyone."
The tour is sponsored by the nonprofit Alliance for Lifetime Income, which educates about the importance of saving, especially among those who work in the live entertainment industry.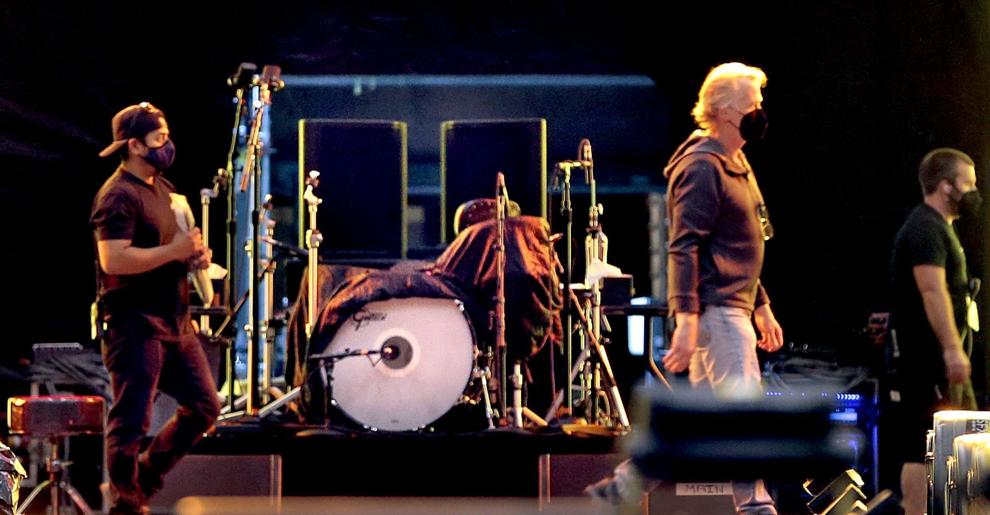 "Who would have thought the music industry would close?" Skjerseth says of the pandemic shutdown. "I thought we were bulletproof. No matter how much you make, you can always save for the future."
The band announced this summer that longtime drummer Charlie Watts was ill and would be sitting out the tour. He died in August, not long after the announcement.
"That's a hard one," Skjerseth says. "Charlie, he's the guy. He's just a presence. I don't know how the guys feel, but I'd say they are very saddened. They also know they needed to move forward. ...
"I became close to Charlie and the guys in 2012 when we started putting together the 50th anniversary tour."
Watts is replaced by Steve Jordan, known for his role in the John Mayer Trio and X-Pensive Winos, Keith Richards' side project. Along with Jordan and Richards, the tour includes Mick Jagger and Ron Wood.
"Steve plays accurately to what Charlie would play," Skjerseth says. "It's quite an interesting dynamic going on with them now, and it's great that they're present with each other."
He calls the show a remarkable event and says the band is performing as it has for 60 years.
"They come out and knock out a two-hour show with all the hits," he says. "It will be a spectacular time."
Hits fans are likely to hear include "Jumpin' Jack Flash," "Sympathy for the Devil," "Start Me Up," "Honky Tonk Women" and "(I Can't Get No) Satisfaction."
The band members like to know what songs they previously performed in each city, which helps them figure out what they need to play when they return.
"They're just true music businessmen," Skjerseth says. "They really do study, and they don't forget."
The band's affection — especially Richards' — for St. Louis rock 'n' roll pioneer Chuck Berry is well known.
Asked whether a Berry song could figure into the St. Louis show, Skjerseth says, "you never know. He might throw in some riffs or a little tribute. Who knows what he'll do? He has all the respect in the world for Chuck."
Richards appeared in the 1987 Berry documentary "Hail! Hail! Rock 'n' Roll," filmed at the Fox Theatre.
Skjerseth likes that the tour is resuming in St. Louis.
"It's an exciting city with a large music history," he says. "People forget that. People forget how strong the music is there. It's a stronghold for the blues, and they like that. It really has some heritage behind it.
"For me, working in St. Louis is a great place to work. There's lot of good people there, and it's that Midwest vibe."
He started as the Rolling Stones' stage manager in 1994 and became production manager in 2005. He calls the band the "Rolls Royce of touring."
"They're just a strong-minded bunch," says Skjerseth, who has also worked with Guns N' Roses, Van Halen and AC/DC. "They're so professional. And there's just something about them that brings out the best of you, and they want the best out of you."
But he knows it won't last forever.
"The elite are moving on. It's gonna be a sad day when they're no longer. But I know Mick will do shows when he's 80. He doesn't act his age (78)."
What The Rolling Stones with the Revivalists • When 7:30 p.m. Sept. 26 • Where The Dome at America's Center, 701 Convention Plaza • How much $66-$447 • More info ticketmaster.com