Seviin Li's tribute to Tina Turner last year at the Missouri History Museum's Twilight Thursdays was such a hit, it was no surprise she was asked to revive it.
The tribute returns this weekend as part of Music at the Intersection in Grand Center.
Li had such a good time channeling the music legend for the thousands of spectators on the museum's front lawn. She calls the experience a dream.
"I loved it — everybody enjoyed themselves," she says. "There were so many people out there, my body was shaking after the show. It was a magical night."
Singer-actress Li divides her time between Atlanta and St. Louis with her husband, Grammy-winning rapper Murphy Lee. He also has a set at Music at the Intersection.
"But it wasn't about me," she says of the tribute show. "It was about the legacy of Tina."
It's quite a legacy to take on, even for a night or two.
Turner (Sumner High School, 1958) is a rock 'n' roll giant who rose to fame with husband Ike before going solo. It's one of music's biggest comeback stories, cemented by her "Private Dancer" album.
Li was born in Madrid but adopted St. Louis as her hometown as a youngster. She comes from a gospel background and didn't grow up listening to Turner. But when the museum asked her to perform the tribute last year, she didn't give it a second thought.
She knew the singer's story, immortalized in the biopic "What's Love Got to Do With It."
"She's always been present in my brain," says Li. "Her journey and story are so amazing. It's so much that happened to her before the parts we knew of her."
In doing tribute shows, Li says, her father always told her to "respect the work, do it right always and keep it 100. Keep it truthful, bring the same energy — the same spirit. Study the purpose of the song. And that's what I did."
But don't expect to see an impersonation. Li says she's not trying to look or sound like Turner.
"I'm always going to sound like Seviin, but I'm bringing her to life in my eyes — bringing the energy and spirit," she says.
"Nobody can be Tina, and it's not about being Tina," she says. "I respect her too much to try to be Tina. It's about embodying what she did, celebrating her legacy and what she has done for the city, for women, for women of color, and for music, pop, rock and R&B. She broke down barriers."
Music at the Intersection is Li's first music festival performance. For those who saw her Twilight Thursdays show, she will add some elements to make it different.
"Man this is amazing," she says. "And to top it off, Murphy is on there, so it's two of my faves — Murph and Erykah Badu. I feel blessed twice. I'm very humble and don't take the opportunity lightly. I'm gonna give it my all."
Li — who has opened for Nelly, Monica, Dave Hollister, Johnny Gill, Shirley Murdock, Dottie Peoples, Twinkie Clark, and even her husband — is working on an album that she says is her musical gumbo, a mix of R&B, soul, pop and more.
Later this month, she resumes touring in the stage production of "Grown Man Issues" with Brian J. White, Claudia Jordan, LaTocha Scott and Willie Taylor of Day26.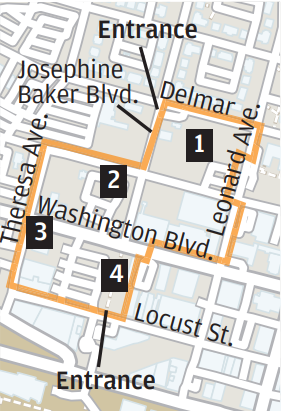 What Seviin Li Tribute to Tina Turner at Music at the Intersection • When 4:20 p.m. Sept. 10 • Where Washington Avenue Stage • How much $79-$175 per day, $149-$325 for weekend pass; VIP available • More info musicattheintersection.org