Hillary Fitz used to live in fear when it came to pursuing music.
"I was afraid of the vulnerability that comes with performing in front of a bunch of people," the St. Louis singer-songwriter says. "I had a lot of roadblocks with that."
Fitz addresses that fear with a song she wrote to herself called "For Too Long."
"The song makes a strong point of overcoming the anxiety of performing," she says. "I came a long way with it. Now my happy place is onstage."
She's been juggling music with a 9-to-5 job and plans to start nursing school next year.
Fitz returns to her happy place this weekend when her band headlines the Open Air Concert Series at the Grandel. Fitz, who sings, writes, and plays guitar and harmonica, rejoins her full band for the gig.
Performing with the Hillary Fitz Band are Chris Turnbaugh (bass), Drew Lance (drums, percussion), Matt Lyons (electric guitars) and Mark Hochberg (violin). It'll be her first show with the band since a February performance at Joe's Cafe. Since then, she's only played a handful of front-porch concerts.
"I have butterflies, but in a good way," Fitz says. "I haven't played with a full band in a while. It's new and exciting all over again. It feels good to know I'll be able to sing for people and be with my band. It's just like diving into the unknown, though I've done it a million times."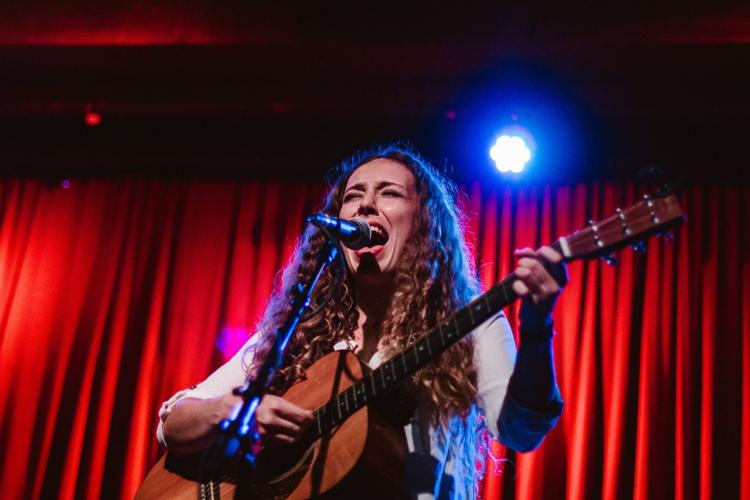 The Open Air Concert Series allows the Hillary Fitz Band the opportunity to perform some of the songs it has been working on for its debut album. She and her band have been recording the album "piece by piece" for four years, finishing recently.
Some of the album's other songs include "Landscape," "Move On" and "This Song Is Not About a Dog."
Fitz says songwriting is a way to process her personal experiences, relationships and changes in her life. "Songwriting helps me make sense of everything," she says.
Fitz isn't sure yet what the still-untitled album's release will look like during the pandemic.
"I don't want to just release it and make a post about it, and that's it," she says. "I want to release it in a proper way."
She plans to release a couple of singles this winter with hopes of a concert in spring or summer.
Fitz, who has been with her current lineup for two years, describes her music as a blend of Americana mixed with soul, blues, folk and more.
"It's a bit of a mixed bag that blends acoustic and electric elements," she says. "Some of the songs can be ambient rock. But I just say Americana because that's a term for a lot of different styles that can be in it."
Her musical influences range from Billie Holiday and Amy Winehouse to Radiohead and Explosions in the Sky.
"I love layered textured rock and instrumental music," she says. "But I've also always been attracted to big female voices."
Fitz started her music career by hitting up open mics around 2014 at venues including Atomic Cowboy and the Gramophone, where she won a contest that allowed her to open for a touring act. Instead, she negotiated her own headlining show.
Fitz needed a band for the gig and "called every musician I know. I was terrified," she says. "But after that first show, I had to get that feeling again, keep it going. It was so much fun. And it snowballed from there. I met people who were supportive of getting me to where I needed to be. I started booking and learning how to get a band together."
What Hillary Fitz Band at Open Air Concert Series • When 6 and 8:30 p.m. Nov. 21 • Where The Grandel, 3610 Grandel Square • How much $10 with food/beverage minimum (8:30 p.m. is sold out) • More info metrotix.com