Sports & Social St. Louis and the Bullock at Live! by Loews are two of the newest additions to open at downtown's Ballpark Village complex.
Both venues are adhering to Centers for Disease Control and Prevention and St. Louis guidelines — decreased capacity, social distancing, increased cleaning/sanitizing, and masks and temperature checks for staff — to keep safeguard guests' safety during the ongoing coronavirus pandemic.
"The biggest thing is people have to feel comfortable with coming back out," says Ballpark Village chief revenue officer Mike LaMartina. "We're not trying to ignore the fact there's still a concern out there."
Geneya Sauro, general manager for Live! by Loews, the hotel that had opened shortly before the coronavirus shutdown, says the Bullock provides opportunities for visitors to socialize safely. "We have this beautiful outdoor space, and people need to get out."
Sports & Social St. Louis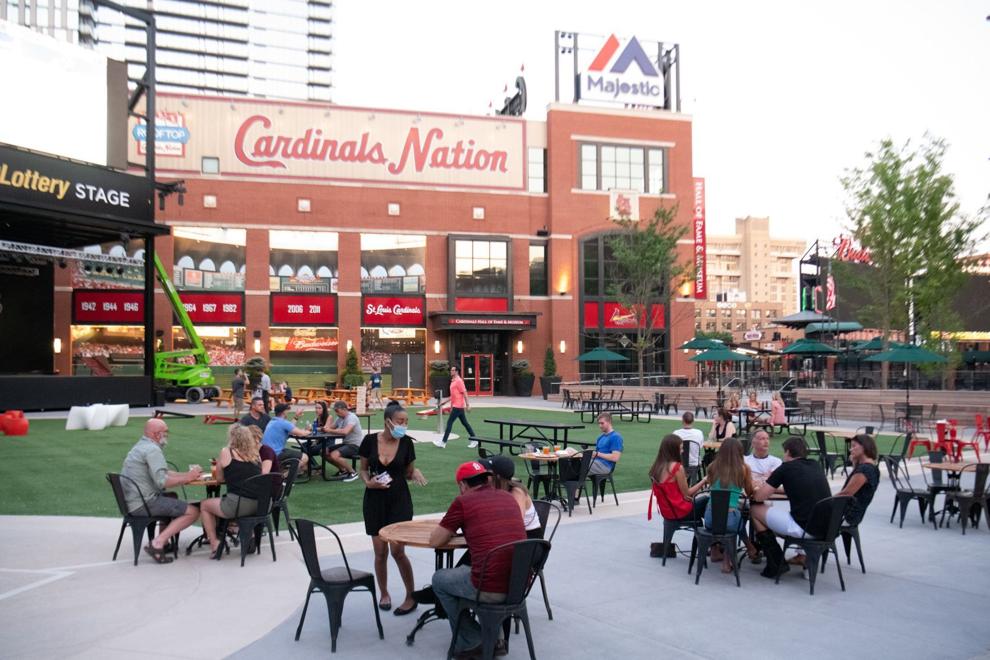 Originally set to debut on Cardinals opening day, Sports & Social St. Louis had to settle for a hot early-summer day in June. The restaurant and bar includes sports and social games inside and outside.
"It was time to reopen Ballpark Village to the public — to the neighborhood," LaMartina says. "A lot of people hadn't been down in months or since the last baseball season ended."
The entertainment district went dark not long after Randy Houser's Hot Country Nights concert in March. The closure allowed more time for construction.
"There was a lot of excitement built up," he says. "People were excited to see how much the property had changed after what seemed like a long time."
LaMartina says a draw for crowds since the June 17 opening has been the new outdoor plaza, the centerpiece of Ballpark Village. Formerly known as Busch II Infield, the plaza extends onto Clark Avenue and in normal circumstances can hold 3,000 guests.
He says Sports & Social is a place where people can hang out and enjoy a neighborhood-like vibe. "St. Louis loves that — and loves a patio," he says.
Live music is featured Thursday-Saturday on the outdoor stage, starting with St. Louis acts performing acoustically during early evenings weekdays and during the day on weekends. Occasional DJs spin in the evenings. The goal is for national acts to take the stage at some point.
The plaza also features an assortment of outdoor games such as cornhole and Jumbo Jenga.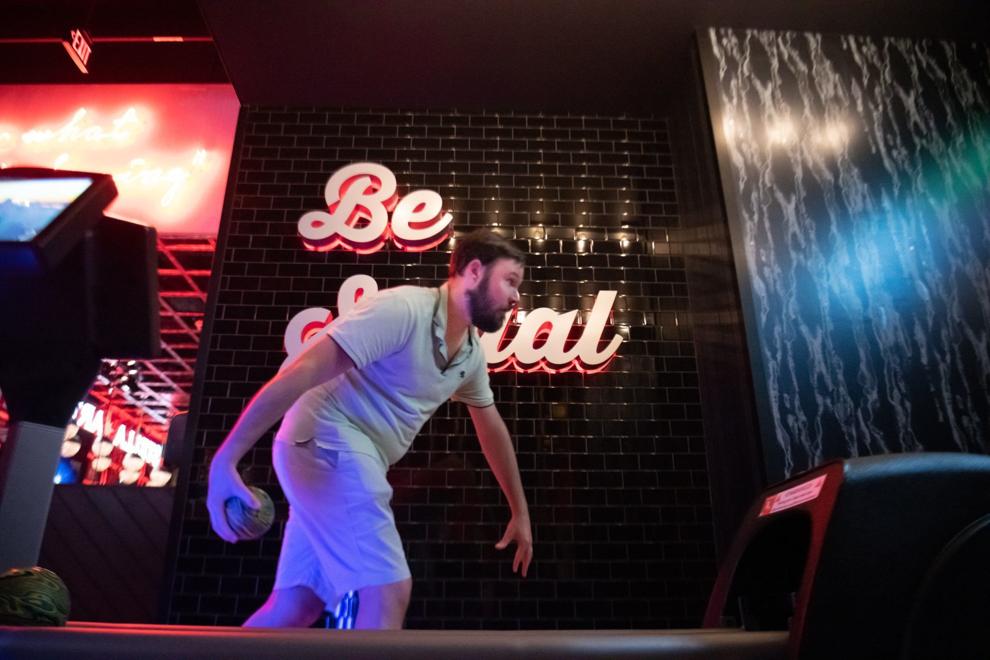 Inside, there's mini bowling, Pop-A-Shot, pingpong, Bubble Hockey, Skee-Ball, foosball and shuffleboard.
The menu is Tex-Mex-inspired. After opening with a partial menu that included chicken strips, wings, tacos, quesadillas, salads, tacos and sandwiches, the full menu debuts this weekend with flatbreads, fajitas and enchilada entrees. The drink menu features shareable drinks and an extensive beer list. A meatball kiosk will be added later this month.
Ballpark Village developer the Cordish Cos. operates Sports & Social locations at its other entertainment properties, including Fourth Street Live! in Louisville, Kentucky.
Where Sports & Social St. Louis, 651 Clark Avenue • More info stlballparkvillage.com • Hours 4-10 p.m. Tuesday-Thursday, 11 a.m.-2 a.m. Friday-Saturday, 11 a.m.-8 p.m. Sunday
The Bullock at Live! by Loews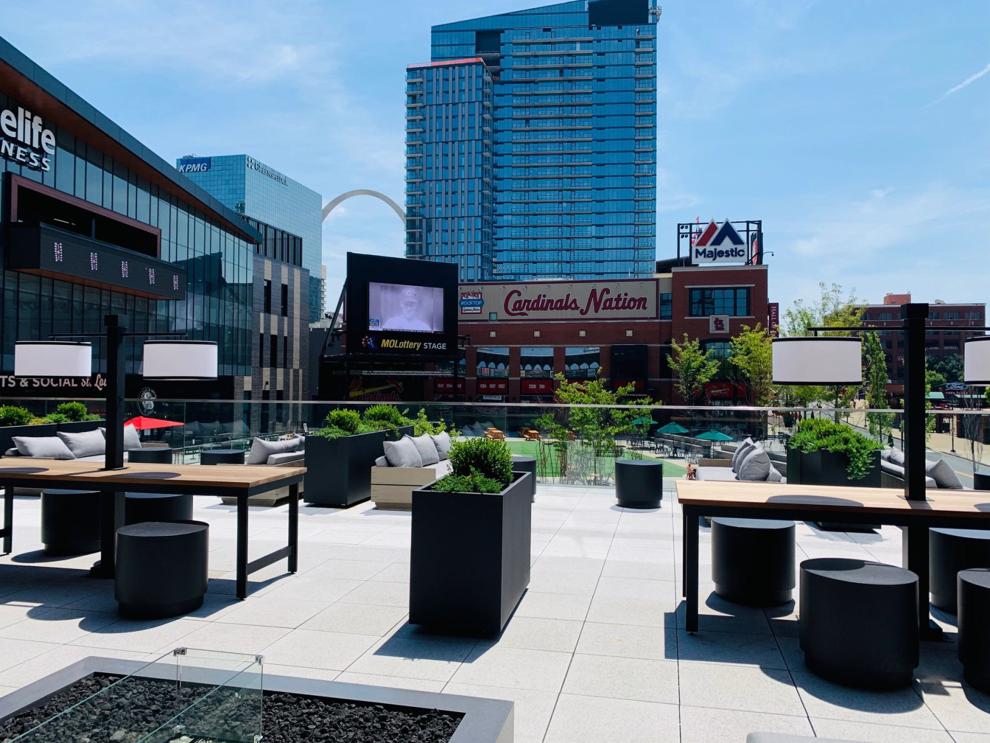 St. Louis' newest rooftop bar, located at the new Live! by Loews hotel, has some great local history behind it.
The Bullock is named after famed pre-Prohibition bartender Tom Bullock, author of "The Ideal Bartender." Bullock, who was Black, made his name at the St. Louis Country Club, among other places.
"It's a great homage to the art of the cocktail," says Sauro, the hotel's general manager. "We thought it would be fun to name it after somebody impactful in the bar and cocktail movement here and at the same time feature some of the cocktails he invented, like the Clover Leaf cocktail. He was big into juleps and fizz cocktails."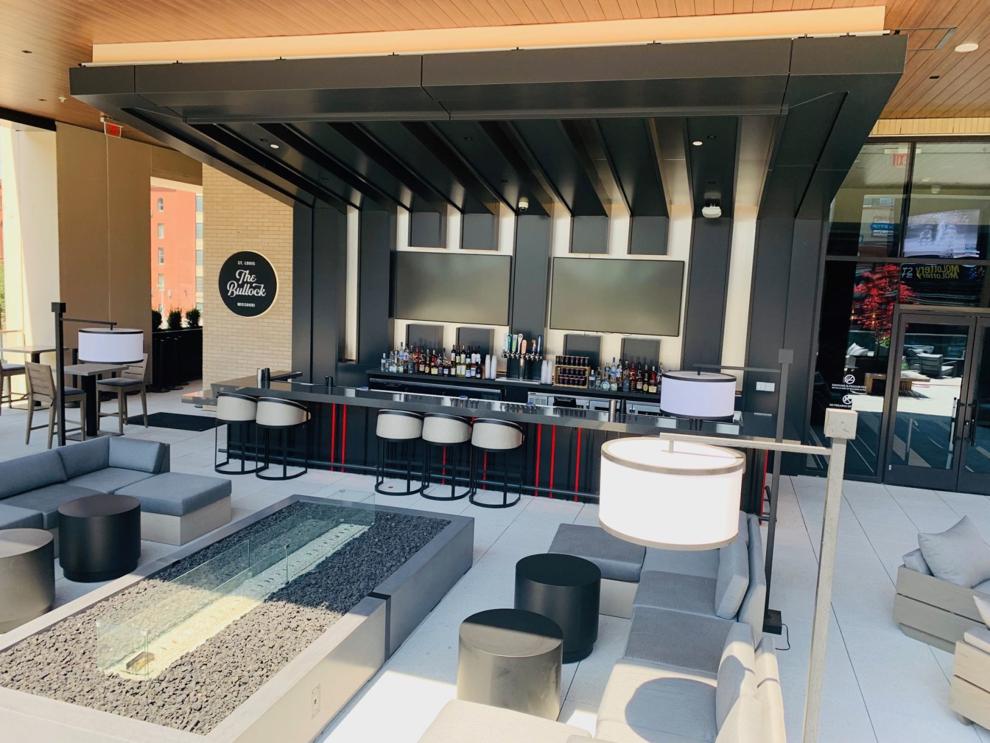 Sauro describes the Bullock, which opened in late June, as an upscale, comfortable downtown experience.
"We know there's a lot of places to go downtown — bars and restaurants — but we wanted this to be sophisticated and comfortable at the same time," she says of the sleek spot, which includes a large outdoor fireplace and various seating arrangements.
The Bullock has a view into the outdoor plaza below. "Whatever's happening on the plaza or on that stage, our guests will have balcony seats," Sauro says. "The views are incredible, and the sound is great. It'll be like being in a balcony watching those shows. It's really an elevated experience — that gathering place downtown for great drinks in a fantastic setting."
There's an area with lounge chairs and outdoor games, with a big-screen TV with a feed from Busch Stadium.
Most of the Bullock is shaded, making it even more comfortable.
The opening menu includes smoked wings, focaccia pizza, burgers, a bacon slab, sandwiches and salads. Matt Lange is the Live! by Loews chef; Michael Manning is food and beverage director.
Regular capacity is 800, which has been reduced for now to 200.
Guests access the Bullock through the main lobby of Live! by Loews. The new space is open to parties and receptions.
Other spots for dining and drinking at the hotel include Clark & Bourbon steakhouse, Bar Bourbon and River Market.
Where The Bullock at Live! by Loews, 799 Clark Avenue • More info loewshotel.com • Hours 4-11 p.m. Thursday-Saturday
Sports & Social St. Louis makes its debut at Ballpark Village
True to its name, the new venue offers games, food, drink and a chance to socialize at Ballpark Village. See who turned up for Wednesday's opening.