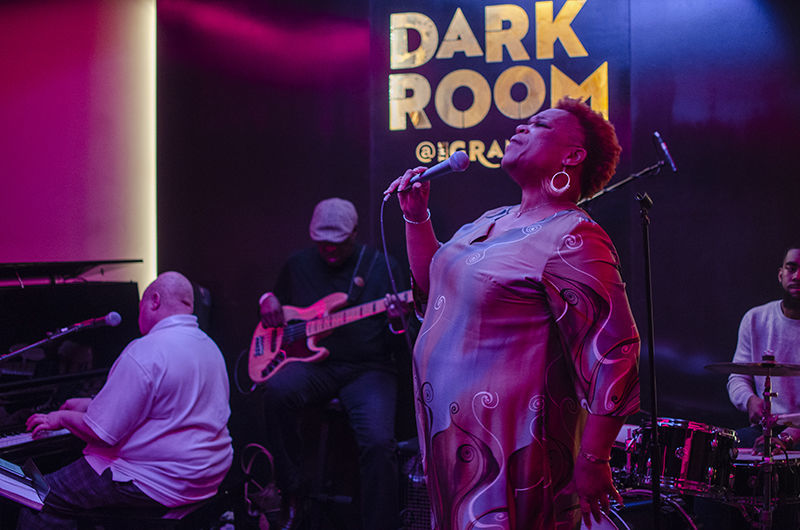 Update: The upcoming three-day Music at the Intersection festival in Grand Center is postponed until 2021, as announced by Kranzberg Arts Foundation and the St. Louis Music Initiative. Music at the Intersection had been scheduled for Sept. 11-13, 2000; it will now take place Sept. 10-12, 2021.
The rescheduling comes in the wake of the current pandemic.
The adjacent Midwest Music Summit will take place September 2021. Music at the Intersection and Midwest Music Summit falls under the St. Louis Music Initiative's St. Louis Music Week.
Many of the touring artists and sponsors booked for this year's Music at the Intersection event have committed to 2021. Artists had not been announced yet.
The St. Louis Music Initiative is exploring options for ways to offer continued support of the St. Louis region's music economy in the shorter term. 
Chris Hansen, executive director of the Kranzberg Arts Foundation, said: "We are unapologetic in our hopes that music, as one form of the arts, can be recognized as a driving force to help our city attract and retain professional talent and can help our workforce cultivate transferable professional skills. Music will be a catalyst for rebuilding our weakened economy, and will continue to help us initiate real conversations around health, wealth and equality in our region." 
Music at the Intersection will celebrate St. Louis' vast musical heritage on outdoor and indoor stages throughout Grand Center.
The new St. Louis Music Initiative aims to change the perceptions and realities with an ambitious, three-pronged plan that includes the debut of St. Louis Music Week. The initiative also includes the return of a reinvigorated Music at the Intersection festival in Grand Center and the debut of the 2021 Midwest Music Summit.
It's all part of an effort to advance St. Louis as a full-fledged music city.
"It's a response to an issue," says Sean Smothers, director of strategic partnerships for the Kranzberg Arts Foundation, which is helping with the initiative. "We have a great music community here, but there were a few things that were troubling."
Smothers, who also is a KDHX host, has heard the criticism that artists can't thrive here, even though St. Louis has studios, labels, publishers and other vital industry components.
"How do we connect those things?" he says. "It's a matter of getting everybody into the conversation. We look at art as an amenity. We need to shift that conversation and see it as an economy and understand what we've got — its strengths and weaknesses — so it can grow."
The St. Louis Music Initiative has two dozen community partners so far, including Explore St. Louis, the Regional Arts Commission, Angad Arts Hotel, MetroTix, Grand Center Inc., Jazz St. Louis, the Missouri Arts Council, the Sheldon Concert Hall & Art Galleries and the Missouri History Museum, which is working on an exhibition focusing on the city's musical history.
They all agree on the possibilities of what forward, fresh thinking can bring. The initiative is part of a five-year plan that includes seven committees and more than 100 volunteers.
"This is about our shining the light on our great musical heritage and helping it grow, attracting and retaining talent, making the economy relevant," says Chris Hansen, executive director of the Kranzberg Arts Foundation.
"We see us trying to solve problems focusing on the right things — the 'why' you're doing something and creating spaces that are fair and equitable and inclusive. We want to pull people up because our music industry is flawed."
The initiative's central piece is St. Louis Music Week, which will take place Sept. 4-13. The initiative has an open invitation to all artists and venues with shows scheduled to participate, Smothers says.
All the shows will be part of a master calendar, giving the performances an extra lift. "If you love music, go to a show, spend money, show the music economy is real," Smothers says.
The St. Louis Music Initiative views St. Louis Music Week as a better option than putting on a daylong or weekend festival.
"It's not enough to just have a festival or to just throw a tent up. We need more," Hansen says. "How do we keep the economy here."
The Kranzberg Arts Foundation supported LouFest in 2018, adding a new stage featuring St. Louis acts, but the festival was canceled at the last minute.
"I loved LouFest and went for many years," Smothers says, "but if you took LouFest out of St. Louis and dropped it in another city, you couldn't tell it was a St. Louis festival."
Organizers say that won't be the case with St. Louis Music Week or Music at the Intersection, which returns for three days in Grand Center.
Sixty acts — local and national — will be featured at seven indoor and two outdoor venues for St. Louis Music Week, and the event aims to tell the story of how St. Louis music connects.
The event will enliven Grand Center venues, which see a drop-off during summer months when concert-going is centered on outdoor venues.
Gene Dobbs Bradford, executive director of Jazz St. Louis, says his organization jumped aboard the initiative early.
"I think it's a great project, and it was always a dream to do a big festival in Grand Center. St. Louis really deserves a world-class music festival, and we're very grateful to the leadership the Kranzberg Arts Foundation is showing."
A Midwest Music Summit, designed to build industry infrastructure, will also be part of the initiative's programming. Mental health care also will be addressed, Hansen said.
"We're living in a time where we're all suffering and struggling, and creatives have it even worse," he says. "They're the ones generating the art the rest of us heal through. They actually go through the process. That's a lot. We're seeing a real need to do more to support artists in those challenges."
Peter Palermo, executive director of the Sheldon, says the initiative will "give us a chance to work together and lift our national profile. That's all good. We need to give St. Louis a chance to celebrate our immense contributions to the music of America."
"I loved LouFest and went for many years, but if you took LouFest out of St. Louis and dropped it in another city, you couldn't tell it was a St. Louis festival."

Sean Smothers