Lauryn Hill typically applies a dizzying spin to her classic hits whenever she hits town, and her former Fugees group mate Wyclef Jean is adding his own twist to his music.
A Night of Symphonic Hip-Hop featuring Wyclef Jean paired the rapper, singer and producer with the St. Louis Symphony on Friday night at Powell Hall, conducted by Gemma New, creating a successful marriage of the two.
It was yet another great example of the Symphony's letting its hair down to great effect as it reaches out to the masses (as it did a year ago with Nelly, along with upcoming events with Boyz II Men, Indigo Girls and Amos Lee).
Jean, who hasn't graced a St. Louis stage in too long, walked out without much fuss in a purple tuxedo jacket, casual black pants and high-end black sneakers and told the crowd right off the top, "Don't forget I was born in Haiti. I'm what you call the American Dream."
He sat at the piano to sing the often-covered "Ne me quitte pas," included on the deluxe edition of his "J'ouvert" EP (2017), for what was probably the most unexpected opening one might've imagined for Jean's concert.
It was a joyous night that proved once again that almost anything can be spiced up when the layers of musical grace the Symphony provides are added.
The show also proved that hip-hop has no boundaries. After singing, playing guitar and piano, Jean suggested some people in the crowd might be upset, thinking they were coming to a rap show. But he countered with the fact that hip-hop culture encompasses many things, before his showy guitar display, playing with the instrument on his shoulder backwards and with his teeth.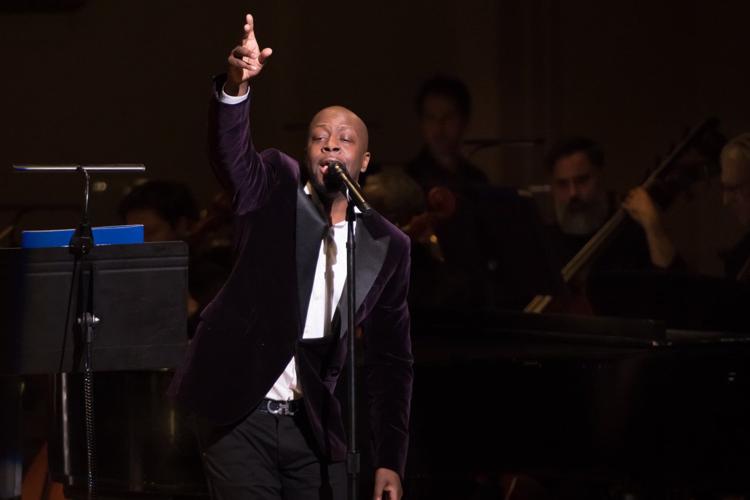 He said "Carry On," a song he recorded with Emeli Sande, was needed because of "the way the world is now. We gotta do something." Before performing a cover of Bob Marley's "No Woman, No Cry," also recorded by the Fugees, he thanked his mother for taking the gun out of his hand and replacing it with a guitar, and commenced to strumming the classic.
On "911," recorded with Mary J. Blige, singer Moira Mack stood in, as well as on Fugees' songs featuring Hill. Jean joked that some of his fans in attendance might be looking at him with a side eye wondering what a white singer was even doing up there.
"She better not mess up Mary," he mimicked fans' possibly saying. Mack, while lacking the grit of Blige or Hill, was great female accompaniment without sounding like any of the original singers.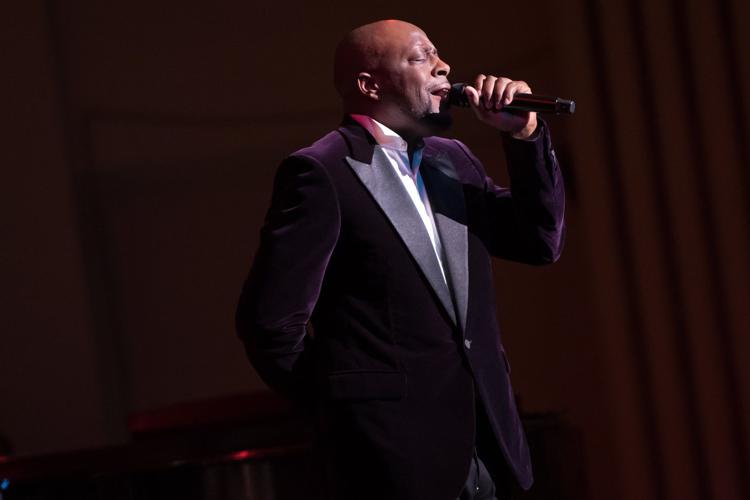 He patted himself on a back a bit during "Gone Till November," reminding fans he got Bob Dylan to appear in the video, though "Dylan doesn't show for his own son's video" (referring to Jakob Dylan of the Wallflowers).
He engaged the crowd in a sing-along for a new song, "What Happened to the Love," and mentioned new school rapper Young Thug, who released a song in 2016 called "Wyclef Jean," as a way of showing how he has influenced generation after generation.
He saved his Fugees medley for the end of the first act, a rousing bit that had fans out of their seats as he and Mack delivered "Ready or Not," "Fu-Gee-La" and "Killing Me Softly" (popularized by Roberta Flack), culminating with Jean jumping into the crowd.
He incorporated female fans in the house into the lyrics to "Sweetest Girl," and backed it with "Perfect Gentleman."
Jean, who clearly had a new release to promote in "Carnival III: The Fall and Rise of the Refugee," performed "Borrowed Time" and "Warriors" from that under-the-radar album.
It led up to "Maria Maria," the blockbuster song he produced for Santana that was incorporated into another blockbuster song, last year's "Wild Thoughts" with DJ Khaled, Rihanna and Bryson Tiller.
A funk-disco instrumental medley featured his "We Trying to Stay Alive" (which incorporates the Bee Gees) along with cuts by the Jacksons and Parliament Funkadelic. He described "Sak Kap Fet" as the "hottest song on the internet" and the perfect workout song, before proceeding to work out on stage.
After telling the crowd to "tell Donald Trump I ain't from no (expletive)hole country," he performed an island medley featuring "Guantanamera" and "Hips Don't Lie," the Jean-assisted/produced Shakira hit that sent Jean back into the audience and into the balcony.
Jean triumphantly swooped conductor New up off her feet at the end of the night and carried her offstage, though he turned for an encore that included "Redemption Song."