If early buzz is any indication, St. Louis is looking at what could be its strongest contender yet on "The Voice."
R&B/pop singer Kennedy Holmes, 13, of Florissant, could surpass St. Louis singers Tish Haynes Keys and Caroline Glaser, who did well on earlier seasons of the hit NBC competition.
Holmes' blind audition aired on the show's season premiere Sept. 24. All four of the show's judges — Adam Levine, Blake Shelton, Jennifer Hudson and Kelly Clarkson — spun their chairs around in approval during Holmes' rendition of Adele's "Turning Tables."
Levine's chair was first to spin, but Holmes selected Hudson as her coach. It was a no-brainer — after Holmes' audition, she and Hudson spontaneously sang "I Am Changing" together. (Hudson famously performed the song in the 2006 film adaptation of "Dreamgirls.")
"My mom told me, 'If you say you're gonna get four turns, you'll get it,'" Kennedy says. "She said I have to have that mindset, and it's true. But once I got it, I was still extremely surprised."
Kennedy, whose parents are Karen and Shawn Holmes, says she's thankful for all the support of her family, friends and fans. A video of her "Voice" blind audition went viral before the season even premiered, amassing almost 4 million views (and counting) on YouTube.
"A year ago I would have never imagined this," Kennedy says. She wasn't even aware of the YouTube clip until her classmates at John Burroughs School brought it to her attention.
"They found out about it before I did," the eighth-grader says. "They were like, 'Oh, my God, Kennedy,' and I said, 'Wait, the show doesn't come on until Monday — it's not out yet.' They told me it was up already, and I was sitting there in awe — 'That's me.'
"Everybody was posting it, and it felt so good. Everyone is really proud of me."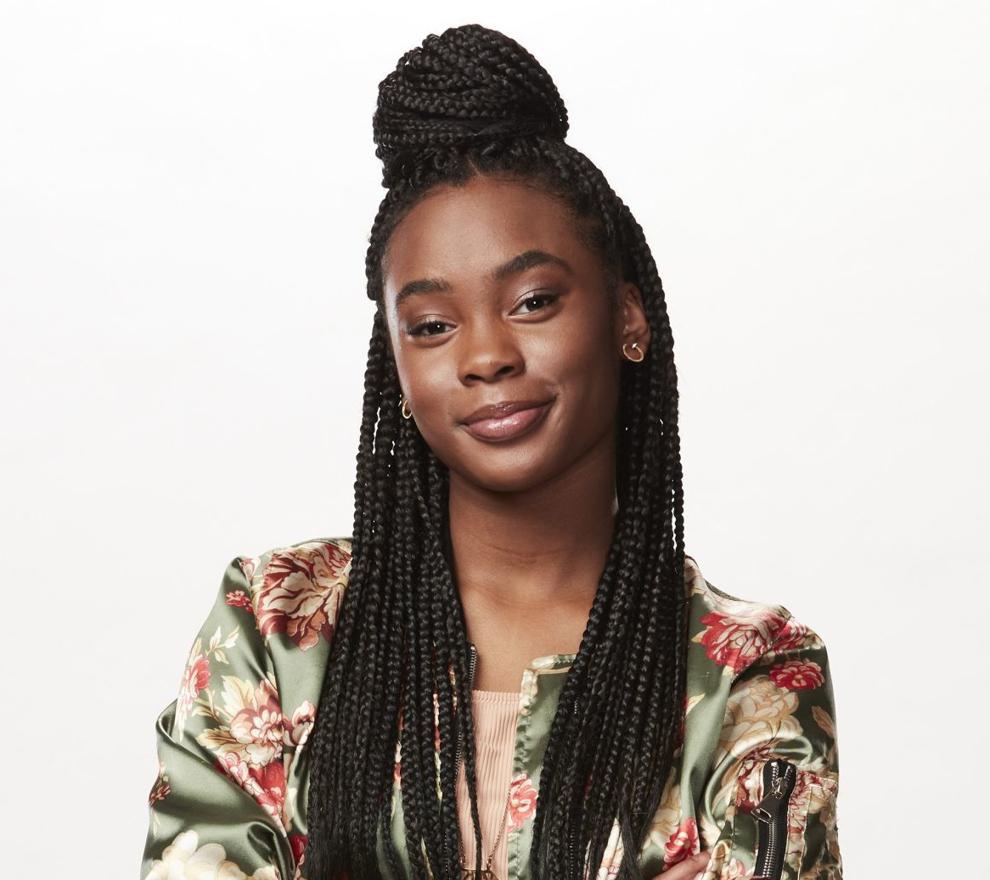 This was Kennedy's first time auditioning for a televised musical competition. She was nearly on "Little Big Shots," but she says that didn't work out.
It was Kennedy's mother who suggested "The Voice."
"I watched 'The Voice' from time to time, and I knew it would be a great opportunity for her," says Karen Holmes. She says Kennedy, who was 11 at the time, had gone through the audition process for 'Little Big Shots,' but the show didn't select her. She figures it was because Kennedy looked older than her age.
"She doesn't fall into the 'little' part of the show," Holmes says.
When Holmes learned "The Voice" had lowered its age requirements, the family decided to pursue the show.
"She had just turned 13," Holmes says. "I told her she was going to make history. She was very excited."
Kennedy wasn't much of a viewer of "The Voice," since it airs on school nights, but she had seen clips on social media.
The original plan was for Kennedy to attend an open call in Indianapolis in January, but she won a competition on Instagram and was able to bypass the cattle call. She instead auditioned competition-style against another singer. Kennedy lost but says the audience applause was so overwhelming that she was able to advance to the blind auditions.
'Turning Tables' and chairs
"Turning Tables" was an ambitious choice for such a young singer, but it worked out in Kennedy's favor.
"I think I was just looking for a song that would show my range and that I could put a twist on — make it my own," she says. "I had a lot of (Adele's) songs in my mind. They fit my voice so well."
She hopes to have opportunities to sing "Hello," "Chasing Pavements" or "When We Were Young" on "The Voice." She's also a Beyoncé fan, which could allow her to perform more upbeat material.
"I really look up to her when it comes to my career, singing, dancing and planning out my whole show," Kennedy says. "I strive to be on the level of Beyoncé. But I also want to be one of those singers (like Adele) who can sit still and put on a good show that has everybody engaged."
Though the coaches fell over themselves praising Kennedy's performance, it was Sheldon's comment that meant the most to her. He said he could see her going all the way in the competition.
But singing with Hudson was "crazy amazing," especially since "I Am Changing" is a song Kennedy first performed about five years ago.
"It was a moment I'm still trying to put into words," she says of Hudson jumping up to sing with her. "When she stood up and said, 'I'm ready,' I was trying not to cry. I'm extremely thankful she came up to sing with me. And without a doubt, I knew who I was going to pick as my coach."
On Wednesday's "Ellen DeGeneres Show," Hudson heaped more praise onto Kennedy. DeGeneres, who briefly was a judge on "American Idol," suggested Kennedy could win.
Until Kennedy and Hudson sang together, she says, she was leaning toward selecting Levine. "He's really honest and straightforward," Kennedy says.
After scoring in the blind audition rounds, "The Voice" singers proceed to Battle Rounds and the Knockouts, all en route to — hopefully — the show's live broadcasts later in the fall. (All rounds leading to the live rounds were filmed months ago.)
Kennedy isn't new to performing for large audiences. At the Muny in 2015, she played Little Inez in "Hairspray."
She also appeared as Melinda Cratchit in the Repertory Theatre of St. Louis' 2016 production of "A Christmas Carol."
Kennedy credits those experiences for helping to prepare her for her TV debut.
"They helped me with my stage presence and my confidence and being put on the spot, knowing how to work hard, and having my priorities straight," she says. "And they also taught me to be a good person. When you surround yourself with amazing people, you learn from that."