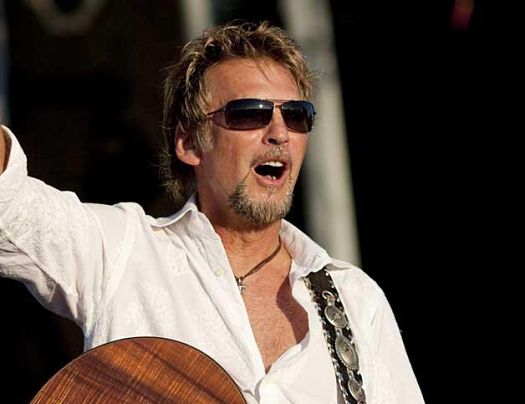 Pop-rocker Kenny Loggins has done well for himself as the king of movie soundtracks, giving us "I'm Alright" from "Caddyshack," "Nobody's Fool" from "Caddyshack II," "Footloose" from the movie of the same name and "Danger Zone" from "Top Gun." 
Loggins accepted the title long ago, but sometimes he wonders why.
"It doesn't hurt to have a title like that, I suppose," he says. "But I actually think Celine Dion did more than I did. That's my guess. I remember she had a string of them for a while."
Loggins says he's grateful for having "Footloose" as part of his repertoire. And so are his fans.
"It always gets people up and dancing and gives me a climax to my show," he says. "I gradually build up to closing ... with 'Footloose.'"
Loggins was never sure whether the songs were big because of the movies or the movies were big because of the songs.
"I think that's debatable, but I think it was the movie — and the songs didn't hurt," he says. "I'm fortunate in that I was associated with movies that have become such cult classics."
They certainly aren't making soundtrack songs like they used to — songs that resonate loudly and are clearly identifiable. Loggins can think of a couple of reasons for that.
When he was recording songs for movies, it was a new idea — viewing rock 'n' roll as a valid form of music for movies, instead of just using "traditional Henry Mancini songs," he says. He credits MTV with having a lot of influence.
"The hipper the music, the hipper the movie," Loggins says. "Hollywood jumped on it."
But it went wrong after random songs from artists' albums wound up on soundtracks — songs that had nothing to do with the movies. He says that dilutes the power of music written for movies.
"There's a craft to it," Loggins says. "You have to get a hold of the emotional content that is being conveyed, and they don't do much of that anymore."
Last year, "Footloose" was remade for the big screen, featuring a new version of the title song performed by country star Blake Shelton. Loggins liked the movie, saying it was smart with deeper emotional content, more history, more believable characters and subtext — though it wasn't like the source material was "Gone With the Wind," he jokes.
He thought using the old and new versions of "Footloose" in the remake was a good touch. He and Shelton even performed the new one together at the CMAs last year.
"When we cut (the original) 'Footloose,' we cut it live; when Blake cut it, he cut it with (audio-mixing software) Pro Tools," Loggins says. "He has a great band, but I didn't feel that excitement on the record. I felt it on the CMAs. The record cleaned up too much."
Loggins, who regrouped with Jim Messina as Loggins and Messina in 2005 and 2009, has formed a new band with Nashville singer-songwriters Gary Burr (who was with Pure Prairie League) and Georgia Middleman (who has written for Keith Urban and Kenny Chesney). They're hopeful for a January release of their debut album on their newly created label.
He and Burr got together, then decided to add a woman — Middleman — to the lineup to avoid comparisons to Loggins and Messina. The three share songwriting duties.
"Like most artists, I'm reluctant to label it," says Loggins, who can live with either country-rock or rock-country. "We write what we feel. We have more in common with Fleetwood Mac than Lady Antebellum."
Loggins says he's at a point in his career where being part of Blue Sky Riders makes more sense than just being Kenny Loggins.
"I hit a place where I didn't know what I wanted to do as Kenny Loggins," he says. "I really enjoyed writing with Gary, and I was tired of being alone. I wanted to do something with a friend and make something new. I wanted that challenge of building a new beast and the adrenaline that comes with that."
Some of Loggins' dates as Kenny Loggins have been opened by Blue Sky Riders, though that won't be the case with his Chesterfield Amphitheater show this weekend.
"Just so people understand, it's a full-band show," he says. "I cover the hits from each decade. As a reporter referred to them, they're fan favorites. ... Basically, you get what you came for."
---
AN EVENING WITH KENNY LOGGINS
When 8:30 p.m. Friday • Where Chesterfield Amphitheater, 631 Veterans Place Drive • How much $35-$75 • More info 314-534-1111
Stay up-to-date on what's happening
Receive the latest in local entertainment news in your inbox weekly!