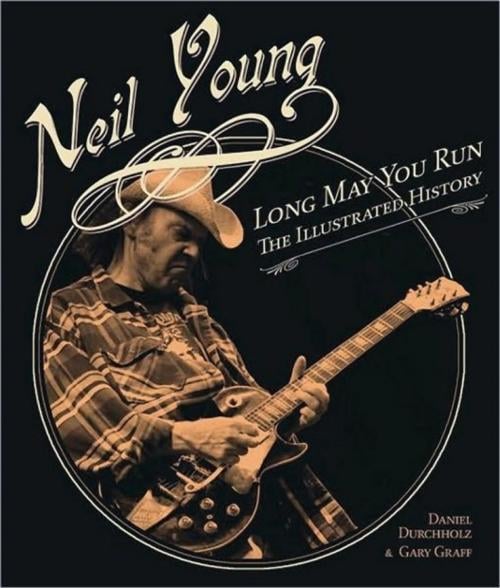 Writer Daniel Durchholz met Neil Young once, briefly, years ago, and has never pulled off an interview with the elusive rocker.
But when it came to writing the expansive new book "Neil Young: Long May You Run: The Illustrated History," Durchholz was the go-to man.
Throughout his career as a rock journalist, including editing the defunct Request and Replay magazines and writing freelance for the Post-Dispatch, the Wildwood-based Durchholz has written about and reviewed Young countless times.
He considers himself a true fan, albeit an objective one who is able to recognize the musician for his greatness as well as his failures.
"The things that endear him to me frustrate other fans," Durchholz says of Young. "He's stubborn, and he does what he wants to do and doesn't explain himself. Either you get him or you don't."
Durchholz, who wrote the book with Detroit music writer Gary Graff, appreciates Young's varied work.
"(He is) an artist who looks at life and music as a journey," Durchholz says. "He wants to go to new places all the time and wants to take his audience to that place. And he has had a tremendous amount of success but has not rested on his laurels."
"Neil Young" captures all this, but it isn't your normal coffee-table book.
"It's not what you would expect," Durchholz says. "Usually, they're a nicely done remembrance of the artist for the fans. We wanted to go deeper than that."
Durchholz, who has written for Rolling Stone and is heard regularly on KMOX (1120 AM), previously worked with Graff on "MusicHound Rock: The Essential Album Guide." We talked with Durchholz more about the project.
How did your involvement with the book come about?
A • Gary got approached. Voyageur Press has done several rock books similar to the Neil Young book, on Queen, Led Zeppelin, Velvet Underground and a couple of others. The idea behind those books was a coffee-table book with lots of photographs, with a writer hired to write essays around the photos, or a bunch of different writers who'd written about various aspects of the band's career.
Gary said he'd love to do it but he didn't know if he'd have the time to do it all by himself and could he bring in his friend. He and I worked on the "MusicHound" book, and we're always looking for stuff to do together.
What was the most challenging part of the book?
A • I think the main thing is we wanted to cram everything in there. There was so much material to deal with. What was cool about this is normally in my life as a freelancer, I'm writing about two or three different things every day. The ability to take a break from that and dive into one artist's catalog is a luxury, even when it's the rough parts, like his movies like "Journey Through the Past," which makes no sense whatsoever, or "Human Highway," a train wreck of a movie.
Being able to do that was really fun, but we still had to make sure we had all the bases covered, and that's a tall order.
Neil Young's got fans who are fans of every period he has done. He's got fans of just early Neil Young, just his acoustic music, and just the electric Neil. We wanted to pay attention to all of that.
Was there an attempt to talk to Young for the book?
A • There was no attempt to talk to Neil. It's not that kind of book. I think we knew we wouldn't get any cooperation. Look at "Shakey" ("Shakey: Neil Young's Biography" by Jimmy McDonough). Jim worked on it for 10 years, and Neil cooperated, but at the end he tried to pull it back. Our book includes a tip of the hat to "Shakey." We're not suggesting our book replaces "Shakey." It's a totally different thing.
Have you ever met or interviewed Neil Young?
A • I met him at Farm Aid many years ago. Gary has interviewed him, so we did have original interviews to draw on. They weren't done for the book, but we were able to use those and fit them into the context of what we were doing. We did a lot of research and pulled from many sources, with original interviews with people around Neil Young, and (members of) Crosby, Stills and Nash, Pearl Jam, Sonic Youth.
There was lots of original material to draw from. If you're doing this job for 20 years or more, you have lots of material. I feel like I got a great sense of him following him as long as I have and seeing almost every major tour since 1981.
Q. What are the chances of Young getting his hands on the book?
A • I don't think Neil is a guy who reads his own press. He's too far into the next thing he's working on. He seems really preoccupied with his work to worry about what a couple of Midwestern guys are saying about him. But if he does, I hope he likes it. Actually, I'm not sure I care. It wasn't our attempt to write a book praising him to the heavens. We do the downside as well.
Which type of Young fan are you?
A • I'm a fan who likes it all, even the really weird stuff. I like to follow him down the nooks and crannies, and put it into the context of his greater career.
When did you first become a fan?
A • I really latched onto him in high school and college. The album that epitomized Neil Young for me was "Rust Never Sleeps." With that album, he embraced his past as classic rock at the time, but you could see what was coming down the line.
'Neil Young: Long May You Run: The Illustrated History'
By Daniel Durchholz and Gary Graff
Published by Voyageur Press, 224 pages, $30